Sometimes by may the new music season is starting to sputter a bit. But not this year. Thanks in part to an astonishing number of events at the two "Galleries" there's no shortage of sonic solace for adventurous ears. But even without Gallery 345 and the Music Gallery, there is much on offer. The season it seems is going out like a lion.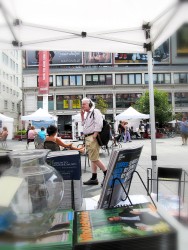 Once again, music theatre columnist Robert Wallace, has scooped me on a story with serious new music credentials, Coleman Lemieux & Compagnie's From the House of Mirth which runs, with various start times, May 9 to 13. (Wallace's treatment of the show starts on page 15.) Of particular interest for this column are the Rodney Sharman/Alex Poch-Goldin score and libretto. My awareness of composer Rodney Sharman's work in the genre goes back to the opera Elsewhereless, with Atom Egoyan in 1999. Librettist Poch-Goldin comes to mind, most immediately, for his work with composer Omar Daniel in The Shadow, probably the most striking full-length work of Tapestry New Opera's 2009 season. Both Elsewhereless and The Shadow, in fact, are the product of partnerships that were struck in Tapestry's unique composer/librettist laboratory — the "LibLab" as it is called — and came into being through numerous iterations over an extended period of time.
It's not surprising, therefore, to see another Tapestry alumna, composer Abigail Richardson, drafted for a recent "wordy" Toronto Symphony Orchestra commission. "The Hockey Sweater," based on the iconic Roch Carrier short story, will premiere Saturday May 12 at the child-friendly hour of 1:30pm, with Carrier himself delivering the text. Richardson's compositional ability to stick-handle music and text is well earned. With librettist Marjorie Chan, she won a 2009 Dora Award for outstanding new musical/opera for Sanctuary Song, inspired by the true story of an elderly elephant's journey to freedom. While the show officially "premiered" at the 2008 Luminato festival it too went through successive Tapestry-fostered stages of development after Chan and Richardson first met at "LibLab" in 2003.
CONTINUUM: Returning, for a moment, though, to Coleman Lemieux: Laurence Lemieux's name caught my eye a second time while working on this month's column, in the context of yet another interesting, musically significant show coming to the 918 Bathurst Centre, which is rapidly coming into its own as an alternative venue for ambitiously scaled productions. In the fall, 918 Bathurst hosted bcurrent's production of Nicole Brooks' Obeah Opera, profiled in the November WholeNote. Now, from May 27 to May 29, it will be home to Continuum Contemporary Music's "Contes pour enfants pas sages: 8 cautionary entertainments." (Caution: The middle two of the four performances are daytime school shows.) "Contes" is billed as "wisdom and bewilderness from the animal kingdom: a multi-layered, multi-media setting of all eight fables of French poet Jacques Prévert by Canadian composer Christopher Butterfield." Not surprisingly the British Columbia-born Butterfield has other operatic and multi-media fare under his composing belt. During 15 years as a performance artist in Toronto, he played in a rock band (Klo) and worked as a freelance composer and conductor.
It is not surprising to see Lemieux involved in the project, either. For one thing she and Butterfield have collaborated extensively before. For another, the show's combination of zany edginess and potentially cumbersome large forces (Choir 21, Continuum Ensemble, tenor, soprano, light show) make it a perfect challenge for Lemieux's deftness at mise-en-scene. David Fallis, no mean musical traffic cop either, will conduct.
While on the subject of Continuum, I should also point out that at time of writing there are still two of the four "New Music 101" Monday evening events to go (May 7 and May 14) and Continuum is "at bat" during the May 7 event, along with Contact Contemporary Music. Jointly presented by the Toronto New Music Alliance and the Toronto Reference Library, and hosted by writer/critic Robert Everett-Green, the two music presenters bringing works to each lecture/demonstration as often as not bring slices of works in progress. So no guarantees, but attendees at the May 7 event might just get a sneak preview of Continuum's ambitious new work.
Contact Contemporary Music also has a show this month, May 12 at the Music Gallery, titled "Short Stories," and billed as "an exploration of the symbiotic relationship between sound and vision, from narrative to abstract storytelling." Expect some insight into that one, too.
And speaking of the Music Gallery, check our listings (or their website), for Saturday May 5, Monday May 7 and Tuesday May 15, all at 8pm, for three events, two of them with out-of-town partners, reflective of the Gallery's mission and mandate.
CHORAL TO THE FORE: One of these years someone better qualified than I will do a thesis on the subject of the role choirs and choral music play in keeping a culture of contemporary classical and post-classical composing alive. So in honour of The WholeNote's tenth annual choral Canary Pages, here's a head-spinningly dense list (the "Begats" we call them round here) illustrative of this choral/new symbiosis: May 5 at 7:30pm, Toronto Children's Chorus' "Mystery and Mastery" includes works by Daley, Halley and Patriquin; May 5 at 8pm, Da Capo Chamber Choir presents "Celebrating Home," including works by Schafer, Chatman and other Canadian composers; May 5 at 2pm, King Edward Choir presents "Feathers on the Page" the world premiere of a commission by playwright/composer Leslie Arden; May 7 at 7:30pm, the Elmer Iseler Singers' "Get Music! Educational Outreach Concert" is largely built on Canadian works; May 12 at 8pm, Bell'Arte Singers present "Communal: Ways of Being" including a newly commisioned work by Sirett; also May 12 at 8pm, Oriana Women's Choir's "Earth, Air & Water" includes works by Telfer, Smallman, Daley and Watson Henderson and premiered works by Barron and Sawarna; May 13 at 4pm, the Canadian Men's Chorus' "Out of the Depths: An Exploration of Sacred Music" offers Murray's Book of Lamentations (a world premiere); May 16 at 7:30pm: Toronto Choral Society presents "Civic Spirits," song and story inspired by Toronto's ghost tales including a Finley premiere and other new works; June 2 at 7:30pm, Mississauga Children's Choir's "City Scapes" comprises music exploring sounds and sights of modern cities including a new work by M. Coghlan; June 2 at 8pm, Jubilate Singers "A World in Canada" is built on music by Canadian composers with various cultural influences, including Glick, Raminsh, Robinovitch and others.
All that being said, I've not mentioned perhaps the nerviest new music choral offering of the lot, namely a performance in Waterloo, Saturday May 5 at 8pm, of Christine Duncan's Element Choir. The ensemble sometimes consists of 75 singers or more, augmented by percussion, bass, trumpet and organ. For those who think that "choral" and "improvisational" go together about as well as a fish and a bicycle, this is a performance not to be missed. "With these extraordinary sonic resources in these capable hands, the Element Choir promises to be a spectacular experience, a joyful celebration of the human voice in creative music" says NUMUS' own blurb about the event. And they're probably right.
GALLERY 345: last, I want to return to a topic I started the "regular" season with: kudos to Gallery 345 at 345 Sorauren. Between Friday May 4 and Sunday June 3, I count no fewer than ten events (May 4, 9, 11, 13, 22, 24, 25 and 26, and June 1 and 3), that are likely to be of interest to readers of this column.
Again, check our listings for details, or scroll the Gallery 345 website. It's very functional. You will find yourself viewing in microcosm the astonishing range of performances and events that keep the new music scene ticking along. I will single out only one, because it exemplifies the aspect of community that places like Gallery 345 serve to foster: Sunday June 3, at 8pm, in celebration of composer Daniel Foley's 60th birthday, Gallery 345 presents "40 Years of Foley" featuring chamber works by Daniel Foley composed over the past four decades, in celebration of his 60th birthday, and performed by the likes of Robert Aitken and Dianne Aitken, flutes; Scott Good, trombone; Joseph Petric, accordion; Trio Poulet (violin, cello, piano); Tiina Kiik, accordion; Richard Herriott, piano; and others. The event is free.
David Perlman can be reached at publisher@thewholenote.com.