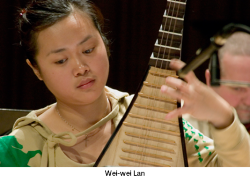 Something new is coming to town in May – a festival of music unlike any other. Aptly named 21C, this 21st century music festival produced by the Royal Conservatory spotlights new creation across the musical spectrum. The brainchild of Mervon Mehta, executive director of performing arts at the RC, the festival offers eight concerts over five nights, with 20 premieres, and runs from May 21 to 25. I sat down with festival composer-consultant Brian Current to get a first-hand overview of what awaits the listener and why this festival is so unique. Put simply, he describes it as a festival of "beauty and courage." The combination of concerts offers an opportunity for the people of Toronto to come and listen to who we are musically, and to hear our city proudly reflected back. It's a celebration of what's alive and vibrant in our collective lives at this time.
Many of the performers and composers involved in the festival are people whom Mehta has brought in to perform inside the acoustical wonders of Koerner Hall, which opened its doors in 2009. Mehta approached many of these artists to either write something new for the festival or to come as guest performers. His vision is to reach out to many different musical communities and in so doing, offer each audience the opportunity to hear something familiar and something unexpected. Thanks to its main benefactor, Michael Koerner, the festival is scheduled for a five-year run and over that time will be an extraordinary opportunity to build trust with the listeners of Toronto. The concerts will also be live-streamed online so it also offers an opportunity to generate an international audience.
So, what exactly is on the menu for this feast? With so much on the table, I can only offer highlights alongside details of some of the premieres and featured performers. As mentioned, one of the alluring and distinctive components of this festival is the weaving together of what's new within different musical streams.
Starting things off on May 21 at Mazzoleni Hall, is a chance to hear newly composed music for the pipa, a Chinese plucked string instrument performed by the outstanding Wei-wei Lan from China (co-produced with New Music Concerts, who first brought her here in 2007). The world music theme continues with the premiere of a new work composed by Toronto's masterful mridangam player Trichy Sankaran at the first "After Hours" concert on May 23. Sankaran is renowned both as a performer in the South Indian classical drumming tradition and as a composer for contemporary western and world music ensembles. The evening will also feature the music of Gurpreet Chana performing on his TABLIX system, a digital interface that allows him to explore the melodic potential of the tabla with accompanying visuals.
The influences of flamenco rhythms will be front and centre in the Conservatory-commissioned premiere of a work on May 23 by Spanish singer, songwriter and record producer Javier Limón. In the same program, strong rhythmic energy will continue to bounce against the walls in a commissioned work by American classical and jazz pianist and composer Uri Caine. Though written for the RC's resident ensemble the Afiara String Quartet, Caine's own approach will be primarily improvisational as he weaves his funky lines alongside the quartet's scored parts. This came as a surprise to Afiara's cellist Adrian Fung when the score first arrived without a piano part, Fung told me in a conversation we had about the quartet's involvement in the festival. Caine immediately assured him that indeed he would be performing with them, but that he doesn't write down his own notes. If the night's concert wasn't already cooking enough, the presence of Chilly Gonzales and his Conservatory-commissioned work for chamber ensemble and piano promises to ramp up the energy even higher. Mixing classical, jazz, pop, alternative rock and electronica influences, Gonzales' work Suite from the Shadow will no doubt be full of musical surprises. (The evening also will include a new iteration of Surface Tension, an extraordinary collaborative work for disklavier piano and live video by Eve Egoyan and David Rokeby.)
The Afiara Quartet will also be premiering Torontonian Christos Hatzis' String Quartet No.3 at the opening Koerner Hall concert on May 22. The work spins together multiple musical influences – Greek cantorial and folk music, Indian ragas, Roma melodies, trance and improvisation. As part of the rehearsal process, the quartet is working alongside a community of young music lovers who will be the only ones to have heard the quartet before the concert premiere. Other premieres happening on May 23 include Brian Current's chamber work Faster Still and Dutch composer Louis Andriessen's Anaïs Nin, a 40-minute work for soprano, film and mini orchestra, with the composer's strict instructions that it not be conducted.
The concert will also combine a belated celebration of Murray Schafer's 80th birthday with a performance of his Quintet for Piano and Strings, as well as a unique premiere – a call has been put out for short YouTube submissions as a way of finding out what the younger generation is up to in their basement studios. The winning work will be played on the screen that night and will thereby become the festival's 21st commission (another version of the 21C in the title.)
Other events of the festival include works by John Cage, Jennifer Higdon and Leo Ornstein on May 24, and a rare performance of Morton Feldman's super-pianissimo For Bunita Marcus on May 25. The second "After Hours" concert on May 24 features works and premieres by Shulamit Ran, Andrew Staniland and Michael Colgrass. The festival concludes, as it began, with a coproduction involving a leading established new music presenter, an Esprit Orchestra concert which spotlights world premieres by Canadians Zosha Di Castri and Christopher Mayo, alongside a recent work by Dutch composer Louis Andriessen.
Soundstreams and Airline Icarus
WholeNote readers may remember a cover story "Icarus Aloft" from the November 2012 issue featuring a conversation between Brian Current and Paula Citron on his opera Airline Icarus. At the time, he was making a recording of the music and since then, the work has been performed at the Fort Worth Opera's New Frontiers Festival in 2013. Now finally, after more than ten years' worth of workshops and concert-like productions, Soundstreams has come on board to give the piece its definitive performance with full staging and a run from June 3-8. Current is excited to have the renowned British director Tim Albery at the helm, working alongside set designer and The Globe and Mail's theatre artist of the year, Teresa Przybylski. It's a difficult work to stage, as the story takes place inside an airplane that keeps getting brighter until it finally disappears. Based on the myth of Icarus who vanishes in a blaze of light when he flies too close to the sun, the libretto is a commentary on our fascination with technology and our expectations that nothing will go wrong ... until it does, and disaster inevitably ensues.
The Music Gallery
On May 15, Nick Storring has curated a concert of music for the final Emergents concert of the season that breaks down all musical classifications. The Thin Edge New Music Collective will perform a diverse program of music including Los Angeles-based noise/underground artist Sean McCann, Toronto improviser Colin Fisher and Persian music virtuoso Araz Salek. The evening also includes the performance of a new work by composer Jason Doell and percussionist Germaine Liu as they "screech, rattle and creak" their way through a variety of sounds and movements.
May 30 marks the day for celebrating the pioneering legacy of Canadian electronic music instrument builder and composer Hugh Le Caine. One of his most significant designs was the electronic sackbut, built in the late 1940s while working at the National Research Council in Ottawa. The instrument was a sophisticated monophonic performance instrument that became the prototype for most of the synthesizers currently available. The multi-media evening will be hosted by composer/performer Gayle Young who wrote Le Caine's biography titled The Sackbut Blues. Special guest speakers will reminisce about their memories of Le Caine and be joined by musical performances to honour two of Le Caine's signature creations: the Special Purpose Tape Recorder and a recreation of his most famous composition Dripsody.
Additional concerts and events (see Listings for details):
May 8: Thin Edge New Music Collective presents their collaborative concert exploring spoken and musical language. Works by Denburg, Kardonne, Kasemets, Monk, Steen-Andersen and others.
May 9: TorQ Percussion Quartet performs the Canadian premiere of recent Pulitzer Prize-winner John Luther Adams' epic enviro-fractal work for percussion ensemble.
May 17: An Evening with Pipa Virtuoso Wei-wei Lan. New Music Concerts benefit .
May 28: Quatuor Bozzini performing works by John Cage at Gallery 345.
May 31: The SING! Legacy Award will be presented to composer R. Murray Schafer at this year's SING! The Toronto Vocal Arts Festival along with a concert of selections from his choral repertoire.
Wendalyn Bartley is a Toronto based composer and electro-vocal sound artist. sounddreaming@gmail.com