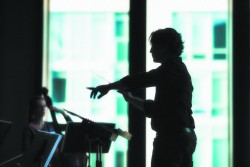 Award-winning, Ottawa-born composer/conductor Brian Current has had his works
performed and broadcast in over 35 countries. His honours include a Guggenheim Fellowship, the Barlow Prize for Orchestral Music, and Italy's Premio Fedora Award for his chamber opera Airline Icarus.
The Premio prize led to a fully staged production in Verbania, Italy in 2011.
Current is one of Canada's busiest men of New Music, and November is a particularly rich month for his activities. As artistic director of the New Music Ensemble at the Royal Conservatory's Glenn Gould School, he will be conducting two of his students in a concert at the Richard Bradshaw Amphitheatre on November 20. On the afternoon of November 25 at Mazzoleni Hall, Current leads an all-star cast in his opera-oratorio Airline Icarus, which will be followed that evening by a commercial recording session. Finally, on November 30, the Banff Centre's Gruppo Montebello performs the newly minted chamber ensemble version of Current's piano solo Sungods, titled Sungods 2012.
The WholeNote met up with the 40-year-old Current at the Royal Conservatory before a rehearsal of his New Music Ensemble.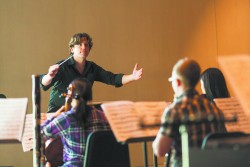 How did you get into New Music?
I used to be in a rock band in suburban Ottawa. We played 70s style classic rock. It was hard for me to get the guys to do what I wanted because I didn't know how to write down music — so I enrolled in the music program at McGill. It changed my life. I had a fantastic professor called John Rea. He tore my world apart by keeping us in the library, pouring over scores of composers like Berio, Stockhausen and Ligeti.
Your graduate work was in conducting. Why UC Berkeley?
My mother had family in the Bay area, and the Berkeley music program is strong. I did my MA and Ph.D. there. My thesis was scenes from Airline Icarus, so that opera has been with me since 2001. I call it "The Blast from the Past." The doctoral written exam was three hours long and covered 50 books. After all that reading, I was the smartest I've ever been in my life.
What's your creative process like?
I picture myself sitting in the audience and not being bored. I want to astonish the audience.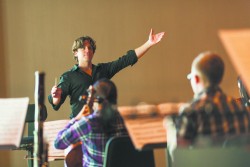 What exactly is your role with the RCM's New Music Ensemble?
One of my many jobs is identifying new artists. For example, the Richard Bradshaw Amphitheatre concert features pianist Ryan McCullough performing French composer Martin Matalon's piano concerto, and soprano Lucy FitzGibbon singing works by Korean composer Unsuk Chin. Both are wonderful young talents. The New Music Ensemble is a compulsory course for graduate students, so another of my jobs is taking them out of their comfort zone. By introducing them to New Music in a responsible way, they won't freak out when they have to play a contemporary piece during their professional careers. I want them to get rid of their nervousness around New Music. I also want to introduce them to unfamiliar work. Part of my job is demystifying the art form.
What is your demystifying process?
The first question I address is, Why does New Music sound so weird? I show the students that New Music is parallel to the visual arts being regarded as weird. I then point out that composers are trying to share with us what it is to be alive in this time, just like modern art does. Just like specific composers reflected Vienna of the 1800s, or Paris of the 1900s. Contemporary composers are breaking with the past in the true spirit of the avant-garde — the original meaning of the French term — advance guard — so that the soldiers in the forefront get mowed down so that others can follow.
You also have many workshops with composers.
Absolutely. I want them in the classroom, because the level of playing goes up when a living composer is in the room. The students can also equate the music with a real person. I hope this carries over to their classical gigs, and they see those composers as real people as well. I also take the students through the commissioning process, like applying for grants etc. I want them to develop a passion for commissioning new work.
Let's talk about your opera-oratorio Airline Icarus. What was the inspiration?
It was a mention in the Globe and Mail about the shooting down of a Korean Air Lines flight by the Russians in 1983 over the Sea of Japan. They thought it was a spy plane. I was particularly struck by the description of the last moments of the plane — that it turned in spirals like a falling leaf for 12 to 15 minutes. That made me think about a 12 to 15 minute lullaby for the passengers. There was also the image of Icarus flying too close to the sun, and the space shuttle Challenger disappearing into a flash of light in 1986.
Your librettist is the famed American-Canadian playwright Anton Piatigorsky. How did that come about?
Anton is a good friend, and one time when we were hanging out in 2001, he mentioned that he had written a poem about how nuts the experience of flying is. His theme was that we're eating processed chicken inside the plane while a freezing death is waiting just outside the window. I, in turn, mentioned the Globe article, and the excruciating image of the passengers' slow death. We had always wanted to work together, so Anton seemed like the logical collaborator. Anton is terrified of flying, and so is the tenor, his alter ego in the opera.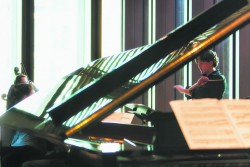 What is the storyline?
Anton set certain rules. No one gets stabbed. The plane goes to an unexotic place, so we chose Cleveland. (Incidentally, the piece is about the same length as a flight to Cleveland — 55 minutes.) And finally, the characters don't talk to each other, so the opera is mostly made up of interior monologues. There are four principal characters — all very Anton-like. He always writes about the human condition, warts and all. The soprano is a successful ad executive, a lonely workaholic who counts calories. The mezzo-soprano is the flight attendant who'd rather be going to Paris than Cleveland. She wants to meet someone. The baritone is a businessman who hates himself and his job. He sells highspeed computer access. The tenor is a scholar who's just written a paper on Icarus, so the myth is very much on his mind. And finally, a secondary baritone sings both the disgruntled baggage guy and the optimistic pilot. He's sort of the jester role. The small chamber choir doubles as a Greek chorus and passengers on the plane. The point is, everyone is acting so normal, yet flying is a terrifying experience. The airline is Current Air — that's Anton's joke. My joke is writing the safety demo in accelerando.
That's quite a starry cast you've assembled for Airline Icarus.
It's the A+ team in this city. Soprano Carla Huhtanen, mezzo-soprano Krisztina Szabó, baritone Alexander Dobson. There's 22 professional artists in all. The concertmaster is Benjamin Bowman from the ballet orchestra, and the musicians are all top players from the TSO, the COC and the National Ballet. I also have rising stars in tenor Graham Thompson and baritone Geoffrey Sirett. Pianist Claudia Chan is opening the concert with the piano solo of Sungods, which is an early version of the overture of the opera.
There is a very important technology component in the work.
Yes. The singers perform in front of video screens depicting a dreamlike airplane in flight. The screens change according to the point of view of the drama. Over the course of the work, the plane becomes brighter and brighter and eventually vanishes.
Airline Icarus certainly seems to have a shelf life. You've already had excerpts performed in Toronto and New York, and that production in Italy.
And I'm very grateful. It's going to be featured at the Fort Worth Opera's New Frontiers Festival in 2013, and Soundstreams Canada is planning a production in 2014. There may also be a tour of France.
Your own company, Maniac Star, is a co-producer of the concert. Where did that unusual name come from?
It's the name of a bookstore café outside Kyoto, Japan, and it really caught my fancy.
You're about to fly off to an International Society for Contemporary Music conference in Belgium as a delegate of the Canadian League of Composers. What has made you such a passionate advocate in the cause of New Music?
The Canadian League of Composers really got galvanized under James Rolfe, and I'm part of its advocacy arm. I go to New Music conferences with a suitcase full of discs of Canadian composers. One of the big tragedies in this country is that wonderful music is being written here and nobody knows about it. I want to get the word out. We should be proud to be Canadians. In 2001, I revised my 1998 orchestral piece called This Isn't Silence, which has become my mantra. It speaks to my desire to improve the status of New Music. When the CBC dropped Two New Hours, contemporary composers were devastated. We lost our presence on the air. On the other hand, it's an exciting time to be a composer. We don't have to wait for the CBC to pick up our concerts because there is YouTube and SoundCloud. We can broadcast around the world with our smartphones.
Why do you think that New Music has such a small audience?
Because people don't understand the art form. You have to walk them through it. The mistake they make is thinking that New Music is one big constant melody. Instead they should be listening for texture, or lots of melodies, and colour, which is the sound of the different instruments. They should understand that a composer thinks very carefully about the timbre he gives to a French horn, for example. The more we can connect audiences to composers, the better. 
Paula Citron is a Toronto-based arts journalist. Her areas of special interest are dance, theatre, opera and arts commentary.