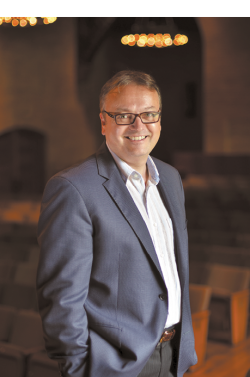 Koerner Hall is celebrating its fifth anniversary this season. During these years, the beautiful recital hall has become an integral part of Toronto's cultural life. The man who oversaw the launch of the hall, and who is responsible for its programming, is Mervon Mehta, the Royal Conservatory's executive director of performing arts.
Mehta, 53, comes from music royalty. He's the son of famed conductor Zubin Mehta and soprano/voice teacher Carmen Lasky Mehta. Grandfather/conductor/violinist Mehli Mehta was the founder of the Bombay Symphony Orchestra, uncle Zarin Mehta was executive director of the Montreal Symphony, Ravinia Festival and the New York Philharmonic, while cousin Bejun Mehta is an internationally acclaimed countertenor. There are also many Mehta cousins scattered around the world who are engaged in music activity of some sort. Mervon Mehta himself is a man of many talents, first as an actor and later as an arts administrator.
Mehta sat down with Paula Citron for a wide-ranging and candid interview that lasted for over two hours. The following Q&A reflects the who, what and where of Mervon Mehta.
You certainly had a peripatetic early life that included Vienna, Liverpool, Saskatoon and Philadelphia, before finally settling in Montreal where you grew up. Why all the travelling? My parents met as music students at Vienna's Hochschule. We left when I was six months old. My dad was appointed assistant conductor of the Royal Liverpool Philharmonic after winning an international conducting competition there. Because my parents had no job prospects and no money when that appointment ended, we went to live with my mother's parents in Saskatoon. When it was clear that Saskatoon wasn't going to jumpstart a career, we moved to Philadelphia to be with my father's parents. We slept on their couch. My grandfather was a member of the Curtis String Quartet and taught at the University of the Arts. My dad got a lucky break when he was called to replace a conductor at the Montreal Symphony, which led directly to his becoming the music director of the MSO. Maybe the board thought that an Indian conductor was exotic and sexy.
Your uncle Zarin, Zubin's brother, is also your stepfather. After my parents divorced, my mother married Zarin. It was like Hamlet, only no one got killed. I adored my uncle so it didn't feel strange when he moved in. I have one full sister and two half-siblings.
What was it like growing up in a musical family? My family is in the classical music business, so for me, normal was going to a lot of concerts, and being exposed to many different genres of music. My mother taught her students in the house, so I was surrounded by music, but I never thought my life was special.
And yet, when it came to a career, you avoided music. I did take violin and piano lessons, but I had no musical talent. I went in a different direction by engaging in sports. I played hockey, soccer and tennis. I went to Colgate University in upstate New York to get away from Montreal. That's where I fell in love with drama, although I was studying Russian and political science. I did everything relating to theatre — acting, directing, writing and producing. I introduced the drama department to the plays of Michel Tremblay. It was my Colgate theatre prof who said I should go to theatre school.
So that took you to New York, and Sanford Meisner and the Neighborhood Playhouse. His training was based on Constantin Stanislavski. Is that what attracted you? I liked his organic way of teaching. Like doing scales in music, his basic training was grass roots, honing in on the body, mind and instincts. It was all about theatre and acting. He was terrifying, always shouting at us that we had no idea about life, which was true. I studied with him for two years.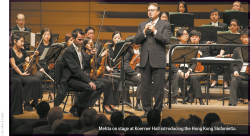 How did your career as an actor take form? I spent six years in New York, doing soap operas, Off-Broadway and summer stock. I was a singing waiter for three years, which helped pay my way. I came to Toronto in 1985, because I had some high school friends here, and I was looking for a new experience. I got an agent, which led to two glorious years at the Stratford Festival. When I came back to Toronto, I couldn't get any work because of the belief that once you did Stratford, you couldn't do TV or stage. So I looked to the States and went to Chicago. There was a lot of acting work, but it paid nothing.
And Chicago led to Ravinia which led to Philadelphia's Kimmel Center. My uncle Zarin had left the MSO to become the executive director of the Ravinia Festival. He asked me to babysit the pop concerts. It was supposed to be a temporary position, but then I was asked to program the pop series. I had produced concerts at Stratford and I knew my way around an IATSE contract. I was an expert in nothing, but was knowledgeable about lots of things relating to performance. Eventually I became director of programming, and then director of production. That's where I got experience programming classical, jazz, world music, country, pop and music theatre artists. I made the move to the Kimmel Center for the Performing Arts in 2002 when I was offered the position of first vice-president of programming and education. I really opened up the programming to all kinds of diverse artists and musical genres.
And then the Royal Conservatory headhunters came calling. I wasn't interested in a school at all. I had hated music school when I was there, but because my mother had graduated from the RCM, I gave her a call. I also contacted Janice Price who was head of the Luminato Festival. She had been CEO of the Kimmel Center. In fact, I was her first hire. Both of them told me the RCM deserved looking at. It was Janice who introduced me to Peter Simon, the RCM's president.
You had married Carey Suleiman who was in marketing at Ravinia. How did these moves affect her career? She was able to get marketing jobs in every city. She's currently vice-president of marketing and communications for the Toronto Symphony.
I'm curious about your son's name, Zed. Because there was Zubin and Zarin, we were looking for a name that began with "Z." We finally decided, why not Zed? Other names are alphabet letters.
Do you have an overriding vision for your role at the RCM? Before I got here, Peter Simon and the board had envisioned that they were building a palace for music — that they were going to create a great musical dialogue with the audience. That is the mandate I inherited, and I absolutely believe in it. They certainly had their priorities straight by concentrating on the acoustics. Midori told me that she loves Koerner Hall because you can hear everything. By the same token, she hates Koerner Hall because you can hear everything.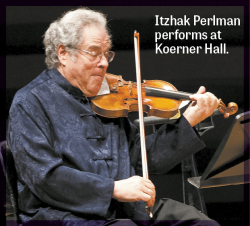 Why do you think that Koerner Hall was able to establish itself as a go-to place so quickly? For starters, there were fabulous reviews about the acoustics. Also, artists' anecdotes and word-of-mouth to agents. For example, Yo-Yo Ma opened our second season. He had heard about the hall from Midori because they have the same agent. I think we also got the reputation for offering a different kind of experience.
So let's talk about programming at the RCM in general, and Koerner Hall in particular. Programming was always going to be broad-based and of a high quality. That's what attracted me. We are, however, fairly limited in what we can do because there is no wing space, for example. We can't do rock concerts because we don't have the proper sound system. Then there's logistics and politics. Some top tier artists just don't want to come to North America. It's also important to program a significant number of Canadians. We don't repeat people in consecutive seasons, but there are exceptions. Gidon Kremer cut his fee in half so he could do a warm-up here for his Carnegie Hall concert.
I also look for themes. This season we're presenting all ten Beethoven violin sonatas. There's an Italian series featuring baroque, folk, jazz, pop and opera. The 21st century music festival features over 17 premieres. The jazz series is celebrating the musical legacies of Dinah Washington and Sarah Vaughan, both of whom would be turning 90 this year. We did Oscar Peterson a couple of years ago. It's more fun to do a concentration. I'm actually open to everything. We keep on experimenting — throw something at the wall and see what sticks. In this game, you can't get complacent.
Have you had programming that was not successful? The year we featured a baroque series, it didn't sell. It was a tough lesson. We discovered that the Tafelmusik audience is loyal, and that they won't go elsewhere. We lost money on every single concert. Also, the vocal series can't attract an audience, or a sponsor. There doesn't seem to be star power in vocal except for rare cases. Ian Bostridge sold just 450 seats at Koerner Hall. It was embarrassing. We thought it would work because he had sold 1,000 seats at Roy Thomson Hall. András Schiff is one of our biggest sellers for a piano recital, but when he came with a singer, it was half a house. Jazz great Chick Corea is going to attract the same crowd whether he's a solo, or with a band, yet the opera crowd doesn't seem to come to recitals. We can't afford to lose $20,000 on the vocal series. I do have to exercise fiscal responsibility. It is our biggest weakness, but I'm not giving up on it. We've moved down to three concerts from four this season. We're also kind of going at it sideways, by presenting non-traditional recitals, like the Natalie Dessay concert featuring the music of Michel Legrand.
Have you shifted the emphasis in programming over the years? I see that the number of concerts is down from a high of 87 in 2011/12, to this coming season's low of 71. There's no fixed number of concerts. It depends on who is available. For example, last year there were no African musicians, because no big names were touring, while this year there are four, because they are all coming to North America. I also only book things that I think will do well, but balance is the key. Admittedly, 87 different concerts just put too many tickets out there. The ideal number is between 75 and 80.
There's been no appreciable shift in programming. The double mission is still the same given our location — performance and education. Generally speaking, the split is 30% to 40% classical, 20% jazz, with the rest being world music and pop. The faculty concerts are at Mazzoleni Concert Hall, so programming for that venue is skewed toward classical. The majority of the concert rentals is also classical, like the Mendelssohn Choir. I think the general public sees us as a classical venue so part of the challenge is branding — letting audiences see that there are other types of concerts going on here.
What's the audience profile? Seventy-five per cent is from the GTA, although we also get people from London, Ottawa, Burlington and Oakville. Some come from the U.S. We did get grants to advertise out of town, specifically in Buffalo and Montreal.
How are you marketing the hall to build audiences? We have arrangements with local hotels — the Park Hyatt and InterContinental — for packages that include hotel room, dinner and a concert ticket, or just dinner and a concert. We created the Francophone series that brought Montreal artists to Toronto. We partnered with Alliance Française in the Chansongs series that featured singer/songwriters, one Anglophone, one Francophone, in an informal evening of music and stories in the intimate Conservatory Theatre.
We can also pack Koerner Hall by presenting ethnic artists, like Batuko Tabanka from Cape Verde, but we have to find the right partners who know their communities, and the right convenience stores to post concert flyers. This year we're partnering with Hot Docs on an experiment featuring music documentaries that relate to our season, like Pianomania, about a virtuoso Viennese piano tuner, and Jazz on a Summer's Day, about the 1958 Newport Jazz Festival. I'm hosting the chats with special guests. We're also toying with a family series for Saturday afternoons.
You've also made outreach to artists from other organizations in the city. Peter Oundjian had already conducted the Royal Conservatory Orchestra before Koerner Hall was built, but I brought in the COC's Johannes Debus, along with young Canadian conductors like Julian Kuerti and Jean-Philippe Tremblay.
Is there a rapprochement with other series in the city? Is there a problem about stealing audiences? The donation pool is also small. There's a gentleman's agreement between us and Richmond Hill, Brampton, Oakville and Burlington. There is not a big enough audience to sustain performances at all five venues. An artist can do two, but not all five. We talk to each other all the time because we have to be careful. We also work with the TSO, to make sure an orchestral appearance and a recital are spread out. Needless to say, we don't have bidding wars with Live Nation over rock groups.
What's your budget? We don't really have a budget. My priority is to break even and pay our overhead. We bring in whom we can under these conditions. Along with government support, our revenue from ticket sales and rentals is between $1.5 and $2.5 million. It's a $5 million department overall. The city didn't give a dime to build Koerner Hall, but it seems that mayor Rob Ford has turned his head around and now sees that culture means economics and growth.
The Ontario Arts Council gives money to the Glenn Gould School and we get Canadian Heritage money for concerts. We don't get any Canada Council grants, but the performance division is only five years old and we have to pay our dues. It's part of the game. We also get revenue from radio broadcasts, but that is down. The CBC taped ten concerts the first season, and just two last year. Also, advertisement costs just keep going up, so somewhere down the line, do we stop doing print, and opt only for social media?
I'm curious about what you mean by rentals? Are you just referring to other performance groups renting the space? It means a wide range of renters. In fact, without rentals, we couldn't survive. We play host to weddings, corporate AGMs, product launches, TIFF parties, etc. We make more money on a wedding than we do on a concert.
And my final question. How have you adjusted to life in Toronto? It's a pretty extraordinary city to live in. When people ask me "Why Toronto?" I counter with, "Do you know what you have here?" 
Paula Citron is a Toronto-based arts journalist. Her areas of special interest are dance, theatre, opera and arts commentary.