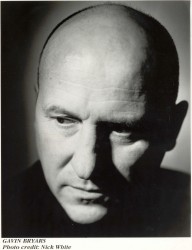 As I sit down to write this month's WholeNote column, the date (March 20) tells me that it's the first day of spring. Even though I see snow falling outside my window, I know that a completely different sensation is waiting in the wings: a mingling of the smells, sounds and colours of emerging spring. And with the arrival of April comes a plethora of in-with-the-new performances that promise to take the listener into a multiple-sensory experience.
Back in 1827, the German philospher K.F.E.Trahndorff coined the term "Gesamtkunstwerk" to express the idea of a synthesis of the arts. About 20 years later, the (in)famous composer Richard Wagner used this term to describe his vision of the unification of all forms of art into one expression. This ideal became the foundational principle of his operatic style. A companion to this idea is the phenomenon of synesthesia, a word created from the combination of two ancient Greek words meaning "together" and "sensation." The word describes the experience that some people have when the stimulation of one sense creates an involuntarily response in one of the other senses. An example would be someone who automatically sees colours while listening to music, or vice versa. So while the sensory world of spring begins to awaken around us, inside the concert hall the listener will have several opportunities to experience a variety of approaches to the combining of art forms, with or without an accompanying dramatic component.
Art of Time Ensemble: The WholeNote's cover story last month talked about the symbiotic relationship between dance and music in the work of Peggy Baker and how crucial her collaboration with pianist Andrew Burashko was for how she works with live music. This collaboration was equally formative for Burashko, who states that Peggy gave him "a whole new universe" in exposing him to a range of theatrical elements. And that without this infusion of new approaches, his ensemble, Art of Time, could not have happened. In fact his ensemble's reputation has been built on the daring and innovative interaction with outstanding artists in many different artistic disciplines, including dancers, writers, actors and non-classical musicians. Their production running from April 9 to 12 is titled "I Send You This Cadmium Red: Meditations On Colour And Sound." This exploration of the senses will combine music, theatre and visual projections to create a kaleidoscopic effect, which can best be described as a film, a painting, an essay, a play and a concert —all at once. In fact the whole becomes larger than the sum of its parts, and promises to be mesmerizing.
The music of composer Gavin Bryars will provide the score for the evening. Two of his works will be performed by the ensemble: After the Requiem and the title piece I Send You this Cadmium Red. The latter work by Bryars is based on a correspondence between the visual artist John Christie and Booker award-winning writer John Berger, who wrote The Ways of Seeing. To begin their collaboration Christie sent Berger a square of colour along with a letter that ended with the sentence "I send you this cadmium red." John Berger's reply was a musing on the cadmium red as well as many other colours, and the ensuing correspondence began a series of meditations on the essence of individual colours, while also delving into poetry, art history and memory. The correspondence eventually became both a book and a radio broadcast for which Bryars wrote music to underscore the colour themes in the texts. Performing the text taken from these letters in the Toronto production will be actors John Fitzgerald Jay and Julian Richings. To get a sense of the stunning explosion of colour and sound of this piece, I highly recommend viewing a short video from a 2011 performance of the work co-produced by Art of Time and Canadian Stage.
Toronto Masque Theatre: Even before the term Gesamtkunstwerk was coined, the art of masque existed. Tracing its origins back to the 16th and 17th centuries, this European form of interdisciplinary entertainment involved music, dance, song, acting, stage design and costumes. The Toronto Masque Theatre is dedicated to reviving this art form both through the performance of early works and the commissioning of new works. On April 25 and 26 they will present two pieces exploring the Greek myth of Europa, after whom the continent of Europe was named. Alongside a baroque-era work by Pignolet de Montéclair will be the premiere of Toronto composer James Rolfe's Europa and the White Bull. With a libretto written by poet/novelist Steven Heighton, this 21st century masque will expose the darker sides of the myth: power, sexuality and ethics. There are many versions of the original, but at the heart of the story is an encounter between Europa (sometimes equated with the goddesses Astarte and Demeter) and a bull, an animal sacred to the Cretan Minoans. (As a side note, I recommend a unique take on this story set in Ontario: the novel entitled Europa in the Wilderness written by Christopher Malcolm and published by Augusta House Press. )
Contemporary Opera: Then there is contemporary opera, a world that continues to imbue the traditional form with new elements. Last month, I introduced the FAWN opera company and their new workshop opera productions. On April 11, they are premiering a new chamber opera by award-winning composer Adam Scime, L'Homme et le Ciel. Based on sources from the second century, the libretto by Ian Koiter recounts one man's struggle to live righteously. Scime introduces electronics into the score as both an enhancement of the orchestral colours and to further the narrative. On May 3, FAWN presents an event in their Synesthesia series: a showcase of eight short films by emerging Canadian filmmakers with live soundtracks by Toronto composers.
Back to opera: the Essential Opera company will be premiering three new one-act operas by three composers from the Toy Piano Composers collective on April 5. Monica Pearce's Etiquette combines music and speech to present various opinions about the role of etiquette in society. Elisha Denburg's Regina is based on the story of the world's first female rabbi – Regina Jonas. Chris Thornborrow's Heather explores the issues of cyberbullying. Just a week later, on April 12, these co-directors/composers of the Toy Piano Composers group will be presenting a concert entitled "Tension/Resolution: New Music for Harp and Ensemble" featuring soloist Angela Schwarzkopf and the TPC Ensemble. All works on the program are composed by TPC composers, who represent an eclectic range of interests and aesthetics – from chamber music to improvisation to sound installations and noise art.
Soundstreams: The groundbreaking Australian Art Orchestra has evolved their own way of blending and reinventing by breaking down barriers between disciplines, forms and cultures. On April 15, Soundstreams will present the Canadian premiere of their jazz-infused piece Passion After St. Matthew, a reinvention of J.S. Bach's St. Matthew Passion. Five of the ensemble's composers were asked to write new pieces inspired by five movements from Bach's masterpiece and these are linked together by chorale passages. However, the piece is a constantly evolving structure, and the Toronto performance will put together six members of the AAO with a 12-person ensemble of acclaimed Canadian musicians to create a unique new hybrid of the piece. The program will also feature a new work by Montreal-based composer Nicole Lizée, Hymns to Pareidolia, which will combine instrumental textures and turntable-based sounds in Lizée's exploration of Bach's themes.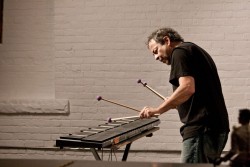 Music Gallery: Lizée pops up again this month in the Continuum/Music Gallery co-production "By Other Means" on May 4. In a concert that explores non-traditional techniques and new musical devices, Lizée will combine her turntable techniques with the sounds of Atari video games. She will be joined in this evening of sonic experimentation by international composers Salvatore Sciarrino, Hugo Morales Murguía, Erik Griswold, and Canadian Thierry Tidrow. Extended techniques are highlighted also at the Music Gallery's April 12 concert featuring Toronto-born musicians Noam Bierstone and Bryan Holt performing an evening of avant-garde Scandinavian works for cello and percussion, including two by Finland's Kaija Saariaho. This season the Music Gallery has been spreading beyond the walls of their home at St. George the Martyr church and producing events in other Toronto venues. On April 16, they venture into the heart of Kensington Market and its fringe-arts haven Double Double Land to bring Brooklyn-based vocalist Julianna Barwick to Toronto for an experience of spiritual ambience from a one-woman choir. She will be joined on the bill by another Brooklynite, Vasillus, as well as Castle If and Toronto's Christian Duncan with her astonishing five-octave voice.
Additional concerts to bring in the spring: April 22 pianist Christina Petrowska Quilico celebrates the CD release of Glass Houses Volume 2 featuring compositions by Ann Southam. Diana McIntosh presents works arranged for piano, toy piano, mouth percussion, voice, live electronics and tape on April 16. The Toronto Symphony Orchestra presents the Canadian premiere of Vivian Fung's work Aqua on April 11.
Works by contemporary composers are increasingly being programmed by more traditional concert presenters and ensembles. Here's a quick look at what's available this month. Works by Arvo Pärt can be heard in concerts by INNERchamber Concerts in Stratford, April 6 and by Masterworks of Oakville Chorus & Orchestra on April 12 and 13. The Kitchener-Waterloo Chamber Music Society presents works by Michael Coghlan on April 6 and Claude Vivier on April 23. The New York Chamber Music Festival presents a world premiere by Michael Oesterle along with other Canadian premieres by various composers at the Heliconian Hall April 18.
And speaking of world premieres, at noon on April 24 in the Richard Bradshaw Amphitheatre at the Four Seasons Centre for the Performing Arts, percussionist Rick Sacks presents a recital on MalletKat/keyboard, titled Polar Bears and Lullabies, that includes the premiere of a new work by Sacks titled "Necessary Outcome: A Meditation on Richard Dawkins" along with other works.
The end of the academic year in April provides an opportunity to hear what's cooking among the students of the various music programs. On April 10, Brian Current conducts the Glenn Gould School New Music Ensemble in Behind the Sound of Music, another world premiere by the prolific Nicole Lizée. April 25, the Royal Conservatory Orchestra performs Murray Schafer's Adieu Robert Schumann. Up at York University, a concert of new compositions from the students of Matt Brubeck (April 1) is followed by a concert on April 2 by York's New Music ensemble.
Quick Picks:
Canadian Music Centre: April 13 "Microexpressions: The 21st Century Virtuoso"; April 24 "Lunch Time Concert." Beckwith, Beauvais and Uyeda; April 25 "Mid-Atlantic: A Voyage in Song." Works by Branscombe, Coulthard, Morawetz and others.
Musideum: Association of Improvising Musicians (AIM): April 3, 10, 17
Larkin Singers: "Modern Mystics." Works by Tavener and others, April 5
Syrinx Concerts Toronto: "Walter Buczynski Birthday Celebration," April 13
Symphony on the Bay. "Celebration of film composer Mychael Danna," May 4
Wendalyn Bartley is a Toronto based composer and electro-vocal sound artist. sounddreaming@gmail.com