Going through the listings, I noticed that this month Continuum Contemporary Music offers an interdisciplinary work, Nuyamł-ił Kulhulmx/Singing the Earth, and Esprit Orchestra features an entire concert of hybrid music. Noticing how these two events reflected the theme of blurred boundaries between musical genres and artforms I've been exploring in this column, I then noted no fewer than eight similar instances of fusion in the new music on offer this month.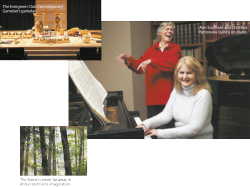 1. Esprit: Their "O Gamelan" concert on November 17 marks another collaboration between this country's only orchestra dedicated to new music and the Evergreen Club Contemporary Gamelan, a Toronto-based ensemble who perform on a series of bronze and wooden instruments from Indonesia, otherwise known as a gamelan. And they too are dedicated to the commissioning of new works from composers alongside performing both traditional and contemporary Indonesian repertoire.
Looking back historically at the rise of the gamelan's influence within western-based concert music, one can easily see what an enormous effect this music has had. It was Montreal-born composer Colin McPhee's orchestral work Tabuh-Tabuhan from 1936 that really got the ball rolling. It combined both Balinese and traditional Western elements, but at its core is a small gamelan-like ensemble comprised of western-based percussion instruments. The shimmering timbres and interlocking rhythmic patterns of the gamelan sound also captured the imaginations of pioneers John Cage (prepared piano) and Steve Reich (minimalism). The first western composer to build his own gamelan-inspired instruments and compose for them was Lou Harrison. And that brings us full circle to the Evergreen Club. It was when ECCG founder Jon Siddall met Harrison while a student at Mills College that a vision was spawned to form a gamelan in Canada. Through Harrison's Indonesian connections, the Evergreen Club eventually was able to acquire their instruments in the early 80s.
By bringing both an orchestra and a gamelan together, the Esprit concert is a perfect reflection of this history and appropriately, is presenting a work that Harrison wrote in tribute to Carlos Chávez, the man who conducted the premiere of McPhee's groundbreaking work. Alongside this historical piece will be a premiere of O Gamelan, a newly commissioned work by José Evangelista, who followed in McPhee's footsteps by studying in Bali, and is also responsible for bringing a gamelan to U de Montréal's Faculty of Music. We will also hear two works originally written by composers Chan Ka Nin and André Ristic for a 2005 concert inspired by the birdsong themes of Olivier Messiaen, as well as a 1983 work by Esprit conductor Alex Pauk.
It should come as no surprise to learn that Pauk himself also studied gamelan music and his work Echo Spirit Isle is a reworking for orchestra of a piece he originally wrote for Gamelan Pacificia based in Seattle. The program rounds out with an orchestral arrangement of Claude Vivier's Pulau Dewata, composed in 1977 as a tribute to the Balinese people.
2. Continuum Contemporary Music: On December 4 and 5, CCM will present a new work by composer Anna Höstman, Nuyamł-ił Kulhulmx/Singing the Earth, an interdisciplinary piece that arose from the composer's love of history and storytelling. Rooted in her deep personal connection with the land and communities of Bella Coola, a gem of natural beauty along the central coast of British Columbia, her creative process began with extensive research to discover the deeper layers of the area. And perhaps even more importantly, what guided her in this labyrinthian journey to uncover the stories of people from different cultural origins living side by side was her connection to the land itself. The forest is "never far away in my imagination," she told me. In fact it is this relationship with the forest's expansiveness and quiet that helps her find her way with music making. It is like the slipping on of a different jacket, a sensation she keeps close to herself while composing. And just as the nonhuman world of nature permeates Höstman's creative process, it is also a "North Star," a navigational guide, for all the peoples of the area — a mixture of the indigenous Nuxalk Nation and the descendents of Norwegian settlers.
Höstman's piece is structured as a series of 11 modules, each one an artistic response to the beauty and isolation of the area, the changes and losses of its people. During the performance, the audience will be immersed within an installation environment, thus creating a spatial counterpoint between people, objects, video projections and displayed texts. These texts originate from a variety of sources and are in four different languages — Nuxalk, English, Norwegian and Japanese. One source is fragments from anthropological field notes published in the 1940s, while another is a list of words in both English and Nuxalk denoting the area's flora and fauna. The work is scored for Continuum's ensemble along with mezzo-soprano, bass, saxophone and accordian. Prior to the 8pm performance will be a 7pm screening of a film.
3. NAISA: Another take on similar themes will occur during New Adventures in Sound Art's annual SOUNDplay series which presents new fusions between the boundaries of sound art and new media. Fitting into their 2013 programming theme of Sonic Geography, this year's installations and performances will address concepts of home, space, land, migration, love and the human condition. The main performances are on November 7, 9, 16 and 23 in Toronto and on November 8 in Hamilton. An audio installation, "Whispering Rain," runs from November 9 to 30 in the NAISA space.
4. 416 TCIF: As always, the improvisation scene is hopping with crossover possibilities. This month is the 12th edition of the 416 Toronto Creative Improvisers Festival with "the best music you've never heard." For four nights from November 6 to 9, at the TRANZAC, the programming includes hand-signal-directed orchestra, laptop mash-ups by the McMaster University-based Cybernetic Orchestra, ambient dreamscapes and free jazz virtuosity with both local and visiting guest artists.
5. and 6. Soundstreams and KWS: Extemporizing even further on the subject of fusion, the Kitchener-Waterloo Symphony is programming an evening of rock-inspired music for orchestra on November 7 and 8 in Kitchener and November 9 at Koerner Hall, including Nicole Lizée's Triple Concerto for Power Trio: Fantasia on Themes by Rush, a virtuosic blast for guitar, bass and drum. And on November 13, you'll have an opportunity to experience "Reimagining Flamenco" with Soundstreams' presentation of contemporary perspectives on flamenco works. Blending fire and passion, this concert will offer reinventions for guitar, piano and flamenco singer of the old master Manuel de Falla and Paco de Lucia, among others. Alongside these pieces will be the premiere of a new work by Canadian composer André Ristic, whose music also appears in Esprit Orchestra's gamelan concert.
7. and 8. Piano virtuosi: On November 24, "Music She Wrote: A Tribute to Canadian Woman Composers" will be another opportunity to hear new orchestral music. This time it's the Koffler Chamber Orchestra with conductor Jacques Israelievitch featuring pianist Christina Petrowska Quilico, one of Canada's leading interpreters of contemporary music. She will perform two piano concertos written by two Canadian women composers — Heather Schmidt and Violet Archer. The orchestra, comprised of professional, community and music students, will also perform orchestral works by Ann Southam and Larysa Kuzmenko. Ms. Petrowska Quilico has had a connection with all four composers, having previously given the premiere performances and released CD recordings of the Schmidt and Archer works, as well as a CD release of Southam's music. Both recordings resulted in JUNO nominations for the three composers. On the same evening (November 24) Eve Egoyan, another virtuosic pianist and interpreter of contemporary music who also enjoyed a close artistic relationship with Ann Southam, will perform works by James Tenney, Piers Hellawell, Linda C. Smith and Michael Finnissy as part of the Kitchener-Waterloo Chamber Music Society series. This program will repeat in Toronto on November 26 presented by Music Toronto.
9. Arraymusic has a busy month with two concerts on November 9 and 10 of "Small Wonders," their popular minatures series. Numerous composers have written these short moments in time for the ensemble over the years, and this concert will feature several ensemble pieces from the past along with eight new premieres. The Array ensemble will also perform short works by Webern, Feldman and Carter alongside two longer compositions by Jo Kondo and Canadian Ruth Guechtal. I also want to mention an important Array concert on December 6, "The Signal Itself," a celebration of the music of James Tenney. Tenney was a visionary and a beloved composer of this city who taught at York University for over two decades. More to come on this in the December issue, but I just wanted people to know well in advance.
10. Additional new music events:
Thin Edge New Music Collective: November 21.
Canadian Music Centre: November 9 – Rosedale Winds; November 13 – junctQin Keyboard Collective.
Canadian Opera Company: November 13 – Piano Virtuoso Series.
Royal Conservatory/Toronto Harp Society: November 10 – Works by Buhr, Schafer and others.
Toronto Mendelssohn Choir: November 20 – Britten at 100. 
Wendalyn Bartley is a Toronto based composer and electro-vocal sound artist. She can be contacted at sounddreaming@gmail.com.