Back in my June column, I was suggesting that with the upcoming warm weather of summer and the ending of the concert season, this more casual atmosphere was the perfect scenario for concerts that offered a blurring of boundary lines between musical genres and art forms. Now just two months into the fall season, I'm already seeing that something else of an overall direction is unfolding in the world of "the new," and it's not because of warm weather. In September, the Guelph Jazz Festival went beyond the jazz borders to include improvisation from a variety of musical traditions, including composed/notated music. Now, in October, there is an entire festival produced by Toronto's Music Gallery that is all about this blurring of genres. The theme of this year's X Avant New Music Festival — 
This Is Our Music
 — is a reference to Ornette Coleman's 1960 album of the same name. Running from October 11 to 20, the festival celebrates all streams of experimentation, and the innovations that Coleman introduced certainly would fit right in. Organizers have identified their mix of experimental genres and traditions as "urban abstract music." And adding to this boiling hothouse of innovation, they are presenting two works that in the past had been the cause of both a riot and a mini-scandal.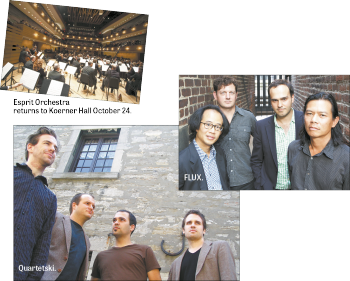 Let's begin with Igor Stravinsky's The Rite of Spring, a ballet score that premiered on May 29, 1913, in Paris. These days it's become a well-loved work, but 100 years ago, its asymmetric rhythms and clashing dissonances caused such an uproar that the police were called in to calm the audience. But the rioting continued and got so intense that Stravinsky himself left before the performance was over. Wow ... passionate audiences who know what they do and don't like! A century later in the city of Toronto, this work has already received one performance I can remember (by Esprit Orchestra in January) and will be featured in the Mariinsky Orchestra's Roy Thomson Hall all-Stravinsky program on October 6.
But things will definitely take a different turn on October 11 at the X Avant Festival when the Montreal-based group Quartetski reinterprets this classic using unusual orchestration and free improvisation to bring out what they feel is implicit in the original. And that's just what this exceptional group is dedicated to: a revisionist approach to classic works of the "great" composers achieved by mixing various traditions and techniques to discover new possibilities, ultimately creating a new type of chamber music. I suspect there won't be a riot this time around, but rather enthusiastic ears welcoming the daring move into the somewhat sacrosanct territory of the musical masters.
Quartetski is a perfect example of what I'm sensing is becoming more and more standard — music that defies being pigeonholed into neat and tidy categories. And interestingly, the Canada Council for the Arts is getting in on the discussion. On October 13 there will be an interview and Q&A with one of their music officers (Jeff Morton) to discuss the new priorities and criteria for funding this music that is increasingly happening along the edges of traditional boundaries, a direction they describe as "genrelessness."
But back to the second scandal-associated work that has been programmed. On October 12, Morton Feldman's six-hour long String Quartet No.2 will be performed by New York's incredible FLUX Quartet. So what's the scandal? The piece was originally commissioned by New Music Concerts in 1983 and was broadcast live on CBC, performed by the then-unknown Kronos Quartet. But as the hours went by, CBC had to make a decision whether to cut it off to make way for the news broadcast. They decided to stick it out and no riots ensued. The piece ended just before the 1am blackout. The physical and mental rigours of performing such a long work demand extreme dedication by the performers.
FLUX, who take their name from the 1960s' Fluxus movement, perform the work about once a year, making it into a bit of a speciality. No doubt they are so dedicated because of what they receive from performing it. Feldman's music offers a truly intimate encounter with the substance of sound, unfolding subtly, calling out for your attention. It's been said that you don't really listen to the music, but rather you live through it, breathe with it. In other words, it is truly an immersive bodily experience. To create a sensitive listening environment, the Music Gallery will be transformed into two chill out rooms, with accompanying food vendors and installations in the nearby OCADU student gallery. Added to that, CIUT-FM will be broadcasting the entire performance as a nod to the original premiere. You can create your own unique listening environment if you live within radio signal range. It will be a "slow-motion rave." Feldman himself called it "a fucking masterpiece."
Other festival highlights include a rare appearance by the legendary minimalist Charlemagne Palestine on October 13, renowned for his high voltage piano-cluster music, and music by composers Rose Bolton (October 13) and Scott Good (October 20). Improv duo Not the Wind Not the Flag will partner with bassist William Parker on October 17; and the festival's ensemble-in-residence — Ensemble SuperMusique from Montréal — will perform their revolutionary Musique Actuelle on October 18. The following night, A Tribe Called Red lets loose their version of urban abstract. Mixing Pow Wow sounds with pan-global influences, their beats have roared onto the scene and opened up new territories in the conversation around cultural exchange. Partnering with this concert is the ImagineNative Film Festival, which will be screening images from all aspects of First Nations life. Closing the festival on October 20 will be Hamilton-born tabla player Gurpreet Chana, whose influences stretch from DJ culture to classical South Asian. He will be transforming his tablas into a digital interface controlling an array of hardware and software to extend the sound of this much-loved instrument into unknown waters.
SEASON OPENERS
October is full of season openers for many of our local new music presenters. In Waterloo, NUMUS is offering two events in October quite different from each other. On October 4, the exceptional Gryphon Trio and guest clarinetist James Campbell will perform the epic Quartet for the End of Time, a 50-minute work by Olivier Messiaen, written while the composer was imprisoned during WWII. This will be partnered with Alexina Louie's Echoes of Time which was inspired by Messiaen's piece, along with music by the Ukrainian composer Valentin Silvestrov. All three pieces are on the Trio's latest CD release For the End of Time. And on October 25, NUMUS contributes to the genrelessness orientation with a cabaret featuring the 13-piece Slaughterhouse Orchestra performing ten songs in a wide range of styles. Each song explores various novels written by the American writer Kurt Vonnegut.
Esprit Orchestra launches their "new era" on October 24 with Claude Vivier's shimmering Zipangu, R. Murray Schafer's tongue-in-cheek No Longer than Ten (10) Minutes, and two orchestral works by Montreal-born Samy Moussa, who now enjoys a career as both composer and conductor in Europe. The program rounds out with Russian composer Alfred Schnittke's Viola Concerto.
New Music Concerts' season begins on October 6 with a concert that received extensive coverage in September's WholeNote. On November 1, they will present an electric evening of interactive works, highlighting two by David Eagle and others by Canadians Jimmie Leblanc, Anthony Tan and Anna Pidgorna, and German composer Hans Tutschku. Interactive compositions are like a great sonic playground where the acoustic sounds of the live instruments are transformed in real time with the aid of the technology.
October also heralds the beginning of a new chamber ensemble with the delectable name of Dim Sum, a group dedicated to presenting new compositions for Chinese instruments. Their debut concert, "Xpressions," on October 27 features several world premieres by local composers. Another recently founded ensemble, the Thin Edge New Music Collective, will be performing works by John Zorn, Allison Cameron and others on October 25, while the Toy Piano Composers celebrate the beginning of their fifth season on October 12 at Gallery 345.
The Canadian Music Centre continues its concerts of contemporary piano works on October 3 and 13, as well as hosting "A Touch of Light" with piano music and visuals during Toronto's Nuit Blanche on October 5. And to finish off, this month sees a number of concerts celebrating Benjamin Britten's 100thanniversary. The Canadian Opera Company will be presenting two noon-hour concerts of his vocal music on October 9 and 23. His Violin Concerto will receive a performance by the Toronto Symphony Orchestra on October 10, while his War Requiem will be performed by several Kitchener-Waterloo area choirs in a concert presented by the Grand Philharmonic Choir on October 19.
The experimental pot is stirring and I encourage you to get out and support the blossoming of the new sounds of urban abstraction, wherever they may show up. Also, check out the WholeNote's online blog for up-to-the-minute reports for some of these events. 
Wendalyn Bartley is a Toronto-based composer and electro-vocal sound artist. She can be contacted at sounddreaming@gmail.com