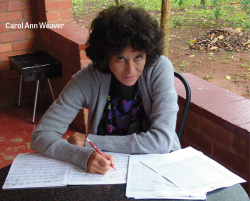 As we head into the summer season, spending time outside in the natural world is the one thing most of us eagerly look forward to after enduring the long winter months. And even though we are now witnessing the incredible enduring force of nature bursting with new growth all around us, we also know deep in our guts that life as we know it on the planet is in trouble. Already many places are experiencing the effects of climate change, super storms, rising sea levels, drought, and on and on. It has been argued by many that one of the reasons that we are in this situation is that collectively as an industrialized culture, we have lost our sense of deep respect for being in relationship and communion with nature. Our technological and unlimited growth ideologies have led to widespread misuse of the earth and its resources. So, one of the questions that I ask in response to these difficult issues is how can musical practice and sound itself cultivate a restored relationship and connection with the earth, with the land, with the natural world.
June: Since the early 1970s, Canadians have been pioneers in the field of acoustic ecology and soundscape studies, beginning with the groundbreaking work of composer R. Murray Schafer and his colleagues at the World Soundscape Project. So it is no surprise that Schafer is one of the keynote speakers in the upcoming "Sound in the Land – Music and the Environment" festival at the University of Waterloo's Conrad Grebel College. Running from June 5 to 8, the festival/conference is the brainchild of composer Carol Ann Weaver, who is part of the music faculty at Conrad Grebel.
During a conversation I had with Weaver about her vision and motivation for creating a series of Sound in the Land festivals (2004, 2009, 2014), she spoke passionately of her love for the stillness and beauty of the wilderness. From these experiences she has cultivated a creative practice focused on listening to the soundscapes of nature and composing music in response to what she hears. It is this quest to recreate the magical moments in nature that inspired her to pull together this uniquely focused multi-disciplinary event in order to delve more deeply into the relationship between music and the natural world. The festival will combine concerts, workshops, keynote speakers and academic paper presentations to create a cross-pollination of ideas, sounds and people and the music of many musical cultures so that the "bruised and broken planet can yet be sung back into new birth." Appropriately, Schafer's keynote address is titled "Hearing the Earth as Song."
Although the conference occurs early in the month after many WholeNote readers may have received their summer issue, the festival provides an important context for these larger questions of how musical practice can participate in the restoration of the planet.
The festival concerts range from soundscape music to European-based chamber, orchestral and choral, alongside African-themed, Korean, Balinese, Argentinian and First Nations music. For early risers, there will be a dawn soundwalk on June 7 and on June 8, a dawn concert at Columbia Lake that will include some of Schafer's music specifically written to interact with the natural environment. It will also include works by composers Emily Doolittle and Jennifer Butler, both of whom have been profoundly influenced by their longtime involvement in Schafer's wilderness collaborations. These words by Schafer sum it up: "Sing to the lake, and the lake will sing back!"
The African Kalahari Desert is also featured prominently in the festival and is the focus of the main evening event on June 7, which combines African traditional songs, African-influenced composed music and the second keynote address, "Hearing Songs from the Earth – Kalahari Soundscapes and Visuals," by Gus Mills. Mills has spent many years researching African large carnivores and will use recordings and visuals to demonstrate the interaction between the behaviour of these species within an acoustic ecological framework. Earlier in the day, the concerts include a series of compositions created from soundscape recordings as well as the Grebel Gamelan performing traditional music from Bali.
The "Sonic Convergences Concert"on June 6 will feature four orchestral pieces, each highlighting natural themes. Included is Weaver's piece Kalahari Calls, influenced by her experiences in Africa. The evening will conclude with Earth Songs by Korean artist Cecilia Kim, a five-part multimedia piece combining music theatre, visuals and Korean traditional music. Texts for two of the songs are from the poetry book Where Calling Birds Gather by Canadian poet John Weier.
One final observation I'd like to make about this festival is to draw attention to the Mennonite legacy of the host college Conrad Grebel and its commitment to promoting nonviolence and justice. It is Weaver's vision to expand that perspective to include peace and balance for the earth that makes this festival such a landmark event.
Open Ears: It seems that Waterloo is the place to be this June with the return of the Open Ears festival. Now in its 16th year, it runs from June 5 to 15 offering ten days of performances, discussions and installations presented in a range of different venuesand programmed around the overall theme of "Open Stories." This year, the festival will be running concurrently with an exhibition of contemporary visual art organized by the Contemporary Art Forum Kitchener and Area (CAFKA) which runs through to June 29. Some of the Open Ears highlights include Griffin Poetry prize-winner and sound-artist Christian Bök (June 7); a concert combining viola da gamba and the hurdy gurdy (June 9); the Penderecki String Quartet with music inspired by T.S. Eliot's Four Quartets (June 10); the Nexus percussion ensemble appearing with Sepideh Raissadat, the first female vocalist to publicly perform in Iran after the 1979 revolution (June 13); a performance of Steve Reich's epic work Drumming (June 14); and an opera marathon, featuring five new Canadian operas (June 15). There's so much more in this festival; I urge you to check out the Open Ears website.
July: Moving into July and continuing with our theme of music in the environment, we arrive at Stratford Summer Music and onto Tom Percussion Island. From July 15 to July 20, the island will be filled with nine percussion-based instrumental exhibits on display for audiences to engage with, including a tongue drum made from a hollowed-out apple tree trunk, fire drums made from cut and tuned fire extinguishers, a piano dulcimer made from a 110-year old piano flipped on its side and a Dream Gong Maze for you to get lost in. At various times during the week, members of the percussion quartet TorQ will be on the island to perform their own "pop-up concerts" or join with the public in exploring the sounds of these instruments in the outside environment.
The TorQ quartet is in residence this year at SSM; in addition to their presence on Percussion Island they will be offering three concerts as well as running their annual Percussion Seminar designed for university percussion students. Seminar participants will offer outdoor "BargeMusic" performances and will join TorQ and guest faculty member Nebojsa Jovan Zivkovic on stage for the three concerts. Zivkovic, who now resides in Germany, is world-renowned as an expressive marimba and percussion artist and as a masterful composer. His works will be showcased on the July 25 concert, including his piece Tak-nara that features more than 75 instruments on stage. On July 20, TorQ will join with the Larkin Singers to perform works written for choir and percussion by Eric Whitacre, Riho Maimets and Colin Eatock. Their final concert on July 27 will include the Canadian premiere of the 99-percussionist version of environmental composer John Luther Adams' Inuksuit.
Other new music events at Stratford Summer Music include a panel discussion on percussion music at the annualHarry Somers Forum and a return visit bythe Bicycle Opera Project, who will have pedalled from Waterloo after their performance in the Open Ears opera marathon earlier in June. The bicycle performers provide a car-free alternative to touring along with two collections of short operas and excerpts, including pieces recently talked about in this column: L'Homme et le ciel by Adam Scime and Airline Icarus by Brian Current and Anton Piatigorsky.
August: As mentioned earlier, the process of listening is of utmost importance in fostering this deeper relationship with nature. And one of most accomplished proponents of the importance of listening is American composer Pauline Oliveros, who has evolved a unique approach to not only music and performance, but also one that has influenced literature, art, meditation, technology and healing. She calls this process "Deep Listening," and describes it as "listening in every possible way to everything possible to hear, no matter what one is doing." This requires a heightened consciousness of the world of sound and the sound of the world, encompassing the sounds of daily life, nature, one's own thoughts, imagination and dreams.
In one of my first personal encounters with her many years ago, she took a small group of us out into a forest to engage in this more expanded experience of listening. Not only did we listen to the soundscape, but she introduced a simple vocal composition (Sonic Meditations) during which we sang and intentionally directed our sounds to the trees around us. "They need to hear our sounds," she said simply. This experience not only opened up a world of possibilities for my own work with sound, but this paradigm establishes a template for how we can communicate nonverbally with all living beings. It creates a model for a co-existent and reciprocal relationship, using sound and its vibrations as a vehicle for connection. In a recent correspondence I had with her, I asked specifically about her process of attunement with the environment. She stated that "the connection with all things happens through listening. When I perform it is my intent to listen inclusively to all that I can possibly hear. Inclusive listening seems to be magnetic. I have had many experiences with birds and insects gathering around me in outdoor concerts."
Her work also challenges traditional artistic values by subtly moving the focus away from the artistic work as a separate entity and inviting each of us to open up how we are perceiving all layers of any given soundmaking or artistic experience. Her goal is to "balance out, and come to a different understanding of what can be done." These ideas are central to cultivating our relationship with nature and expanding how we imagine sound as a significant ingredient of this connection.
In August, Toronto audiences will have an opportunity to experience her Deep Listening work. She will be delivering a keynote lecture at the Toronto International Electroacoustic Symposium on August 15 and will be giving a solo performance on August 16. She will also be doing an artist talk as part of the Sound Travels Intensive that begins on August 19. All these events are organized by New Adventures in Sound Art (NAISA) and more details can be found on their website.
QUICK PICKS
Toronto Music Garden concerts: Kahnekaronnion (The Waters): Original songs by the Akwesasne Women Singers and compositions by Barbara Croall, July 3.
Bach to the Future: Cello music by Bach, Piatti, Britten, and the world premiere of a work by Michael Oesterle, August 28.
Soundscapades: An exploration of the diverse sounds, landscapes and people of the city of Toronto with TorQ Percussion, September 7.
Wendalyn Bartley is a Toronto based composer and electro-vocal sound artist. sounddreaming@gmail.com