It has now been one year since I wrote my first In With The New column for WholeNote, and in looking back over the past 12 months, I've made a short list of what I've observed as the leading edge of the new in our local music scene: the continual blurring of lines between musical genres (or the rise of "genreless music"); improvisation anchoring itself as a respected artistic voice and creative process; the role of community building and the creation of composer collectives; the movement out of the concert hall into new listening spaces and environments.
During this reflection process, a memory image came to mind from one of the first new music concerts I ever attended. It was back in the early 70s in Walter Hall at U of T's Faculty of Music. The concert stage was full of percussion instruments, the lights were dim and candles lined the stage front. A bearded man dressed in white (John Wyre) along with some of his students moved as if in a dance amongst the assembled gongs, bowls, drums and no doubt all sorts of instruments from around the world. The mesmerizing cornucopia of sounds they invoked opened up a new world of possibilities in my imagination. I heard sounds that previously had existed only at the edges of my awareness. I was hooked. Determined to experience more, I immediately signed myself up to attend New Music Concerts, thereby exposing myself to the wild and adventurous sound experiments taking place both here in Canada and internationally.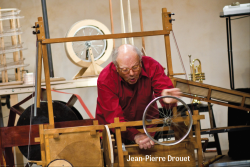 New Music Concerts: And now 40 years later, New Music Concerts continues to bring these cutting-edge sonic visions honed by composers and performers to its audience members. The program they are presenting on March 2 represents the creative interests of many composers active in the 1970s. It will feature the multi-talented percussionist, improviser and composer Jean-Pierre Drouet playing works by some of these international composers that NMC introduced to Toronto audiences in its early days: the likes of Kagel, Rzewski, Aperghis and Globokar.
Threads common among these composers include the intersection between music and theatre, the use of improvisation and extended techniques, and (the thread I'll focus on in this month's column) the practice of creating music that reflects upon socio-political issues.
On the program, two solos from Kagel's Exotica will be performed. It's one of his first pieces to focus on musical and political history, and tiptoes that elusive edge that exists between the West and the world beyond. Scored for an array of non-European instruments, Exotica reflects on the issue of what makes the music exotic. Is it because the sounds have been shaped by the pen of a Western composer, or rather is it because with the sounds of these instruments, it's not possible to produce music with typical Western features? It's a provocative topic to reflect upon all these years later, especially given the high interest amongst composers steeped in western musical traditions in using an ever-expanding range of instruments and sound sources. Even my own initiatory experience of new music is implicated in this matter.
Continuing, Globokar's work Toucher, based on scenes from Bertolt Brecht's play Life of Galileo raises issues of being silenced by structures of power (the church, government, and tyrannical ideologies). Rzewski, renowned for works that exhibit a deep political conscience, is represented with To The Earth, which stands in solidarity with the growing consciousness of the environmental movement. Drawn to the combination of music and text, Aperghis' Le corps à corps narrates the thrills of a car racing event from multiple perspectives using both sound and spoken word. It portrays the composer's practice of transporting everyday events to a poetic, often absurd and satirical world. Rounding out the program is Il libro celibe by Giorgio Battistelli, a composer fascinated by alchemy, psychology and the ideas of Marcel Duchamp.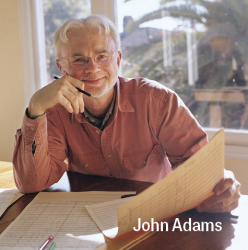 New Creations Festival: What is compelling about the approach of the composers presented by New Music Concerts is their dialogue with cultural and historical references. It's fascinating to note that this practice is also evident in many of the works being programmed at this year's New Creations Festival, the Toronto Symphony's annual celebration of contemporary orchestral works running March 1 to 7. Each of the three pieces by featured composer John Adams engages in a conversation with either political/social history or the history of music. Renowned for his post-minimalist style, Adams' music is full of contrasts and tends to be more directional and climactic than what we usually associate with minimalist music. His Doctor Atomic Symphony (March 1) is based on orchestral music from his opera Doctor Atomic. With a libretto created by Peter Sellars from a variety of sources (interviews, scientific manuals and poetry), the story centres around the final hours leading up to the first atomic bomb explosion at the Alamagordo test site in New Mexico in June, 1945. The music conveys the epic struggle and moral dilemma surrounding the impact of the force about to be unleashed into the world, which in hindsight, ushered in the atomic age.
Adams' two other works—Slonimsky's Earbox (March 5) and Absolute Jest (March 7)—are dialogues with some of the great names of musical history. Nicolas Slonimsky was a witty Russian author whose output included several books on music, including the Thesaurus of Scales and Melodic Patterns. Adams makes use of this compendium of modes in his Earbox piece, which arose out of his admiration for another Russian creator—Igor Stravinsky—and the use of modal scales in Stravinsky's The Song of the Nightingale. And finally, Absolute Jest is an adaptation of the light and energetic style found in Beethoven's late quartet scherzos composed as a concerto for string quartet and orchestra. Expect to hear a warped sense of time and harmony in this fast-paced dance.
Three other works in the festival also engage in a conversation with musical history. Canadian Vincent Ho's City Suite (March 7) is inspired by author Eric Siblin's book The Cello Suites which outlines the history of J.S. Bach's works for solo cello. In Finnish composer and pianist Magnus Lindberg's Piano Concerto No.2 (March 1), originally written for the virtuosic capabilities of festival guest performer Yefim Bronfman, we witness his tussle with the complexity of pianistic history. Former Los Angeles Philharmonic conductor Esa-Pekka Salonen took on a similar challenge during the composing of his Violin Concerto (March 5). His solution was to create a deeply personal narrative summing up everything he had learned and experienced in his life as a musician.
More-than-Human Communication: And when it comes to the exchange of ideas, what could be more cutting edge (or to be more historically accurate, steeped in ancient traditions), than inter-species communication? Back in the spring of 2013, the Music Gallery offered audiences an opportunity to listen to two recordings of humpback whale song in combination with electronics that had been released on their Music Gallery Editions label back in the 1970s. As a continuation of that initiative, the Gallery will be presenting an event on February 22 that combines both lecture and music. Bioacoustics researcher Katherine Payne will team up with recording artist Daniela Gesundheit and a group of Toronto-based singers and instrumentalists to create a unique sonic exchange with Payne's recordings of humpback whales and African elephants.
Improvisation: As mentioned in the opening paragraph, one of the major trends I've noticed over the past year is the presence of improvisation as a force to contend with. Improvisation relies on cultivating a listening presence, which is at the heart of all true communication and dialogue. From February 21 to 23 at the Tranzac, the Somewhere There Creative Music Festival offers a full schedule of concerts and lectures by performers and thinkers that reflect the vitality and diversity of what's happening on the improv scene in the Toronto area. The two festival lectures reflect on the history of experimental music in Canada and the roots of Toronto musical improvisation. Two other improvisation-focused events this month include "The Array Sessions," a concert of Toronto-based improvisers on February 6 at the Arraymusic studio and the Music Gallery's Jazz Avant event February 8 featuring the saxophone and electronic improvisations of L.A. based musician Anenon.
Additional Concerts:
Feb. 6: A Soldier's Tale - a dance theatre work with music by John Gzowski, COC.
Feb. 8: New works created for the Toy Piano Composers ensemble by Doelle, Dupuis, Murphy-King, Versluis, Taylor, Heliconian Hall.
Feb. 13: ∆TENT New Music Ensemble presents works inspired by remembrances of childhood by composers Tsurumoto and Southam, CMC.
Feb. 18: "Women in the Power House" – works by leading female composers, COC.
Feb. 19: Reverb Brass presents works by Ruo, Ridenour, Golijov, Carter, Maimets, Hillborg, Agnas, Lutoslawski, Gallery 345.
Feb. 21: Thin Edge New Music Collective presents new works by Anna Pidgorna (for two violins and antique wooden door) and Anna Höstman, along with performances of compositions by Ana Sokolović and Brian Harman, Gallery 345.
Mar. 2: Orpheus Choir presents the premiere of a new composition by Charles Cozens entitled Tres Bailes Latinos, influenced by the composer's relationship with Cuban musicians, Grace Church-on-the-Hill.
Wendalyn Bartley is a Toronto-based composer and electro-vocal sound artist. sounddreaming@gmail.com