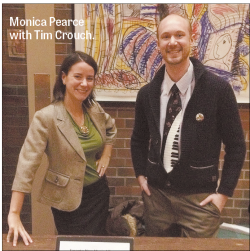 As the waves of the new and the experimental in sound continue to unfold in the life of Toronto's music scene, it's worth taking a look back at the institutions that brought us to this point. Certainly one of the most influential in the creation of this legacy has been the Music Gallery, which first opened its doors on St. Patrick Street in 1976. I know I'm not alone in having fond memories of all that went on within those walls. It was an experimental hub, an incubator and laboratory for the most cutting-edge musical developments. It also had an educational focus, serving the community by providing an accessible recording studio, launching Musicworks magazine, and starting its own recording label: Music Gallery Editions. And all that history over the years has been recorded. Just thinking of all the gems housed in their archives would be enough to make any aficionado salivate.
Monica Pearce: The latest news at the gallery is that they have just hired a new executive director — Monica Pearce. Monica comes with a background as a composer in the contemporary classical tradition, a concert presenter (Toy Piano Composers Collective) and an administrator (The Canadian League of Composers). She joins the Gallery's current artistic director David Dacks; their combined distinctive musical backgrounds promise to provide inspiring leadership for the next generation of innovation. When I spoke to Monica about the Music Gallery's current vision, she affirmed their ongoing commitment to building community and collaboration among artists of diverse genres and artforms. She sees the Music Gallery playing an important role in fostering this dialogue and sees that the time is ripe for camaraderie and mutual support amongst the eclectic range of new music presenters and artists in the city. She pointed to the creation of the New Music Passport as one sign of this collaboration. For a small fee, passport-holders are offered one discounted ticket to one concert by each of the 11 participating organizations. (This would make a great holiday gift by the way. See newmusicpassport.wordpress.com for details.) The New Music 101 series of talks at the Toronto Reference Library is another example of this growing solidarity.
The gallery also involves the artistic community by engaging different curators for the various concert series. This is evident in their current Emergent series, which is curated by all the featured artists of last season's Emergent concerts. The December 12 Emergent concert "Strange Strings" explores diverse string theories for new music mixed with DIY electronics and progressive rock while the January 17 event brings together Toronto-based sound artist Christopher Willes and the Ensemble Paramirabo from Montreal.
And just as Monica begins her new position, the current curator of the Post-Classical series, pianist Gregory Oh, presents his last concert on December 20, a production of the Pulitzer Prize-winning Little Match Girl Passion by American composer David Lang. Performed by a vocal quartet accompanying themselves on percussion, the piece is based on Hans Christian Andersen's classic Christmas story that illuminates the dichotomy between a young girl's suffering and hope. It draws much of its musical inspiration from Bach's St. Matthew Passion. The Washington Post's Tim Page said of the piece that it is "unlike any music I know."
As I mentioned above, part of the Music Gallery's vision is to collaborate with other new music presenters. On December 8 they will co-present a concert with Contact Contemporary Music titled "The Most Relaxing of All Instruments" in which listeners will experience an otherworldly program of solo and chamber works featuring guitarist Rob MacDonald and guests Stephen Tam (flute) and David Schotzko (percussion). And of course, the Music Gallery is often the preferred concert venue for many of the city's new music groups. On January 19, New Music Concerts will present "From Atlantic Shores" featuring the New Brunswick-based Motion Ensemble performing an eclectic mix of works by Maritime composers. The program includes a newly commissioned piece by Lucas Oickle, a recent graduate of Acadia University, along with two works connected to the historical Acadian area of Grand-Pre.
James Tenney: Another aspect of the Music Gallery's legacy from its early days in the 70s was the close relationship that was fostered with the music department at York University. Visiting artists at the gallery would often visit York and student ensembles would often perform at the gallery. James Tenney was one such York professor, composer and music theorist who fostered this relationship. On December 6, Arraymusic will celebrate Tenney's music with a concert of several of his works, including two pieces he write for the ensemble. In the words of former Arraymusic artistic director Robert Stevenson "Tenney shook up this city's music community, making us more aware of such experimental American composers as Conlon Nancarrow and Alvin Lucier. Through his devoted commitment to the music of our time, Jim provided us with the courage and determination to give our lives over to the music we believe in." This concert will be a chance to listen to Jim's brilliant visionary music, including works for different tuning systems and intriguing composition processes.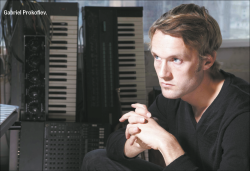 Gabriel Prokofiev: Over at the University of Toronto's Faculty of Music, this year's edition of their New Music Festival gets underway on January 25 with a concert of symphonic works by two generations of Prokofievs: the famous one — Sergei — and his grandson Gabriel, who is this year's invited visitor in composition. Gabriel Prokofiev's distinctive sound is informed by his background as a producer of hip-hop, grime, and electro records as well as his training as a composer in the classical and electroacoustic traditions. His critically acclaimed Concerto for Turntables and Orchestra, to be performed in the opening concert, is one example of how he mixes these two worlds.
The fact of his being the featured composer of the festival means that there will be multiple opportunities to hear the full range of the dynamic composer's music. Two concerts of his chamber works will be performed on January 29 and 30, along with a concert of his choral music on February 2. Included in the programming will be a recently released work Cello Multitracks, originally conceived as a multitrack work to be recorded by one performer, but also playable live for cello nonet. This is yet another example of how he combines influences from both dance music and more traditional classical forms.
On January 31 during a noon-hour concert of electroacoustic music, listeners will be treated to more of his works in this genre alongside recent pieces by graduate students. Later that evening, the Karen Kieser Prize Concert will present the 2013-winning piece Walking by Chris Thornborrow, as well as works by G. Prokofiev and others. Esprit Orchestra is also getting into the spirit of the festival action, and their January 26 concert will feature a movement from G. Prokofiev's Cello Concerto. This concert will also feature guest conductor Samy Moussa conducting the premiere of his own new work as well as a piece by German conductor Peter Ruzicka. Compositions by Canadian Zosha Di Castri and Berlin-based Unsuk Chin round out this concert titled "Strange Matter."
Walter Buczynski: Returning to the U of Toronto's New Music Festival, there will be an 80th birthday celebration afternoon concert in honour of professor Walter Buczynski on January 26 followed the next day by a guest piano recital by Roberto Turrin. A work by David Lang (composer of Little Match Girl Passion) will also be presented in an unusual concert pairing of bassoon and percussion music on January 29. Student composers will be presenting works on January 30 (miniature operas), February 2 (jazz) and February 4.
In brief: The theme "(Re)Generations of the New" shows up in yet another configuration over these next two months with nine different concerts that mix classical and contemporary music together:
December 3, works by Colin Eatock and Jean Papineau-Couture appear in a unique Canadian Day Revisited event at the Lula Lounge. Syrinx Concerts Toronto celebrates Canadian composers Harry Somers at their December 8 concert and Kelly Marie Murphy at their January 12 event, both at the Heliconian Hall. The Amici Chamber Ensemble includes a work by Tōru Takemitsu in their December 1 concert while the Annex Singers perform a piece by Arvo Pärt on December 14. And the Kitchener-Waterloo Chamber Music Society mixes in pieces by John Zorn (January 10) and Marjan Mozetich (January 12) while the Kitchener-Waterloo Symphony plays Stravinsky's Jeu de cartes on January 18.
To close out, we cannot forget the invaluable contribution the Canadian Music Centre has made in facilitating the growth of new music. Events such as their piano series keep Canadian music alive. Check out the January 13 event when Chris Donnelly will perform his Metamorphosis: Ten Improvisations for Solo Piano and their "Nonclassical Night" with Gabriel Prokofiev January 28.
Quick picks
Canadian Opera Company, lobby concerts: "Power Chords" features a new work by Scott Good on December 3; A Soldier's Tale by John Gzowski is February 6.
Soundstreams: Canadian Choral Celebration on February 2 pairs Gorecki's Miserere with the world premiere of R. Murray Schafer's Hear the Sounds go Round. 
Wendalyn Bartley is a Toronto based composer and electro-vocal sound artist. Her own concert, "A Winter Solstice Celebration CD launch," December 21, features selections from her recently released Sound Dreaming: Oracle Songs from Ancient Ritual Spaces. She can be reached at sounddreaming@gmail.com.