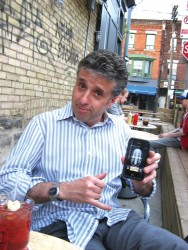 Ottawa chamber music festival (Ottawa Chamberfest) artistic director, Roman Borys, and I sat down at a noisy restaurant that had spilled out onto Toronto's burgeoning Ossington Ave. to discuss the festival and his role in it.
Borys, the cellist of the Gryphon Trio, had performed there most, if not every, summer since it began in 1993. In the fall of 2007, after the resignation of founding director, Julian Armour (also a cellist), the festival's board of directors invited him to take on the job of artistic director.
In its first eleven years, according to Borys, "it was this amazing festival that had been fuelled by vision and charisma. The problem was that a lot of important production details were not being looked after. There wasn't consistency in staff, and it is very difficult to run an organization like that. To be able to attract and keep good staff, you have to be able to pay them. All that business takes a great deal of time." In spite of this, the festival had been very successful, supported almost entirely by Ottawa people. "It's about small ensembles, a small group of people relying on one another, there's an egalitarian feel about this music … everyone is an equal, everyone has their voice, and that's the beautiful thing about chamber music. I think that is one of the reasons it took off in Ottawa when it did, that this aspect of the music corresponded with the Ottawa psyche."
Borys brought to the job far more than the artistic maturity gained through study with some of the best teachers in the world and a dozen years of playing with the Gryphon Trio. With the Gryphons he had also found his stride as a musical entrepreneur. "I always paid attention to the way things work. It's been my role in the trio to be the guy who keeps the business going," something he has done with remarkable success. The Gryphon Trio has released 14 CDs with Analekta, two of which have won JUNO awards. For many years, while performing all over the world, it was ensemble-in-residence with Music Toronto, with whom it pioneered its innovative appearances at the Lula Lounge, including the highly successful multi-media collaboration with singers Patricia O'Callaghan and Maryem Tollar, Constantinople, which gave them the opportunity to work with Tapestry, the Banff Centre and Robert Lepage's Ex Machina. "When you deal with these other producers who are working with you on a project, you pay attention and you learn from them, from their practices. You just listen to their conversations and you start to hear what their successes and what their responses to challenges are rooted in."
Even more than his artistic insight and connections in the music world, Ottawa Chamberfest needed this kind of insight. The thing this organization needed more than anything else, he told me, "was to be given its own arms and legs so it could be an independent entity; it could, in fact exist with interchangeable pieces. It was my vision, right from the beginning, to get this thing to the point where it was an amazing machine."
The first step in the realization of the vision was the hiring of Glenn Hodgins as executive director. With 12 years experience at Tafelmusik and seven at the Ontario Arts Council, Hodgins brought invaluable insight into how to run a highly successful arts organization and into the inner workings of government supported arts funding. Together, they undertook the major infrastructure upgrade of initiating the use of the database, Artifacts Event, which was created for the much larger Edinburgh Festival. "Starting from the basic premise that an artist is playing a piece at a time and a place," Glenn Hodgins told me, "it brings together everything related to that event —other artists, sponsors, visitors, piano tuning, page turners, repertoire, guests, accommodation, transportation to and from the festival, local transportation, itineraries, letters of agreement, contracts, and payment, including T-4 slips. It has allowed us to use our limited human resources better and has led to a much calmer work environment!"
Two major infusions of capital, the estate of the late music critic, Jacob Siskind, which was left to the festival, and a Province of Ontario "Celebrate Ontario" grant, have helped the festival gain "some depth in terms of its financial stability." It now also has a stable administration and administrative practices. "These have not been easy years for us. It has been an enormous amount of work, and we're just getting to the point where workloads are becoming acceptable, and hopefully burnout and exhaustion are ceasing to be facts of life. I am also now very confident that in the future, when I or anyone else decides to move on, this organization won't have any trouble going through a process to replace any one of us."
Borys also told me a lot about the artistic end of his work, about his collaborations with James Campbell of the Festival of the Sound, Brian Finlay of the Westben Festival and other Canadian summer festivals, as well as about exciting developments for the Gryphon Trio. I will try to get some of this onto our website ASAP, but meanwhile I am sure a look at our festival listings and at the Ottawa Chamberfest's website will be indicative of his work at the artistic end of things.
Allan Pulker is a flautist, a founder of The WholeNote and serves as chairman of The WholeNote's board of directors. He can be contacted at classicalbeyond@thewholenote.com.