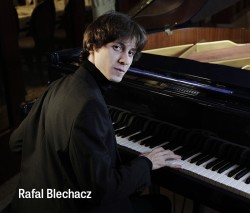 When Rafal Blechacz (pronounced BLEH-hatch) won the Chopin competition in Warsaw nine years ago, becoming the first Polish-born competitor to do so in 30 years, the jury saw fit to give no award for second place. Such was the dominance of Blechacz's performance. The venerable contest, celebrating the Pole with arguably the highest worldwide name recognition, began in 1927 when Lev Oborin (best remembered today as a chamber music partner of David Oistrakh) came out on top. Held every five years since 1955 (when Vladimir Ashkenazy finished second and Fou Ts'ong finished third), the list of winners reads like a who's who of pianists of the last half century: Maurizio Pollini (1960); Martha Argerich (1965); Garrick Ohlsson (1970, with Mitsuko Uchida second); Krystian Zimerman (1975); Yundi Li (2000, with Ingrid Fliter second).
Twice in recent history (1990 and 1995), the competition declined to award a first prize, saying no one played well enough. Blechacz, by contrast, won every possible prize in 2005: first prizes for Polonaises, Concertos, Mazurkas and Sonatas in addition to the overall First Prize.
Blechacz, whose highly anticipated Koerner Hall debut October 19 is part of the Canadian Chopin Society's Canadian Chopin Festival, is the seventh and most recent recipient of the Gilmore Artist Award. This $300,000 award recognizes extraordinary piano artistry with some of the most generous financial support given in the musical arts and is conferred every four years to an international pianist of any age and nationality following a rigorous and confidential selection process.
Sometimes referred to as music's answer to the MacArthur Foundation "genius grants," the Gilmore is bestowed through a non-competitive process. Pianists are nominated by a large and diverse group of international music professionals. An anonymous, six-member artistic advisory committee appraises the nominees over a period of time and assesses their musicianship and performing abilities through numerous performances under varying conditions. Throughout the four-year process, candidates for the award are unaware they are under consideration.
Blechacz, who is 28, joins such previous winners as Leif Ove Andsnes, Piotr Anderszewski, Ingrid Fliter and Kirill Gerstein.
According to a New York Times story from January 8, 2014, Blechacz is writing a book about musical interpretation. He told Michael Cooper about a performance of Chopin's Mazurkas that he gave in Hamburg that has stayed in his mind.
"After the last chord, it was extremely silent in the hall. The audience did not applaud. And I felt that there was something unique – it was the greatest reward for me from the audience, because I knew that they were completely in my musical world.
Sometimes, it happens."
For his Toronto recital, Blechacz has included 3 Mazurkas, Op.56 as well as 3 Waltzes, Op.64, a polonaise and a nocturne by Chopin plus Bach's Italian Concerto and Beethoven's "Pathétique."
"I've always enjoyed imagining the timbre of various other instruments when I play certain passages in Classical sonatas," the pianist has written. "While working on Haydn, Beethoven or Mozart, I've often attempted mentally to 'orchestrate' the work, or part of it, whenever I had doubts as to articulation, pedalling or timbre. After performing this 'instrumentation in the mind,' those doubts about interpretation would disappear ... it would be wrong to suppose that Classical composers felt a different kind of joy, sadness, hope or despair than the Romantics. The fundamental nature of emotion is always the same; only its expression changes. When playing works from the Baroque, Classical, Romantic or even Impressionist repertoire, I often feel that these composers always convey the same substance, feelings and emotions, even though the style and approach of each is unique."
The Canadian Chopin Festival begins its celebration of the beloved composer October 17, with a Mississauga concert featuring former winners Leonard Gilbert, Anastasia Rizikov and Li Wang, and concludes with the winners of this year's competition performing in Koerner Hall October 26. In addition to three days each of senior and junior competitors vying for honours, the festival will feature a masterclass with pianist and pedagogue James Anagnoson, the dean of the Royal Conservatory's Glenn Gould School, a lecture by Dr. Alan Walker, a workshop and demonstration of Polish dances as well as an event October 24 that promises a modicum of intrigue. "Chopin and Friends: 19th Century Salon Recital" features the competition's jury, pianists Krzysztof Jablonski, William Aide, Bernadene Blaha, Kent McWilliams and Lisa Yui.
Everybody loves Chopin, including Ira Sachs, director of the lovely new film Love Is Strange. "We wanted to use Chopin not unlike how Simon & Garfunkel are used in The Graduate, to create a whole world for the movie while at the same time maintaining the integrity and beauty of the original." For more see my Music and the Movies blog on thewholenote.com.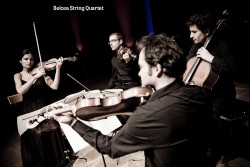 Janina Fialkowska's entrée onto the world's stage was launched in 1974 by Arthur Rubinstein after her prize-winning performance at his inaugural Master Piano Competition in Israel. She plays Chopin with a clarity and rigour that is formidable. Music Toronto hosts her October 28 and the Kitchener-Waterloo Chamber Music Society does likewise October 30 in an identical program that includes three mazurkas and a ballade by Chopin among works by Grieg, Schubert and Ravel.
In her story in People magazine almost 40 years ago, Barbara Rowes told it like it was: "In January 1975 Fialkowska was summoned by Rubinstein to a series of auditions at Manhattan's Drake Hotel. 'I was the dessert after his elegant lunches,' she smiles. He would puff on a cigar and request 'sonatas and études I hadn't touched in years.' Janina would then rush home and practice through the night for the next day's recital. Mornings, her stomach knotted and her palms turned clammy. The pace was exhausting, and the exacting master showed no mercy as he tested her range, touch and determination. After six days her prowess and endurance were proved, and Rubinstein became her mentor. Lest anyone leer, Janina insists that Rubinstein, an avowed womanizer, never made non-musical overtures to her. But he helped swing a record deal with RCA's high-toned Red Seal classical series and then helped set up her first series of concerts through his management. 'For me, he said after one of her performances, 'Janina was a revelation. I have never heard any pianist play the great Liszt sonata with the power, temperament, understanding, beauty of tone and, above all, the emotion and complete technical command she has shown.'"
Víkingur Ólafsson, Iceland's award-winning rising star pianist and host of the Icelandic TV series Útúrdúr (roughly translated as OutofTune), makes his Toronto debut October 27 at Remenyi House of Music and October 28 at the Richard Bradshaw Ampitheatre, performing Nordic music while also paying tribute to one of his greatest inspirations, Glenn Gould, in a performance of Bach's Goldberg Variations.
"I got the idea to do a TV series on music as early as in 2008, when I played the opening phrases from Beethoven's Sonata Op.101 in an Icelandic TV interview, demonstrating how their impact can change drastically, depending on how one shapes them – you know, direction of line, balance between the voices, dynamics, pedal etc … The reaction I got took me by surprise, quite a few people told me that they really had no idea there was so much involved in playing a seemingly simple phrase, that they had a really vague idea about the elements which we interpreters spend our lives on refining.
"I kept this idea at the back of my mind for a few years (studying among other things the great stuff that Bernstein and Glenn Gould did on TV), and then started working seriously on the project in late 2011."
Also appearing in a COC noontime concert (October 15) is award-winning 15-year-old Canadian pianist Anastasia Rizikov who, as mentioned earlier, helps launch the Canadian Chopin festival October 17. In this COC concert she showcases her virtuosity and passion in a demanding program of Russian repertoire: Tchaikovsky's Romance in F Minor, a selection of Rachmaninoff preludes, Mussorgsky's Pictures at an Exhibition and Balakirev's knuckle-busting Islamey.
Bavouzet with the London Phil: French pianist Jean-Efflam Bavouzet joins Vladimir Jurowski and the London Philharmonic Orchestra October 17 in Roy Thomson Hall for Prokofiev's Piano Concerto No.3. Bavouzet's Chandos recording of all five of Prokofiev's piano concertos with the BBC Philharmonic under Gianandrea Noseda was recently named the Gramophone award-winner in the concerto category. Toronto audiences are fortunate to be able to hear the most popular of these concertos. Rob Cowan wrote in the magazine that Bavouzet's "superb cycle of the concertos promotes a combination of lyricism and chutzpah that lies at the very heart of these endlessly fascinating works" and that Bavouzet's "way with the Third is chipper and cool."
The Moscow-born Jurowski will undoubtedly connect with the emotional core of the major work on the program, Shostakovich's Symphony No.8, which was composed at the height of WWII in 1943 and confronts the catastrophic violence and suffering Russians were being forced to witness daily in chilling, tragic and mysterious ways.
TSO: Shostakovich's formidable Violin Concerto No.1 alternates profound melancholy with searing sarcasm; it highlights the TSO program October 22 and 23 conducted by Stéphane Denève. Scottish-born and Sistema Scotland-raised Nicola Benedetti will tackle this complex work that David Oistrakh premiered in 1955 – written in 1948, the composer wisely deemed it too dangerous to play in public until after Stalin's death. Oistrakh reportedly begged Shostakovich to give the opening of the finale to the orchestra so that "at least I can wipe the sweat off my brow" after the daunting solo cadenza that concludes the third movement.
Earlier in the month, October 8, 9 and 11, another violinist, Tokyo-born and Montreal-raised Karen Gomyo, will play Sibelius' shimmering, sensuous Violin Concerto and string quartets. Guest conductor Jakub Hrůša will lead the TSO in Dvořák's tuneful audience favourite, Symphony No.9 "From the New World."
A Sextet of Quartets: Music Toronto is bringing two world-class string quartets to the St. Lawrence Centre this month. The St. Petersburg String Quartet was formed in 1985 by graduates of the Leningrad Conservatory under the guidance of Vladimir Ovcharek, the first violinist of the Taneyev String Quartet. As glasnost settled in and the Cold War thawed, their fame grew and their name changed from Leningrad to St. Petersburg just as the city's did. Their complete Shostakovich string quartet recordings were greeted glowingly – Shostakovich's String Quartet No.8 Op.110 from 1960 is included in their October 9 Toronto program. That program concludes with Tchaikovsky's exquisite String Quartet in D Major Op.11, the composer's first chamber work, a masterpiece by the 30-year-old Russian, noteworthy as the first work of Russian chamber music. Its second movement contains one of classical music's greatest hits and, according to Tchaikovsky's own diary, it moved Tolstoy to tears.
The Belcea (pronounced BEL-chah) are musicians of diverse cultural backgrounds, a characteristic that may account in part for their dynamic and free interpretative style. Founded at the Royal College of Music in London in 1994, the Belcea Quartet is based in Great Britain. However, Romanian violinist Corina Belcea and Polish violist Krzysztof Chorzelski, the two founding members, bring a very different artistic provenenance to the ensemble while drawing from the best traditions of string quartet playing received from the quartet's mentors: the members of the Alban Berg and Amadeus Quartets. Their October 23 Toronto recital includes Beethoven's Third Quartet as well as the First by Brahms and Schubert.
On October 9, the U of T Faculty of Music's ensemble-in-residence, the Cecilia Quartet, is joined by the Gryphon Trio for an exploration of humour, play and games through the lens of chamber music in a free noontime concert at Walter Hall.
The Attacca Quartet continues its historic traversal of all of Haydn's 68 string quartets October 24 to 26 under the auspices of the Kitchener-Waterloo Chamber Music Society.
The legendary Talich Quartet, recognized since 1964 as one of Europe's finest, is evolving as a more youthful ensemble under the leadership of Jan Talich, Jr., who took over the first violin post from his father. Chamber Music Hamilton presents them October 26 in a characteristic program that includes Dvořák's String Quartet No.13 animated by its Czech dance rhythms and Smetana's moving String Quartet No.1 "From My Life."
Finally, Mooredale Concerts presents the New Orford String Quartet November 2 in a program that includes Ravel's ravishing String Quartet in F Major. Violinists Jonathan Crow and AndrewWan are concertmasters of the Toronto and Montreal Symphony Orchestras, Brian Manker is principal cellist in Montreal and Eric Nowlin is assistant principal viola of the TSO. They will be joined by TSO principal violist Teng Li for Mozart's String Quintet No.4 in G Minor K516. The program will be repeated at The Isabel in Kingston November 4.
Paul Ennis is managing editor of The WholeNote. He can be reached at editorial@thewholenote.com.