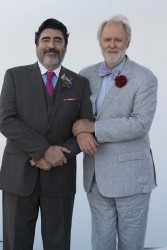 Two men, as comfortable with one another as the proverbial pair of old shoes, rise and get dressed up accompanied by Chopin's exquisite Berceuse. It's a most appropriate lullaby for Love Is Strange, Ira Sachs' compassionate new film about family and other inter-connected relationships. And it's just the first of six pieces by Chopin that serve as the principal soundtrack for this sweet, observant story of the ironies of life.
The dress-up is a lead-in to the marriage of Ben (John Lithgow) and George (Alfred Molina), a couple for 39 years, finally able to sanctify their union. The irony is that marriage will irrevocably turn their life together upside down. George, the couple's main breadwinner, is immediately fired from his post as music teacher and choirmaster at a Catholic school in Manhattan. They lose their apartment and must live apart, Ben with his nephew Elliot (Darren Burrows), wife (Marisa Tomei) and their son Ian (Charlie Tahan), George with a neighbouring couple of gay policemen. But they never lose their sunny disposition or their positive outlook on life.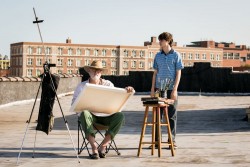 Sachs believes that "the history of the film score comes directly from the history of classical music itself," and "in Chopin you can hear all the tones and all the emotions that one hopes to find in music for cinema."
"We wanted to use Chopin not unlike how Simon & Garfunkel are used in The Graduate, to create a whole world for the movie while at the same time maintaining the integrity and beauty of the original."
So when the couple contemplates the uncomfortable thought of moving to Poughkeepsie, where another of Ben's relatives lives, we hear a Chopin waltz (No.7, Op.64, No.2) and when Ben settles in by himself in his great-nephew's lower bunk bed, the beginning of the third ballade is on the soundtrack.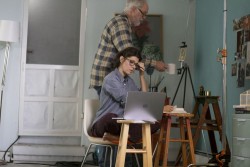 Two Chopin nocturnes are similarly in tune with the tenderness with which Ben deals with the occasional prickly moments such close quarters engender. "Sometimes when you live with people you know them better than you care to," he observes.
Later, George and Ben's comfort level together is underlined by Nina Simone's "That's Him Over There" (from her third album in 1964), music that perfectly conveys their ease with each other.
By the time the Berceuse returns (in its version for piano and orchestra) to bookend this superbly acted avuncular proto-memoir lullaby to life, Sachs and Chopin have made a lovely point.