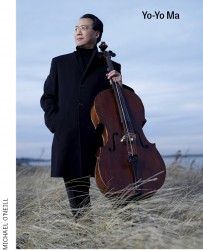 Yo-Yo Ma, arguably the most famous cellist in the contemporary classical firmament, has risen from his early days as a seven-year-old immigrant (born in Paris to Chinese parents, his first teacher at four was his father). A student of the legendary Leonard Rose at Juilliard, he subsequently sought a broader education at Harvard. His wide-ranging interests and musical gifts propelled him to great acclaim as a soloist, chamber musician and orchestral collaborator, culminating in the formation of the Silk Road Ensemble in 1998. As his website puts it, the ensemble "mixes the modern and the traditional, breaking boundaries of ethnicity and era ... [demonstrating] once again that there are no barriers for those approaching music with an open mind."
In an interview with On Being's Krista Tippett last September, Ma invokes the great cellist Pablo Casals, the scientist Carl Sagan and the violinist Isaac Stern to illustrate how getting from one note to the next has cosmic resonance: "If you look at, to quote Carl Sagan, 'the billions and billions of stars out there' and what stirs the imagination of a young child ... you start wondering where are we? How do we fit into this vast universe? And [you look] to Casals saying that within the notes that he plays, he's looking for infinite variety … [and] to Isaac Stern saying, the music happens between the notes. OK, what then do you mean when you say music happens between the notes? Well, how do you get from A to B? Is it a smooth transfer: it's automatic, it feels easy, you glide into the next note? Or you have to physically or mentally or effortfully reach to go from one note to another? Could the next note be part of the first note? Or could the next note be a different universe? Have you just crossed into some amazing boundary and suddenly the second note is a revelation?
"The realm of playing an instrument is pure engineering. But the mental process, the emotional process, the psychic investment in trying to make something easy [is] infinitely hard."
Curiously, for a string player, in an interview with Elijah Ho for the San Francisco Examiner in January 2013, Ma responded to a question about which of the instrumentalists of the Golden Age had made the greatest impression on him by revealing his love for some of the finest pianists of the last century. His illuminating response was triggered when the journalist asked him if he ever had the opportunity to hear Vladimir Horowitz.
"Yes, I heard him once in Toronto at Massey Hall. I got one ticket to one of his Sunday afternoon concerts and I was right up, last row of the balcony. And it was just extraordinary. He played Scriabin, Rachmaninov, Scarlatti, etc. And the whole concert, he played between pianissimo and mezzo forte, until he played the Stars and Stripes encore. Then he just blew the roof off the hall [laughs]. And it was extraordinary. I loved Horowitz, I love hearing Richter recordings. I have some great recordings of Richter playing the Beethoven Sonatas. I also treasure my Schnabel Schubert recordings, I love Dinu Lipatti's last concert in Switzerland and a lot of early Glenn Gould. I have great memories of great pianists. I never heard Rubinstein live, but I once watched the DVD of his concert in Moscow and it was extraordinary, just extraordinary. These are the gold standards, and I still hold on to them; lots of great people."
On May 29, Ma joins the celebration of Sir Andrew Davis' 40th anniversary with the TSO in a performance of Elgar's intimate, passionate Cello Concerto, along with Dvořák's the most popular concerto in the cello repertoire. Ma will undoubtedly make it all appear effortless.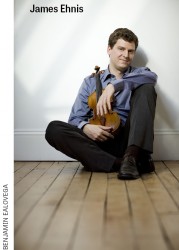 James Ehnes: In 2008 James Ehnes won the Gramophone Award for Best Concerto Recording of the Year for Elgar's Violin Concerto with the Philharmonia Orchestra conducted by Sir Andrew Davis. That same year Ehnes' recording of the Barber, Korngold and Walton concertos with the Vancouver Symphony conducted by Bramwell Tovey won the JUNO for Best Classical Album of the Year: Large Ensemble or Soloist(s) with Large Ensemble Accompaniment. That same recording won the 2008 Grammy for Best Instrumental Soloist(s) Performance with Orchestra. Shortly after that breakout awards year Ehnes sat down with Andrew Palmer for an interview for All Things Strings in May 2009.
Palmer wondered how Ehnes keeps his performances fresh while on tour. Is there anyone for whom, or to whom, he performs?
"My wife [ballerina Kate Maloney, whom he married in 2004] is on the road with me a lot—she's actually here now—and she loves music, which is a good thing because she hears a lot of it! Every time I play I want to make sure she doesn't regret going to concerts three times a week. And there's something else in my psychology, which may result from where I grew up: Brandon, Manitoba, in the centre of Canada. Although it has a lot of music for a city of its size, it was always a big event when major stars performed there. But they only came once, so I was thrilled when they gave it their all. On the other hand, I was left feeling very bitter if I got the impression that they played a lot of concerts and that some were important and some weren't, and that this one wasn't. Believe me, there were a lot like that.
"I never forget that at each of my concerts someone in the audience is hearing me for the first time. Someone is also hearing the piece of music for the first time. And it's a point of pride that if I don't play as close to my best as I can, there'll be people who'll tell their friends afterwards, 'James Ehnes wasn't very good,' and I'd have to agree with them. Which would really hurt! So mostly I feel a responsibility to myself to take advantage of every opportunity to make people love the piece of music. I don't get nerves about performing, but five minutes before going onstage I feel a huge responsibility that this had better be good, because if anything goes wrong, everyone will know. And I don't think this psychological mechanism is such a bad thing. It keeps me on my toes."
Six years later, the 39-year-old virtuoso returns to Koerner Hall on May 15, having just won a tenth JUNO, this time for his Chandos CD of Bartók chamber works. The Toronto recital includes Debussy's final composition, the deeply emotional Violin Sonata in G Minor, Bach's demanding Sonata for solo violin No. 3 in C major, BWV 1005, Elgar's much-loved Violin Sonata in E Minor and the Toronto premiere of Alexina Louie's Beyond Time, commissioned by and dedicated to Ehnes. Louie points out in the program note that she began by writing the last movement, Perpetual, first, setting out to compose a highly charged movement that would showcase the violinist's prodigious technique, which seems to her to be superhuman. Knowing how the piece ended, Louie aimed to write an opening movement, Celestial, which would be as virtuosic as the finale. Since she wanted that movement to sparkle, she wrote extended passages of string harmonics to achieve this goal. She writes that the second movement, Eternal, "can be thought of as an internalized, quiet, lyrical interlude between the two fast outer movements ... The title, Beyond Time, suggests that the piece stands outside of time, in an infinite sound world — Celestial, Eternal, Perpetual."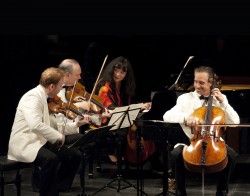 Seen and Heard: April 8 at Koerner Hall, the Chamber Music Society of Lincoln Centre gave one of the most satisfying concerts of the season. The program was comprised of music written within a 35-year span of the mid-19th century: Mahler's youthful Piano Quartet Movement in A Minor, Schumann's Piano Quartet in E-flat Major Op.47 and Brahms' Piano Quartet No.1 in G Minor Op.25. Co-directors of the Society (and married to each other), pianist Wu Han and cellist David Finckel (who spent 34 years as a member of the Emerson String Quartet) were joined by violist Paul Neubauer (formerly principal violist of the New York Philharmonic) and British virtuoso violinist Daniel Hope.
Seating was fairly close with the violin and viola crowded together just beside the keyboard. The intimacy carried over into the performance which seemed the ultimate in musical sophistication. Hope sang eternal in the gem of beauty composed by the 16-year-old Mahler. Exquisite string playing throughout was finely supported by Wu's unruffled piano; impeccable ensemble playing with great expressiveness that was never showy or gauche.
The piano was more of a factor in the Schumann, its joyful first movement anchored by Finckel's sublime cello. The mad dance of the Scherzo was led by the cello with the piano particularly sensitive in the many quick and delicate staccato passages that had to be navigated. The Andante cantabile which followed is one of Schumann's most beautiful creations; a real treat. The Brahms was thick with melody as various instrumental combinations came to the fore during the opening movement's development. A beautiful theme emerged from the ethos with great delicacy on the violin as the piece continued through to the Andante con moto, its violin and cello parts reminiscent of the composer's Double Concerto. The Gypsy tune at the centre of the Rondo alla Zingarese broadened out led by the piano to an exquisite duet between cello and viola before the violin picked up the tune, the DNA of which Brahms found (happily) impossible to shake. It was a night where the Romantic melodists reigned supreme.
Quick Picks
May 1 Evgeny Kissin's RTH recital, which moves from Beethoven's "Waldstein" Sonata to Prokofiev's Fourth through three nocturnes and six mazurkas by Chopin and Liszt's "Rackoczi March," is almost completely sold out at press time.
May 1 Jacques Israelievitch and pianist Valentina Sadovski perform works by Schumann and Saint Saëns at Grace Church, 700 Kennedy Road, Scarborough. May 14 Israelievitch and pianist Stephen Cera play pieces by Fauré and Bridge at Briton House Recital Hall.
May 2 The Cecilia String Quartet plays Mozart's String Quartet K590 and Mendelssohn's String Quartet Op.44 No.2 at the Burlington Performing Arts Centre.
May 6 Emerging violinist Augustin Hadelich performs Mendelssohn's enduring Violin Concerto Op.64 with the TSO led by Peter Oundjian. May 27 and 28 the elegant Louis Lortie is the soloist in Liszt's Piano Concerto No.1 with the TSO under Sir Andrew Davis, the same soloist (Lortie was 18!), concerto and conductor as in the orchestra's groundbreaking 1978 visit to China. Ravel's scintillating orchestral version of Mussorgsky's Pictures at an Exhibition completes the evening's program. June 4, 6 and 7 Oundjian leads the TSO's exciting "All American" lineup: John Adams' Short Ride in a Fast Machine; Barber's Symphony No.1; André Previn's Double Concerto for Violin and Violoncello (Canadian première/TSO co-commission) with soloists Jaime Laredo and Sharon Robinson; and Gershwin's An American in Paris.
May 9 Violinist Joyce Lai and cellist Rachel Mercer are the soloists in Brahms' compelling Double Concerto. The Canadian Sinfonietta (led by Tak Ng Lai) concludes the celebration of the composer's birthday (May 7) with a performance of his seminal Symphony No.1.
May 12 TSO bassoonist Samuel Banks is group of 27's recital soloist in a concert at Heliconian Hall, complimentary food provided by Cheese Magic and Wanda's Pie in the Sky. Also May 12 members of the COC Orchestra combine their virtuosity and artistry to perform Georges Enescu's lush Octet for Strings in C Major, Op. 7.
May 13 Kent Nagano and the Orchestre symphonique de Montréal celebrate Sibelius' 150th anniversary with his tuneful and heroic Symphony No.2. In the first half of this TSO presentation, Piotr Anderszewski joins the Montrealers for Mozart's magisterial Piano Concerto No.25 K503.
May 14 Artists of the COC Orchestra and guest harpist Lori Gemmell perform pastoral works by Arnold Bax (Elegiac Trio for flute, viola and harp), Béla Bartók (String Quartet No.4) and Maurice Ravel (Introduction and Allegro) in a free noontime concert.
May 16 The recently formed XIA Quartet consists of Edmonton Symphony Orchestra concertmaster Robert Uchida and TSO violinist Shane Kim, assistant principal violist Theresa Rudolph and principal cellist Joseph Johnson. It makes its Toronto debut in a wide-ranging program of Haydn, Bartók and Beethoven (the buoyant Op.59 No.1).Also May 16 Ensemble Polaris plays new music created to accompany short films (from Ryerson University's School of Image Arts) on the idea of "home" and "away," shot in Iceland, New Zealand, France and Italy.
May 22 Gallery 345 presents the Ton Beau String Quartet with clarinetist Peter Stoll performing Ravel's String Quartet in F, Brahms' Clarinet Quintet and Gershwin's Three Preludes (arr. Stoll). Also at Gallery 345 May 30 Trio McMaster's recital is filled with the cream of the piano trio repertoire: Schubert's Piano Trio No.1; Fauré's Piano Trio Op. 120; Beethoven's Trio Op.70 No.1 "Ghost" and Mendelssohn's Trio No.1 Op.49.
May 24, 25 The Canzona Chamber Players smartly program Haydn's Gypsy Trio, Bartók's Suite for Piano, Op.14, Schumann's Five Pieces in Folk Style for Cello and Piano, Ravel's Tzigane and Dvořák's Dumky Trio with Yosuke Kawaski, violin, Wolfram Koessel, cello, and Vadim Serebryany, piano.
May 26 Mexican-Canadian pianist Alejandro Vela mixes the freshness of Latin American composers Lecuona (Noche azúl, Córdoba, La comparsa, Gitanerías), Ginastera (Sonata No.1) and Corea (Armando's Rhumba), with standards by Chopin (Ballade No.1) and Rachmaninov (Five Preludes, Op. 23) in his free noontime COC concert. May 28, in another free Richard Bradshaw Amphitheatre recital, Toronto Summer Music artistic director Douglas McNabney offers a sneak preview featuring emerging artists and music from the upcoming festival. June 2 violinist Véronique Mathieu and pianist Stephanie Chua perform rarely heard works by women composers Heather Schmidt, Louise Farrenc, Clara Schumann, Elizabeth Jacquet de la Guerre and others in their free noontime COC recital.
May 30 5 at the First Chamber Music Series presents two sublime chamberworks: Mozart's Clarinet Quintet in A, K.581 and Brahms' Clarinet Quintet in B Minor, Op.115, with Yao Guang Zhai, clarinet, Marie Bérard, violin, Yehonatan Berick, violin, Teng Li, viola, and Rachel Mercer, cello.
May 31 Acclaimed cellist Winona Zelenka is the soloist in Elgar's beloved Cello Concerto with Orchestra Toronto conducted by Kevil Malloon.
June 2 The Kitchener-Waterloo Chamber Music Society presents the Penderecki Quartet performing Beethoven's celestial Quartet No.14 Op.131 and, with cellist Pamela Highbaugh-Aloni, Schubert's glorious Quintet in C. The K-WCMS bills it as "Concert of the Century" rightly pointing out that these are two of the five greatest chamber works ever written.
Paul Ennis is the managing editor of The WholeNote.