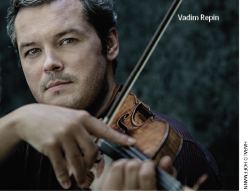 Russian-born Vadim Repin may just be the best violinist you've never heard of. Unless you happened to catch his TSO appearance in 2007 playing Prokofiev's Violin Concerto No.2 with guest conductor Thomas Dausgaard, his only exposure here has been through recordings (most recently with Deutsche Grammophon) and YouTube clips. The clips span almost 30 years of an acclaimed career that took international flight after he won the prestigious Queen Elisabeth Competition in Brussels in 1989 when he was only 17.
In a recent telephone conversation the warm and gracious violinist described how he felt at that time: "The competition itself was really tough, very difficult psychologically and [physically]. It goes forever [one month]. For the next four years it put me in the spotlight of the music world but then there was a new winner, so forget about it. You have to do other things to get noticed and get the spotlight."
This virtuoso, for whom technique is always a means to a musical end, never an end in itself, began violin lessons at five by "pure chance." His mother, who had been encouraging her son to play with musical toys since he was three, took him to school intending to sign him up for accordion studies. Only violin places were available so he took up the violin. By age seven, chance took him under its wing again; his teacher advised studying with Zakhar Bron (who later taught Maxim Vengerov and Daniel Hope), a relationship which would continue for 13 years.
Repin said of the then young pedagogue who had left his native Kazakhstan for the Siberian city of Novosibirsk: "Bron is a unique violin teacher; it was a blessing to be able to spend those years with him." Of the "thousands of things" that made him unique, Repin cited "his ability as a performer and an intellectual" as well as his heuristic approach.
"To know about the music and be able to describe it [while] – at the same time – [being able] to play it at the highest level is a winning combination," he continued, adding that "you often attend masterclasses of a great player but he doesn't know how to explain things."
Bron placed primary importance on stage performance in order to inculcate what he believed to be the foundation of a musician's life: live playing in front of an audience.
Repin described his upcoming March 6 Toronto recital with pianist Svetlana Smolina – which consists of works by Bartók, Debussy, Ravel, Stravinsky and Tchaikovsky – as "multi-sided." He spoke of the different moods and different sounds represented in the program. "It's quite interesting when you have different weight and expression," he continued, adding that he's pleased to include the Meditation and Scherzo from Tchaikovsky's Souvenir d'un lieu cher since it's not performed much.
His passion was evident as he described the Stravinsky Divertimento. "Stravinsky is a genius," he enthused. "This piece is a kind of a sarcastic bridge to Tchaikovsky because the Divertimento is a variation of Tchaikovsky's music extremely nicely done, one of the [ most] brilliant humoresque and theatrical pieces that I know and that makes it really special."
I was curious about who his violin heroes might have been, if there were any violinists who made an impression on him or inspired him in his youth. The scope of his answer surprised me. He and Bron would often watch videos and listen to records together. He also listened by himself at home. "There are so many – 50 or 60 – to look up to but the king was always Heifetz.
"When he plays you lose your breath," he continued. "It's phenomenal. You get attentive, you get impressed, interested, you get a whole bunch of different feelings. I think that has to do with the way he uses time. It's not only about talent, technical ability, not only psychological things ... the timing of everything is unbelievable. Sometimes I feel in his playing the influence of Hollywood, of opera, of different styles of music. It's amazing how he can combine all that in classical violin playing."
This led to a brief discussion of his very close musical relationship with Yehudi Menuhin with whom he played many times during the last decade of Menuhin's life. He called the experience "another very lucky happening in my life." He found it difficult to quantify what he learned from him ("It would be worth a book"), but settled on "his attitude to life, to the public, to people in general" summed up by "the greatness of his personality."
The great Russian cellist and conductor Mstislav Rostropovich was another influence on Repin. He was "the man who made me crush my mind" meaning that he led him to rethink much of his music approach. "He was a musical eyes-opener for me," he said.
"There is no one quality that would make anybody good at anything," he said in answer to my question as to what makes a great violinist great. "It's always a combination of many things, but dedication is probably one thing that is true of every profession."
"It's the life of a musician to play live; communication with the public is the ultimate," he responded when I asked about the lure of the stage. "There's so much work involved in learning new pieces and the goal is always live performance. No two performances are the same and there are never two emotional states the same."
Repin has cut back on in his touring in the last three years, spending more time with his family. He and his wife Svetlana Zakharova, the principal dancer of the Bolshoi Ballet, have a three-year-old daughter. I heard her voice in the background and he told me that he has been doing a lot of reading to her in the last few days. They were going to a play the following week and he was preparing her for the experience. Remarkably, she was memorizing some of the play's poetry.
How many of us concertgoers would take such time to make our own live-event experiences richer?
RBC Piano Extravaganza: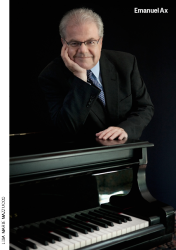 I love a piano, I love a piano/I love to hear somebody play
Upon a piano, a grand piano/It simply carries me away
I know a fine way to treat a Steinway
I love to run my fingers o'er the keys, the ivories
And with the pedal I love to meddle/When Paderewski comes this way
I'm so delighted if I'm invited/To hear that long-haired genius play
-- Irving Berlin
The TSO's RBC Piano Extravaganza has been curated by the renowned soloist, chamber musician and teacher Emanuel Ax, perhaps best-known for his 40 years of collaboration with Yo-Yo Ma. The extravaganza's 11 days and nights are fully packed with all manner of novel treats designed to showcase the versatility and expressiveness of the piano.
The free opening event, "Pianos in the City," takes place from 11am to 2pm on February 4. Steinway pianos will be interactively available in the Underground PATH below the RBC Plaza building at 200 Bay Street; the Main Hall of Union Station; on the stage of the CBC Atrium at 250 Front Street West; and in the main street hallway of the Hospital for Sick Children at 170 Elizabeth Street. Each venue will be hosted by a special guest artist who will perform short works and encourage members of the pubic to play on the Steinways. The personable Ax will drop in at each location, to meet, greet and perform.
Later that night, Ax and 2012 Honens Prize Laureate Pavel Kolesnikov join Peter Oundjian and the TSO in performance of Mozart's Piano Concerto No.14 K449 bookended by solo piano pieces and followed by piano titan Sergei Rachmaninoff's Symphonic Dances. Two days later, Ax is the soloist and Beethoven's radical, lyrical Fourth Piano Concerto is the focus of the latest installment of Rob Kapilow's "What Makes It Great?"
The next day, February 5, in a free noon-hour concert at the Richard Bradshaw Amphitheatre, Ax introduces Kolesnikov and his own former student Orion Weiss in a program of operatic transcriptions by Granados and Wagner-Liszt.
Saturday afternoon, February 7, "Pianorama," two concerts built around Saint-Saëns' inimitable The Carnival of the Animals, promises a musical riot of tone colour and clusters at RTH with the likes of pianists Ax, Kolesnikov, Patricia Krueger, Richard Chao Gao, Amadeusz Kazubowski-Houston, Kyoko Kohno, Coco Ma, Artun Miskciyan, Marko Pejanovic, Anastasia Rizikov, Anna Vertypolokh, Sunny Zhai, Annie Zhou and organist David Briggs.
That evening Pinchas Zukerman makes his final Toronto appearance as music director of the NAC Orchestra joining cellist Amanda Forsyth in Brahms' rousing Double Concerto while the versatile Yefim Bronfman is the piano soloist in Brahms' über-romantic Piano Concerto No.2.
Sunday February 8 at Koerner Hall, looms as one of the most adventurous and entertaining components of the RBC Extravaganza. A plethora of pianists join Ax for four free hours of short performances beginning at 1pm. The audience is free to come and go throughout the afternoon! The first hour features Emanuel Ax; James Anagnoson and Leslie Kinton and jazzer Robi Botos. Alex Seredenko and Annie Zhou fill hour two while the third is taken up by Pavel Kolesnikov, students from the the Phil and Eli Taylor Performance Academy for Young Artists at The Glenn Gould School, Victoria Wong, Coco Ma and Thomas Torok. Bernie Senensky, Emanuel Ax and James Anagnoson & Leslie Kinton with Rossina Grieco & Jingquan Xie perform in hour four.
Feburary 11 at RTH, Ax and rising star Jan Lisiecki play Mozart's Concerto for Two Pianos K316a/365 and the ubiquitous Carnival of the Animals. The next day's intriguing program "The Orchestral Piano" will showcase three orchestral favourites preceded by the piano works that inspired them. Ax is joined by Stewart Goodyear and the piano duo Anagnoson & Kinton.
February 13, Ax finds the time for a masterclass at the Royal Conservatory's Mazzoleni Hall from 10am to noon.
The festival concludes Saturday morning February 14 with the TSO's valentine to the community. Pianists from the GTA, including students from the Royal Conservatory of Music and Regent Park School of Music, will get the opportunity to play the TSO's new New York Steinway grand on the RTH stage! The public is invited to watch these youngsters perform and be mentored by the Grammy Award-winning Ax.
What Ax wrote when he curated "Keys to the City" a three-week piano festival in Chicago in the spring of 2012 is just as apt today: "Whether played in the comfort of your home, in collaboration with friends, or on stage with a full orchestra, the piano is a versatile and accessible instrument that opens unlimited avenues of expression and creativity to the performer. As artists, we want to explore these possibilities, and examine how the piano speaks to us today in its various forms."
Dopplegänger Time: On March 1 at 3pm in Mazzoleni Hall, Amici Chamber Ensemble presents star violist Kim Kashkashian "In Remembrance," a wide-ranging program of music by Bartók, Golijov, Kradjian, Komitas, Mansurian and Mozart to honour the 100th anniversary of the Armenian Genocide, and to "explore music inspired by friendship, grief, rebirth, and remembrance." At the same time in Koerner Hall in the same building, the astonishing pianist Marc-André Hamelin performs his own Pavane Variée following what is believed to have been John Field's last composition, Andante inédit. Israeli-born Ronn Yedidia's Sonata No.3 "Outcries" will showcase Hamelin's legendary technique while Schubert's final sonata and Debussy's Images: Book II will undoubtedly confirm the positive impression his latest Hyperion CD has made [see Dr. Réa Beaumont's review in this issue's DISCoveries]. In it, Hamelin has harnessed his technical facility in the service of Debussy's own impressionistic essence. I can't wait to see what he will do with Schubert's masterwork.
Quick Picks:
Feb 1 Amici and the New Orford String Quartet team up with Teng Li for what promises to be a particularly rich musical evening of Schulhoff, Brahms, Liszt and Janáček.
Feb 4 at Koerner Hall solo performers of the Glenn Gould School compete for the opportunity to perform a concerto with the Royal Conservatory Orchestra and it's free to observe from 10am.
Feb 5 York University Department of Music shines its free "Faculty Spotlight Series" on violinist Jacques Israelievitch and WholeNote CD reviewer, pianist Christina Petrowska Quilico, as they continue their exploration of Mozart violin and piano sonatas. On Feb 27 the former TSO concertmaster is joined by pianist Shoshana Telner for a recital at McMaster University's School of the Arts.
Feb 8 Chamber Music Hamilton presents the American String Quartet, now in its 39th year. The former Juilliard students' program includes works by Beethoven, Mendelssohn and Brahms.
Feb 8 finds the Windermere Quartet performing Haydn's "Lark" quartet and Mozart's late string quintet, K516.
Acclaimed string players, violinists Erika Raum and Scott St. John, violist Sharon Wei and cellist Tom Wiebe, join forces Feb 8 for a fully packed Mooredale afternoon of chamber music consisting of Schubert's String Trio in B-flat Major D471, Ysaÿe's Sonata for Two Violins and Bach's Goldberg Variations for string trio.
Feb 8 the Kitchener-Waterloo Chamber Music Society (KWCMS) presents pianist Shoshana Telner in an unusually demanding program ranging from Bach to Alkan to Bartók. On Feb 11 KWCMS facilitates the pairing of trumpeter/pianist Guy Few and pianist Stephanie Mara in an uncommon mix of four-hand piano and trumpet-piano duets. Following close behind on Feb 15 is Leopoldo Erice's evening with Bach's Goldberg Variations. Then on Feb 24 KWCMS presents an all-star gathering of superb string players -- Scott St. John and Solomiya Ivakhiv, violins; Sharon Wei and Doug McNabney, violas; and Tom Wiebe, cello – playing Brahms and Dvořák string quintets.
Feb 12 Cecilia Quartet violinist and recent DMA recital competition winner Min-Jeong Koh performs Schumann and Ysaÿe in a free noon-hour concert at Walter Hall.
Feb 12 Music Toronto presents two Ottawa-based musicians, pianist Mauro Bertoli and cellist Paul Marleyn, as part of their Discovery Series. The program includes Beethoven's sparkling Sonata Op.69.
Feb 17 Music Toronto presents the Toronto debut of Hungarian pianist Dénes Varjon whose "commanding virtuosity" (The Guardian) will be on display in a demanding program of Beethoven, Schumann, Ravel and Bartók.
Feb 20 former child prodigy, violinist Sarah Chang, displays her painless transition to mature artist in a recital at Koerner Hall with pianist Julio Elizalde that features Brahms' supreme Sonata No.3 Op.108.
Feb 26 finds the Gryphon Trio making their annual Music Toronto appearance in a program that includes Schubert's divine Trio No.1 in B-flat Major D898.
Paul Ennis is managing editor of The WholeNote. He can be reached at editorial@thewholenote.com.