"You know, my piece doesn't erase the Vivaldi original. It's a conversation from a viewpoint. I think this is just one way to engage with it." – Max Richter
The opening notes seem to emanate from otherworldly ether, tentatively falling into the familiar notes that begin The Four Seasons, but there's something quite different that's engaging us. In a November 2012 interview with NPR's Audie Cornish, German-born, British composer Max Richter elaborated on the opening bars of his recomposition: "I took the opening motif, which I always thought was a dazzling moment in the Vivaldi, but in the original it's only four bars. I thought, 'Well, why don't I just treat this like a loop, like something you might hear in dance music, and just loop it and intensify it, and cut and paste – jump-cut around in that texture, but keep that groove going.'"
The essence of the music that was once the most recorded piece in the classical music catalogue is there but it's got a contemporary feel, definitely not staid, bursting with energy, but not the heightened propulsion of Il Giardino Armonico, for example. In fact the clarity of violinist Daniel Hope's crystalline playing is inviting.
The synth effects are so subtle they're barely discernible but their presence is palpably modern, sleek and beguiling. The combination of the bones of Vivaldi's original and the cloak Richter has wrapped it in make for a 21st-century experience that is pleasingly addictive, the kind of piece you put on repeat and listen to over and over and over. It never feels like it's too much, its novelty easily trumped by its freshness, its mysteries slowly revealing themselves after five, six hearings.
Less than two weeks before he was to perform Richter's Four Seasons Recomposed at the Ravinia Festival in Chicago, the acclaimed British violinist Daniel Hope participated in a live YouTube chat on June 10, 2013. (In addition to a versatile solo career, Hope was a member of the distinguished Beaux Arts Trio from 2002-2008.) Now more than a year later, in anticipation of the September 30 Toronto premiere of the Richter work, I'm watching the genuinely engaging Hope patiently answer questions.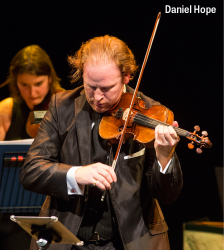 "The fact that Max Richter was willing to recompose The Four Seasons was incredibly brave and I think he's done a fantastic job," he begins. "I was contacted by [him] about one to one and a half years ago and told about wanting to recompose The Four Seasons," he continues. "The first thing I said was 'What's wrong with the original?' He laughed and said nothing's wrong with the original, it's perfect, it's a fantastic piece but I feel that in a sense I've fallen out of love with it. I've been bombarded with it. Every time I go into an elevator or a shopping centre I hear The Four Seasons piped at me. [Max] wanted to rediscover it and by recomposing it he was rediscovering it. He asked me if I would like to take a look at it and I thought that [it] was a really interesting way of revisiting a masterpiece ... As soon as I saw the early sketches for his piece I was absolutely knocked out. I thought this was something really amazing and I wanted to be part of it."
Hope details his contribution to the process: "I made a number of suggestions. [Richter was very open to suggestions] with regards to the tempos and some of the passagework. It was so well written it didn't need many changes but it did need to be adapted here and there to make it more violinistic. In the recording session we created it in the moment so a lot happened with sound effects and various colours."
Asked if he has a "favourite" movement in the piece he hedges: "My favourite season is 'Summer.' The Recomposed is a different piece. It has all of the great themes of Vivaldi. It has the inspiration of Vivaldi but it also has its own music. The last movement of Max Richter's 'Summer' is absolutely amazing. But also the last movement of 'Winter' is mindblowing."
When asked if it's difficult not to get mixed up with the original when playing the recomposed version, Hope – who has already divulged that he's been playing the original since he was a boy ("It's still so modern after 350 years") – talks about the very subtle changes in the passagework, eight notes to seven, for example. He adds that every time they play Recomposed it changes and evolves.
Elsewhere in that 2013 YouTube chat, Hope reveals that when he was four he announced to his parents that he wanted to be a violinist. That got me curious about his musical education. I found a partial answer in a different (ClassicFM) YouTube video where he talked about his crucial relationship with Yehudi Menuhin, whom he knew from an early age: "Menuhin was very, very outward-looking. He's somebody I think about almost every day – a huge inspiration to me and to many musicians and somebody who really believed in opening your ears to any kind of music. You know his legendary collaborations with Ravi Shankar or Stephane Grappelli are things that I witnessed as a small boy (Hope was born in 1973). I was lucky enough to grow up in that environment. It taught me from an early age that you can find connections in different musical worlds if you take it seriously and you spend the time."
It has been two years since I discovered Richter's recomposition on a listening post at Grigorian's when it drew me in with its compulsive originality coupled with its uncanny resemblance to Vivaldi. Happily, Soundstreams is now making it possible to hear this innovative work live with Daniel Hope as the soloist, in their season-opening concert, September 30.
It's Still Festive: Summer's not over until the fall equinox and the Prince Edward County Music Festival (PECMF) in Picton and the SweetWater Music Festival in Owen Sound are taking full advantage of those last seasonal days to launch their 11th editions.
The "superlative acoustics" of St. Mary Magdalene Church play home to several content-rich PECMF concerts. Augmenting the opening concerts, artistic director pianist Stéphane Lemelin joins the Penderecki String Quartet to perform Taneyev's romantic Quintet for piano and strings in g minor Op.30 on September 19, then accompanies cellist Denise Djokic in Rachmaninoff's Sonata for cello and piano in g minor Op.19 the following day. September 21 brings André Laplante's deep musical sensibility to bear on a trio of Liszt piano masterworks. Highlights of the rest of the festival include the young Canadian musicians Nikki Chooi, violin, and Philip Chiu, piano, in a September 25 recital that ranges from Bach to Prokofiev, and Ensemble Made In Canada in piano quartets by Dvořák and Fauré September 26.
St. Lawrence String Quartet violinist Mark Fewer, the artistic director of the SweetWater festival, brings his chamber music versatility to bear in a concert September 19 in the historic Leith church with its ideal acoustics. Vivaldi, von Biber, Schmelzer and Bach supply the music that the celebrated baroque violinist Elizabeth Wallfisch, Lucas Harris (theorbo), Hank Knox (harpsichord) and Fewer will perform.
The next day Fewer joins his St. Lawrence colleagues and soprano Meredith Hall, flutist Leslie Newman, double bassist Joseph Phillips and pianist Kati Gleiser for a program of Haydn and Beethoven. A few days later Fewer and the other members of the St. Lawrence String Quartet, along with Wallfisch, Newman and Phillips, are joined by Brad Turner (trumpet), Drew Jurecka (violin) and David Braid (piano) for a concert showcasing Bach and Braid.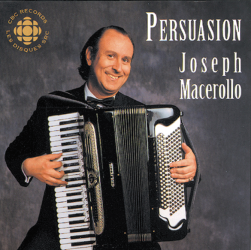 U of T Faculty of Music: Before travelling to Owen Sound, Fewer, violinist Geoff Nuttall, violist Leslie Robertson and cellist Christopher Costanza (aka the St. Lawrence String Quartet) bring their infectious energy to the opening concert of the U of T Faculty of Music season September 16, which includes Golijov's tuneful Kohelet and Verdi's sublime String Quartet. Two weeks later, the Faculty celebrates accordion virtuoso Joe Macerollo's 70th birthday and his appointment as Officer of the Order of Canada with an accordion extravaganza featuring current and former students and guest artists, and including compositions from Macerollo's past plus a new commission by Anna Höstman.
Macerollo's infectious musical spirit was most recently on display July 28 at Church of the Holy Trinity in a Music Mondays re-imagining of the songs of Kate Bush, Prince and Radiohead with soprano Zorana Sadiq where the performers "boiled the songs down to their deep, dark essence – from the Bulgarian sweep of Bush's pop-scenas to the sweet synth build of Prince's perfect pop." Macerollo's recent CD, Persuasion – The Contemporary Accordion, showed his commitment to contemporary composers Walter Buczynski, Charles Camilleri, Alexina Louie, Torbjorn Lundquist, Norman Symonds and Beverley Johnston. August 30 Macerollo hosted the always interesting CBC Radio 2 program This Is My Music. If you're quick you can still hear it streamed on the Internet.
Flute Street at Church of the Holy Trinity: Internationally acclaimed piccolo virtuoso Jean-Louis Beaumadier and pianist Jordi Torrent will perform music by Damase, Reichert, Feld, Novak and Gyöngyösi September 26. The legendary Jean-Pierre Rampal wrote about Beaumadier: "Endowed with marvellous technique, he stands out, thanks to his winning personality and his developed artistry. It is a joy to hear him in turn dream and turn pirouettes; he is the Paganini of the piccolo."
TSO Returns: Back from their successful European tour, the TSO begins the new season September 18 with a trio of romantic orchestral showpieces with the charismatic violinist Joshua Bell as soloist in Lalo's Symphonie espagnole. September 20 and 21 sees concertmaster Jonathan Crow take the spotlight in Rimsky-Korsakov's Scheherazade, the first public performance of the piece since its August CD release that marked the TSO's new recording contract with Chandos Records. The live performance of Beethoven's Ninth Symphony is incentive enough to hear this iconic work but on September 23 to 25 the TSO is making it even more essential by including Rachmaninoff's Rhapsody on a Theme of Paganini with piano soloist Daniil Trifonov. No less than the great Martha Argerich said of the young Russian's touch: "I never heard anything like that – he has tenderness and also the demonic element."
Two Innovative Presenters: Two of the most creative Toronto series reinforce their programming reputations with the opening concerts in their 2014/15 seasons. September 28, the Jupiter Symphony Chamber Players bring their enthusiasm to a Mooredale Concerts program that includes Beethoven's invigorating Septet, Dohnányi's lyrical Serenade in C Major for String Trio and Mozart's mysterious Clarinet Quartet in B Flat Major after K378.
And I'm particularly looking forward to the Toronto debut of the highly touted France-based Trio Wanderer (after Schubert). Their October 2 Women's Musical Club of Toronto program includes piano trios by Fauré, Liszt and Tchaikovsky.
Paul Ennis is managing editor of The WholeNote.