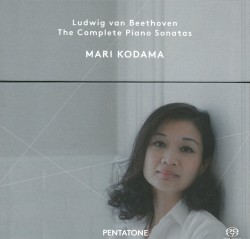 Beethoven – Complete Piano Sonatas
Mari Kodama
Pentatone PTC 5186 490
The 32 sonatas of Beethoven are a milestone in musical history and one of the marvels of human civilization. The piano was Beethoven's own instrument; he first became famous as a concert pianist. The sonatas also trace the development of the instrument itself; with technical improvements it became more and more articulate and expressive, noticeable throughout the sonatas. Interpretation dates back to the time of Liszt and complete recordings by some of the piano giants are many, but almost exclusively by male pianists.
I met Mari Kodama at the time of launching her new set for PentaTone. She immediately impressed me as quiet, unassuming, rather reclusive and modest but very dedicated to her art. Well, quiet waters run deep as I certainly found out later in listening to her play. It took her some ten years to complete this project and "time was her greatest gift" as she thoroughly researched each sonata and understood the compositional process from the inside out as her extensive notes demonstrate. Kodama was virtually unknown when she started this project and so it was doubly difficult to make herself known as well as make a new statement on this field. Comparisons are limitless as everyone has his/her favorites they swear by, although it wouldn't be fair to this relatively young pianist and the enormity of her effort and accomplishment.
Her playing can be summed up as impeccable, painstakingly observing the composer's original metronome markings, usually on the fast side of what we are used to with amazing technical brilliance and rhythmic precision as well as a tremendous range of expression and structural coherence. Her playing is essentially delicate, but this is advantageous for the more light hearted, humorous pieces like the second movement of the Hunt Sonata, Op.31, No.3 and elsewhere where she is distinctly delightful in making the piano literally "swing" (Op.31, No.1). Even more challenging is the Pastoral Sonata Op.28, notoriously difficult to interpret, in which she excels. Her youthful joy of playing, especially her favourites, is infectious, which makes this set extra special.
But Kodama is certainly no lightweight. She makes an enormous impact with the Hammerklavier, Op.106, more than 41 minutes long, immensely difficult, an endurance test even for the likes of Richter. Her bold attack with the magnificent fanfare-like chords immediately rouses the listener. The long Adagio, often a stumbling block for pianists, is held together well and the enormous fugue that requires almost superhuman endurance and stamina comes off with such abundant energy that it's simply breathtaking.
Nine CDs richly documented with Kodama's own analysis of each sonata, the PentaTone sound is state of the art with gorgeous piano tone as if it was in your own living room.
Concert Note: Mari Kodama and Karin Kei Nagano, her 15-year-old daughter (with her husband MSO conductor Kent Nagano), perform April 25 as part of Bravo Niagara!'s second annual "Spring into Music @ Stratus festival, Stratus Vineyards, Niagara-on-the-Lake.