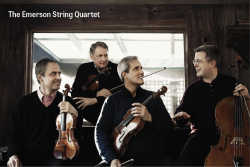 When I first opened up the Toronto Summer Music Festival's brochure several weeks ago, I was struck by the strength of the initial three concerts running from July 22 to 24: the return of the Emerson String Quartet; the debut of the young pianist Beatrice Rana; and the musical marriage of the Orion String Quartet with Peter Serkin. The festival's theme – The Modern Age – caught my eye next. "What an enticing idea," I thought.
As TSO musical director Peter Oundjian observed in his recent Conversations@The WholeNote with David Perlman, it's a fascinating topic to contemplate. "The eruption of 20th-century musical language – romanticism, polytonal modernists, folk-influenced – opens up a completely new world to so many different styles. I think it's a very interesting period."
Three chamber music concerts explore this notion. The first, "Romanticism to Modernity" on July 25, positions Berg and Schoenberg as Romantics about to discard tonal roots, comparing them to Frank Bridge and Richard Strauss. The second, August 1, includes polytonal non-modernists Prokofiev and Shostakovich with folk-influenced Vaughan Williams. The third, August 7, takes another folk-based composer, Dohnányi, and juxtaposes his Sextet for Clarinet, Horn and Piano Quartet with Schoenberg's arrangement of Mahler's Songs of a Wayfarer and Schoenberg's and Berg's arrangements of three waltzes by Johann Strauss. Stirring the pot, indeed.
I had heard the Emerson, one of my favourite quartets, in Koerner Hall's opening season, as well as in earlier appearances presented by Music Toronto. The inclusion of Beethoven's Op. 95 "Serioso" quartet in their program brought back a summer music festival experience two decades ago at Tanglewood, when the Emerson performed the prodigious feat of playing all five of Beethoven's middle-period quartets in one day. After 36 years, the group's personnel changed in 2013 with new cellist Paul Watkins. Word is he brings a warmth and sense of humour that may have been previously subsumed by the quartet's superb technique and infallible drive. Britten's second string quartet inspired by Purcell (which was recently part of the Pavel Haas Quartet's soulful WMCT concert) and Schubert's essential "Death and the Maiden" quartet, complete what looks to be a memorable beginning to music in the city this summer.
I have been looking forward to hearing 20-year-old Beatrice Rana, who won the Audience Award at last year's Van Cliburn Competition (where the judges placed her second), ever since reading Alex Baran's glowing review of her Harmonia Mundi CD in the February 2014 issue of this magazine.
Peter Serkin brings a sterling record as a chamber musician to his collaboration with the Orion String Quartet, the quartet-in-residence at Lincoln Center. A program containing quintets by Brahms and Dvořák is a tantalizing prospect.
If having concertmaster Jonathan Crow and other TSO members participating in TSM weren't enough, the entire orchestra will close out the festival August 12 in their first ever concert in Koerner Hall with a preview of their upcoming European tour which includes Claude Vivier's Orion. "I have the impression that I'm sitting still on an airplane," Vivier wrote, describing the piece. "I remain in the same place and yet I go from Cairo to Kuala Lumpur." The TSO is off to Vienna, Amsterdam, Wiesbaden, Helsinki and Reykjavik.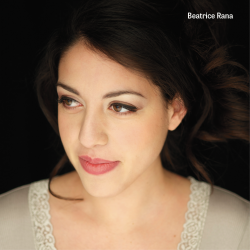 Le Festival de Lanaudière bills itself as the largest festival of classical music in Canada. Located in Joliette, about an hour northwest of Montreal, it includes many artists who rarely travel to Toronto, as well as others who do. Pianists Alain Lefèvre (whose recital July 8 features all 24 Chopin preludes and Ravel's La Valse) and Dejan Lazić (in a program July 14 ranging from C.P.E. Bach and Scarlatti to Britten and Bartók) fall into the former category while Kristian Bezuidenhout, who recently appeared here with Tafelmusik performing a Mozart piano concerto, gives two recitals (July 15 and 17) devoted to eight Mozart sonatas on a fortepiano built in the late 18th century around the time of the composer's death.
Beatrice Rana plays the same recital in Lanaudière as in Toronto, two days later. Toronto native Stewart Goodyear offers a varied program July 22 of Berg's Sonata No.1, Bach's French Suite No.5 and Beethoven's Diabelli Variations.
The marvellous Jennifer Koh, whose memorable appearance as the violin-playing Einstein in the 2012 Luminato production of Philip Glass' Einstein on the Beach was the heart of the opera, performs two Bach sonatas, Berio Sequenza VIII and John Zorn's Passagen on July 28.
No less enticing is the July 20 Orford Six Pianos concert which includes Mussorgsky's A Night on Bald Mountain and Pictures at an Exhibition, Ravel's Pavane pour une enfant défunte and Mère l'oye as well as two suites by Khatchaturian. Paavo Järvi and Die Deutsche Kammerphilharmonie Bremen clearly love Brahms. August 2 finds them performing his second symphony along with Lars Vogt in his first piano concerto, while Brahms' first symphony and violin concerto (with Christian Tetzlaff) can be heard the following evening.
Yannick Nézet-Séguin leads the Orchestre Métropolitain in a mostly Wagner program August 6 while Debussy and Ravel help Kent Nagano make a big impression with the Montreal Symphony Orchestra August 8. Erin Wall, Susan Platts, Nagano and the MSO bring the festival to a close with Mahler's Symphony No.2 August 9. No Canadian summer festival can match these eight days of significant orchestral firepower.
The Festival of the Sound's 35th season offers a star-studded cast of performers in 75 concerts, lectures, cruises, dinners and galas over a three-week period from July 21 to August 10. The first week features the Tiberius, New Zealand and Afiara String Quartets, the Gryphon Trio and Richard and Lauren Margison. Pianist Leopoldo Erice, the Magellan Ensemble, violinists Mark Fewer and Drew Jurecka and the Brodsky and Penderecki String Quartets highlight week two. Ensemble Made in Canada, the Cecilia and Lafayette String Quartets and three notable pianists should make the final week exciting. Alexander Tselyakov, Janina Fialkowski and Jan Lisiecki will each give a recital and a masterclass. Lisiecki will also be in conversation with the inimitable Keith Horner.
Clear Lake: The week before his appearance in Parry Sound, Tselyakov curates the Clear Lake Chamber Music Festival just south of Riding Mountain National Park in Manitoba with four packed concerts July 31 to August 3. The week before on July 25, he joins Rachel Mercer, cello, Marie Bérard, violin, Wallace Halladay, alto saxophone, and Leslie Allt, flute, in a wide-ranging program that includes Dvořák's "Dumky" trio at the KWCMS Music Room, where it's always a festival regardless of the season.
The Ottawa International Chamber Music Festival celebrates their 20th anniversary July 24 to August 7 with several concerts of interest: the Brentano String Quartet (best-known recently as the soundtrack providers for the film A Late Quartet) July 24; James Campbell and the Cecilia String Quartet in contrasting programs July 28 and 29; brothers Jon Kimura and James Parker, Hinrich Alpers and Pedja Muzijevic in a Debussy-Ravel-Stravinsky eight-hand piano extravaganza July 28; Jon Kimura Parker and the Miró String Quartet July 31; the Lafayette String Quartet August 1; Janina Fialkowska in a program almost identical to her Festival of the Sound recital August 1; the Dover String Quartet, winners of the 11th Banff International String Quartet Competition, August 3; the Brodsky Quartet August 4, again with Beethoven's Op.95; and the irrepressible Gryphon Trio August 6.
Stratford Summer Music's highlight, from my perspective, is the August 1 concert combining the considerable talents of violinist Hilary Hahn with pianist Jan Lisiecki and the Annex Quartet in a program comprised of Brahms' Violin Sonata No.1 and Chausson's charming Concerto for Violin, Piano and String Quartet. Don't miss this rare opportunity to hear one of the most unusually scored chamber works of the 19th century.
Stratford's Grand Piano Series showcases three performers ranging from the 14-year-old Daniel Clarke Bouchard (fresh from an appearance on the Ellen TV show) August 6 to 25-year-old Pavel Kolesnikov (Honens International first prize laureate 2012) August 13 and Bicycle Opera Project's own Wesley Shen August 20 (in a program that includes Cage's Suite for Toy Piano and Southam's Glass Houses).
The Indian River Festival, set within sight of beautiful Malpeque Bay in the world-class acoustical setting of St. Mary's Church on Prince Edward Island, may be the most idyllic and varied festival of any in Canada. A small sampling of their summer-long 13th season finds cellist Denise Djokic and pianist David Jalbert in a recital July 13, the peripatetic Jan Lisiecki appearing July 27, the traditional folk trio Bon Débarras performing August 8 and Patricia O'Callaghan singing Cohen, Piaf and more accompanied by Andrew Downing, bass, and festival director Robert Kortgaard, piano, August 17.
Forest Festival: Yet it's hard to picture a more quintessential Canadian experience than listening to the Canadian Brass August 12, the acoustic duo of Greg Keelor & Jim Cuddy August 13 and Measha Brueggergosman August 14 at the Bone Lake Amphitheatre in Haliburton. As the Forest Festival puts it: "Imagine sitting in the middle of a forest away from the lights of the city, in an amphitheatre overlooking a lake listening to live music as the sun sets."
Yuja Wang joins the TSO and conductor Peter Oundjian June 11 and 12 in Beethoven's Piano Concerto No.3 and Shostakovich's triumphant Symphony No.5. June 14 the Shostakovich is part of Luminato.
June 15 the TSO brings Luminato to a rousing close with a free outdoor concert in David Pecaut Square with music by Weinzweig, Copland, Bernstein, Piazzolla and Ginastera, among others.
The outstanding Austrian pianist Till Fellner returns to the KWCMS Music Room in Waterloo for a program of Mozart, Bach, Haydn and Schumann August 5.
Paul Ennis is managing editor of The WholeNote.