Gold Medalist
Vadym Kholodenko
Harmonia Mundi HMU 907605
Silver Medalist
Beatrice Rana
Harmonia Mundi HMU 907606
Crystal Award
Sean Chen
Harmonia Mundi HMU 907607
Three winners emerged from the 14th Van Cliburn Competition in May/June 2013 to prove once again how unique and individuated such pianistic brilliance can be. A Ukrainian, Vadym Kholodenko, age 26, won the gold. Silver went to 20-year-old Italian Beatrice Rana and an American of 24, Sean Chen, received the crystal award. In addition, the winners also received three years of commission-free career management. These performances were recorded live in Fort Worth with audiences barely able to withhold their applause until the final chords faded completely. Considered together, these three young artists offer intriguingly different approaches to their music and its instrument.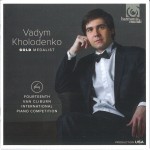 Gold medalist Kholodenko chose an endurance program of Stravinsky (Petrouchka) and Liszt. The Transcendental Etudes, best known for the broad range of their technical demands, never seem to tax Kholodenko. He rises easily above them to allow himself generous interpretive ground. Here he plays wistfully with the melodies of Feux Follets and Harmonies du Soir, drawing out Liszt's inner themes woven across left and right hand parts. His muscular approach to Mazeppa and Wilde Jagd leave no doubt about his power over the instrument as he makes it roar louder than either of his winning competitors. Similarly, his approach to Petrouchka demonstrates a remarkable clipped staccato in the very opening phrases that adds razor sharpness to the phrasing unlike what most other pianists are able to achieve. This power is beautifully contrasted with his playing of the second movement where a gentle legato and light touch confirm exactly why his medal was the gold.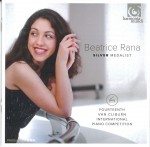 Rana, the silver medalist, brings an elegant, dance-like style to her Schumann, Ravel and Bartók. Schumann's Symphonic Etudes are very dense at times requiring the utmost in accuracy and articulation. Rana is wonderfully adept at drawing out melodies from within this quasi-orchestral score. The ninth etude, although only a few seconds in duration, is an excellent example of how she does this while sustaining a relentless driving pulse around the theme. Her performance of Ravel's Gaspard meets every expectation for superbly fluid playing in the opening "Ondine." "Le Gibet" and "Scarbo" each show us how well Rana can shift to a portrayal of darkness and mystery.
Perhaps most convincing is her primal and somewhat savage approach to Bartók's Out of Doors. Despite the gentler requirements of the second and fourth movements, the opening almost puts the piano at risk as she astonishes the audience with her raw power. A performer with a demonstrably impressive interpretive ability, one understands why she also won the Audience Award.
Finally, Chen, winner of the crystal award performs a program of Brahms, Beethoven and Bartók. This young American pianist takes his Bartók just as seriously as his formidable Italian competitor but regards the composer's rhythmic and harmonic angularity with more romance and less anger. A very different but very creditable approach. Chen is a thinker, a pianist who clearly appreciates clean structure. This is what informs all his playing. Nowhere is this more evident than in the closing epic fugal movement of Beethoven's Hammerklavier. Adjectives simply fail to describe Chen's grasp of how Beethoven built this complex edifice. He plays it brilliantly. The cheering audience reaction says it all.