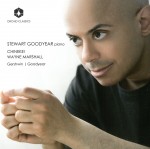 Stewart Goodyear's performance on his new recording Gershwin/Goodyear (Orchid Classics, ORC100100, orchidclassics.com) sizzles with high energy from start to finish. The disc presents two compositions by Goodyear in addition to Gershwin's Rhapsody in Blue.
Half of Goodyear's family has roots in Trinidad where he describes experiencing his first Carnival and being spellbound by its diverse rhythms and music. The five-movement suite for piano and orchestra, titled Callaloo, is a brilliant and impressive example of Goodyear's composing and orchestration skills.
The Piano Sonata is an early work from Goodyear's late teens. And although he admits it reflects some teenage hubris, the Sonata nevertheless carries Goodyear's virtuosic stamp on both its writing and performance. He's an inspired artist with a great deal to say.
The Chineke! Orchestra, led by Wayne Marshall, collaborates beautifully with Goodyear. Extraordinary playing, superb recording and engineering make this one of the most exciting discs released this year. Definitely a must-have!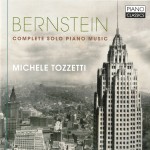 Michele Tozzetti's new disc Bernstein – Complete Solo Piano Music (Piano Classics, PCL10174, naxosdirect.com) joins the few others who have taken on the challenge of this repertoire. There's just enough solo piano material by Bernstein to fill a CD, so the project has tempted a handful of brave artists. All have discovered, however, that the composer, pianist, conductor was a complex individual and access to his music has been challenging.
Tozzetti understands that Bernstein's language marked him as a staunch modernist and populist. He was edgy and evolutionary but not revolutionary. His writing is never entirely without reference to some core principle of music as a contemporary individual would understand it. And Tozzetti consistently seeks out the melodic and rhythmic element to confirm this. Many of these short pieces bear the names of those to whom the works are dedicated or at least those whose impressions they reflect. Occasional ones like Aaron Copland seem to have content that makes reference to their work, but much of that remains for Tozzetti to decide.
This is quite possibly the most thoughtful and well played conception of this music to date.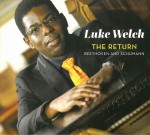 Luke Welch's third recording The Return (lukewelch.ca) presents the Beethoven Sonata in A-flat Major Op.26 and Schumann's Faschingsschwank aus Wien Op.26. Welch is no stranger to the Schumann repertoire having recorded Kinderszenen on one of his earlier discs. There's a strong and natural fit for him with this composer's language whose harmonies he seems to understand profoundly. He's especially persuasive in the Romanze where he moves carefully with the gentleness of Schumann's melodic line before leaping into the Scherzino with a perfectly balletic lightness.
The Beethoven tracks, that include a couple of Rondos Op.51 in addition to the sonata, demonstrate Welch's affinity for the core of the classical repertoire, the discipline and balanced expression that these composers need to be convincingly played.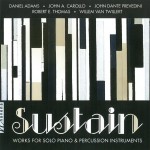 Sustain (Navona Records, NV6207, navonarecords.com) is a multi-composer and multi-performer recording project featuring piano, marimbas, vibraphone and some percussion. Five composers, two pianists and numerous other musicians present a rich and intriguing exploration of music bound together by the shared ability to initiate, shape and sustain sound from a keyboard, or keyboard-like instrument.
Sixteen Lines Circling a Square by Robert E. Thomas is a sonically fascinating piece in its performance by Matt Sharrock who plays both marimba and vibraphone. Solstice Introspect by Daniel Adams is written for three vibraphones and percussion, and portrays some of the mystique surrounding the annual winter event. John A. Carollo's Piano Suite No.9 – Memories of Liszt is equally clever for its emotional and occasional musical references to Liszt.
It's an ambitious project with a very rich program and well worth the listen.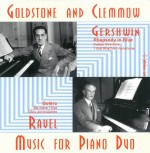 Oh to have been a fly on the wall in that New York room in 1928 when George Gershwin played his Rhapsody in Blue for Maurice Ravel. The evening encounter is rich with anecdotes but Ravel's brush with American music and Harlem jazz made a lasting impression that emerged repeatedly in his writing of that period. Gershwin, Ravel (Divine Art, DDA25055, divineartrecords.com) is a tribute to the works of these two composers for piano duet and two pianos. Piano duo Goldstone and Clemmow recorded these tracks over the decade 1997-2007 and their re-release in this repertoire compilation is a reminder of how their performances will be missed since the death of Anthony Goldstone two years ago.
There is such full engagement and energy in all this playing. The Rhapsody in Blue is the original version for two pianos and seems in no way diminished from its orchestral scoring. The same is true of I Got Rhythm, also in its original two-piano version. As in all their recordings, Goldstone and Clemmow never falter. They breathe and play as a single mind, whether at one keyboard or two. The disc's closing track is perhaps both the most novel and amazing. Ravel's version of Bolero for piano duet (that's four hands at one very crowded keyboard) is simply impossible to imagine as it unfolds.
It's always great fun to hear how Scarlatti is going to emerge from under the fingers of a newly recorded pianist. Soyeon Kate Lee's recording Scarlatti – Complete Keyboard Sonatas Vol.21 (Naxos 8.573795, naxos.com) makes the unhurried point that there may be more to consider in these sonatas than traditionally meets the ear. Scarlatti wrote 555 sonatas in single movements, of which Lee has chosen 17 for this recording.
Taking time to explore ideas and never saying anything twice in the same way are key elements of Lee's fresh voice in these works. She also takes a comfortably light Romantic touch to potential dance-like rhythms, giving the bass line a chance to lead rhythmically. Lee is especially adept at using the colour and dynamic potential of the piano to make more of these than Scarlatti might have imagined at the harpsichord. She plays with great care and consideration for the disciplined way in which Scarlatti crafted these pieces but applies her playful imagination to each one, polishing it into a unique gem.
Federico Colli's latest recording J.S. Bach Italian Concerto, Partita IV, Bach/Busoni Chaconne (Chandos CHAN 20079, naxosdirect.com) explores new depths of introspection in Bach's keyboard writing. Colli plays with all the requisite technical articulation and dynamic sensitivity that modern tastes expect in this repertoire. But he adds something strikingly unique: Colli has mastered the craft of small-voice playing. This is a keyboard utterance far below conventional pianissimo, using the gentlest of key touch, barely bringing the hammers against the strings and thereby creating a remarkable tone. Moreover, Colli seems to have the quantum ability to slow the passage of time when he does this. It's altogether remarkable. Used strategically throughout the Partita No.4 and the slow movement of the Italian Concerto, it enhances his midrange voice and gives his fortissimos overwhelming presence.
The combined effect of this playing style is most concentrated in the Busoni transcription of the Chaconne from Partita No.2 BWV1004 where Colli forms Bach's most beautiful ideas slowly and minutely in time and space before letting them supernova into the immensity of Busoni's towering chords. An unforgettable experience.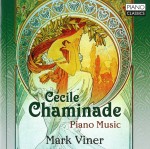 Mark Viner's recording Cécile Chaminade – Piano Music (Piano Classics PCL10164, naxosdirect.com) is a beautiful and exquisitely performed addition to his discography. Chaminade's music is now more widely performed and admired than it was in her day. The late 19th and early 20th centuries afforded little opportunity for women to pursue careers as composers and concert performers. Still, Chaminade persevered and achieved some recognition throughout her native France. Her music is rich with textures and ideas and Viner embraces these with a remarkable fluency as if her language were his own. The opening Pierrette air de ballet Op.41 is instantly captivating and Viner brings the same impish energy to successive works in the program. The highlight of the disc may, however, be the unassuming Méditation from the 6 Romances sans paroles, Op.76. Here Viner lingers on critical phrases and gently emphasizes lush harmonies that offer a glimpse into Chaminade's world.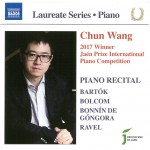 International piano competitions often award winners recording opportunities to help advance their careers. A new release, Chun Wang – 2017 Winner Jaén Prize International Piano Competition, Laureate Series (Naxos 8.573945 naxos.com) presents the winning piano recital of this Spanish competition. The concert recording quickly demonstrates why Wang won the 20,000 euro prize. His performance is spectacular. It reveals an inherent artistic intelligence that comes across as a natural affinity for whatever repertoire he plays.
The recital program opens with Ravel's Jeux d'eau in which Wang's legato playing ideally captures the fluid character of the work. Ravel's Piano Concerto in G Major closes the recital and provides astonishing musical and technical contrast to the earlier work. Between these two, Wang plays two of Bolcom's 12 New Etudes, Bartók's Out of Doors, and Fantasia, a required contemporary piece by a Spanish composer, Josué Bonnín de Góngora.
There's an edge-of-the-seat excitement that builds throughout this recital. Stakes are high, as are the audience expectations, and the pressure is palpable. Chun Wang delivers with confidence and flawless playing. A winner.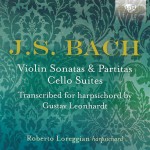 Roberto Loreggian has released a three-disc set of Bach Violin Sonatas & Partitas, Cello Suites – Transcribed for harpsichord by Gustav Leonhardt (Brilliant Classics 95757, naxosdirect.com). Among the items are many that are as familiar for Bach's own keyboard transcriptions of them as they are for their original solo forms. Bach himself realized keyboard versions of his numerous solo instrumental compositions and freely cross-pollinated his works with borrowed ideas. The documented instances of this practice led Leonhardt to devote a decade to writing his transcriptions for harpsichord based on considerable research and study. His obvious grasp of Bach's keyboard language, harmony and counterpoint informed his approach to transcribing this repertoire.
The project may, at first hearing, seem tidy and academic, but encountering the familiar in a new voice has a subtle, arresting effect and compels fresh thinking about new discoveries. Harpsichordist Roberto Loreggian plays a modern Italian copy of an early 17th-century Flemish instrument.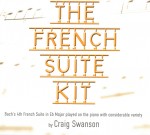 Craig Swanson presents a persuasive argument for an imaginative experiment in his new recording The French Suite Kit (thefrenchsuitekit.com). Citing others like Glenn Gould, who have mused about the role of the listener and the how technology affects the way listeners participate in music, Swanson has recorded a "Kit" from which listeners can build their own performance through a mix-and-match process.
Most of the movements in the Bach French Suite No.4 in E-flat Major BWV815 appear in three or four different versions. Speed is the most obvious variable, but Swanson also alters the amount of ornamentation, shifts between two major published editions, and observes some repeats while omitting others. The objective is to offer a collection of component parts for a listener to custom build a performance that suits the preference of the moment. Moreover, Swanson's experiment posits that there cannot ever be a definitive performance of anything. Too many things can change in the performer's mind and the listener's perception to make any music universally right forever.
Swanson's intriguing ideas offer a lot to play with both musically and intellectually.