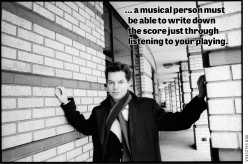 Till Fellner was 18 in 1990 when he was asked to play for Alfred Brendel. It was arguably the pivotal moment of his life. Three years later he won the Clara Haskil piano competition gaining a modicum of name recognition and an entrée into the world of recordings.
The head of the keyboard department at the Vienna conservatory, where Fellner had been a student since 1981, had suggested a meeting with Brendel in a castle in Grafenegg not far from Vienna where the noted pianist was giving a recital. Fellner was invited to listen to Brendel's rehearsal in the morning and then play a few pieces for him. The older pianist immediately started teaching by correcting what the younger man was playing. His first lesson had just begun. Brendel then suggested that Fellner call him and arrange another.
Over the next 10 to 12 years, two or three times each year, Fellner visited London where Brendel lived and for two or three days at a stretch, for three to five hours each day, the lessons continued. As Fellner told me in a recent email exchange, Brendel "has been the most important influence in my musical life. As a teacher he always gave me an overview of a whole piece, but also showed me how to work on all of its details. His attitude as an interpreter, who always tried to serve the music and the composer, will remain a model for me."
The Vienna-born Fellner has served his mentor well. In 2010 he wrote an appreciation of Brendel for The Gramophone. "Some musicians are so concerned with detail that they can sound pedantic and lose the sense of line," he wrote. "Others play with a lot of passion but miss some of the refinement." He attributed Brendel's great playing to his ability to combine these two concerns.
While waiting to follow up on Fellner's answers to the questions I had emailed, I spent several hours listening to his ECM Bach recordings of the Well-Tempered Clavier Book I and Two-Part Inventions, Sinfonias and French Suite No. 5. His unflinching legato playing is never overbearing. Far from it. His naturalism, which flows organically, can be transformative, its clarity hypnotic; dynamism within a well-defined dynamic range. And you only notice his formidable technique when he effortlessly plays a passage quicker than almost anyone else, but never without a musical reason for doing so.
Fellner's answers to my emailed questions were fascinating, concise and informative. When I spoke to him the next day by telephone from his home in Vienna after an intense, fulfilling tour around France, I found him to be thoughtful, engaged and soft-spoken but forthright.
His Toronto debut March 10 under the auspices of Music Toronto includes four preludes and fugues from Book II of the Well-Tempered Clavier. I asked him to briefly characterize each of them:
"As usual with Bach, the characters of the pieces are very different. The Prelude in E major is a subtle, atmospheric piece, the eccentric E-minor Prelude is drier, more harpsichord-like. The Prelude in F major has a flowing, water-like quality, whereas the F-minor Prelude is an intimate, private piece (as often with Bach's F-minor works). The F-major Fugue seems to me a religious piece. The fiery E-minor Fugue is written in a virtuoso style (a similar way of piano writing as in the G-major Fugue of Book I), and the Fugues in F major and F minor are more dance-like."
Even before Fellner met Brendel, the Bach recordings of Brendel's own teacher Edwin Fischer had been a revelation to Fellner. Every piece sounded differently and had its own distinct character. He told me that he remembered Fischer saying in one of his books that clarity always came first.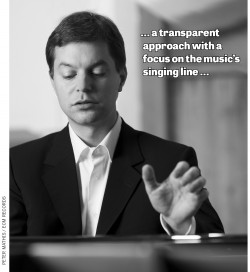 The two Mozart pieces in Fellner's March 10 recital – the Rondo in A minor K511 and the Sonata in E-flat major K282 – are among the most deceptively simple yet singularly beautiful of the composer's works. I told Fellner that I'm always amazed by the brief darkness in the sonata's first movement right after the first repeat where Mozart seems to go into a hauntingly chromatic space before slipping into an almost Chopin-like moment.
"I have just studied the Sonata in E flat major" he replied, "and all I can say is that the first movement seems to me the most beautiful and difficult one. It is unusual for Mozart to begin a sonata with a slow movement. The chromatic passage you have mentioned can be seen as a link to the Rondo K511, in which chromaticism plays a major role. This late piece is very intimate, melancholic, but also gracious. There are a lot of surprising dynamic and articulatory markings."
Wilhelm Kempff has said that he considers Schumann's compositions Opus 1 through 28 the greatest, the most significant works the composer ever wrote, finding "compressed genius" in every bar. I asked Fellner for his thoughts on the final piece in his Toronto program Kreisleriana Op. 16 and on Kempff too.
"Kreisleriana is definitely one of Schumann's masterworks. While other piano pieces were inspired by the writer Jean Paul (like the Papillons and the Davidsbündlertänze) the character of the Kapellmeister Kreisler was invented by E. T. A. Hoffmann. As I am very fond of these writers, I find such literary references very appealing. Another inspiration in all of Schumann's works was of course his beloved Clara, and Alfred Brendel is probably right in characterizing the slow movements of Kreisleriana as portraits of Clara. Another obvious influence worth mentioning in connection with my present recital program is J. S. Bach.
"Although I have some personal favourites between Op. 1 and Op. 28 (Davidsbündlertänze Op. 6, Fantasiestücke Op. 12, Sinfonische Etüden Op. 13, Kinderszenen Op. 15, Kreisleriana Op. 16, Fantasie Op. 17, and Humoreske Op. 20), I am not going to argue with Wilhelm Kempff, one of the greatest pianists of all time. His recording of Kreisleriana is outstanding."
Asked about what goes into planning a program such as this one, Fellner mentioned how appropriate Stankovski's Traumprotokoll (Dream Journal) was. Fellner commissioned the five-to-six-minute piece (which consists of eleven mini-bagatelles) last fall and finds that its dream-like, night atmosphere goes very well with "this very eccentric and kind of crazy Schumann piece" which it immediately precedes in the Toronto recital.
Fellner likes to play two programs per year, one for the fall season and another for the spring (which he has just now begun and will play until
June). "I really like to play a program many times," he told me when I suggested that some performers might find that boring. "For me everything is so difficult that I am never bored."
In fact, the day after his Music Toronto recital, Fellner will perform the same program in the Narvesons' house in Waterloo as part of the Kitchener-Waterloo Chamber Music Society's 41st year. Before his sabbatical Fellner had appeared in that "amazing place" several times, including a traversal of Beethoven's 32 piano sonatas.
Recording himself (something that Brendel used as a personal teaching tool and encouraged) is also part of the process of improving his performance step by step. And it's not only little details that he corrects. "Sometimes good things happen and you just realize it when you hear the tape, so then of course, you try to keep them."
And even though emotion is always paramount in his approach to playing, "that doesn't mean that it is forbidden to think or to reflect."
Fellner has spoken elsewhere of his pleasure working with Kent Nagano and the Montreal Symphony on their ECM recording of Beethoven's Fourth and Fifth Piano Concertos, mentioning. the orchestra's ability to play softly and transparently. So I asked about his own transparent approach with its focus on the music's singing lines. And he confirmed that transparency (clarity) and a singing way of playing the piano are essential goals of his.
He told me that when he played for Brendel in 1990, it was the first movement of Beethoven's Appassionata Sonata that started the teaching process. Brendel told him that the beginning of a Beethoven sonata was crucial, that everything is there. And the critical idea that you have to play so clearly that a musical person must be able to write down the score just through listening to your playing.
Fellner has recently begun teaching a few students of his own (since the fall of 2013), a process he finds quite rewarding. "I hope my students learn something but I learn a lot from them," he told me. "You have to explain everything to them including things that seem perfectly logical to you. And then you see that they are not logical at all. When I'm at home, when I practise, I imagine everything. So I don't have to conduct, I don't have to sing. I try to realize this on the piano. But with the students I have to show them, I have to be quite extroverted. I have to sing, to dance, to conduct. And that's quite a good thing for me."
He spent the entirety of 2012 on a sabbatical from public performance, studying new repertoire and pursuing his interest in literature and film. (As a former film programmer myself who still writes about film and the symbiotic connection between film and music, I was intrigued to discover that Fellner had written an essay on Bunuel's use of music -- which I read in its Google translation. It was comprehensive and eloquent.)
"First of all," he said, "I was impressed by Buñuel's films, by their subversity, mysteriousness and humour. Then, I realized that the music in his films played an important role. My essay tries to show how Buñuel in his early works used music as a (often subversive) counterpoint; or even as part of a surrealistic collage: a clash between the image/action and the music. Then in his later works (beginning with Viridiana) he doesn't use background music any more at all. Occasionally, music is played within the film (you can see a gramophone, or a piano).
"In general, I think there has to be an artistic reason for the use of music in film. An example of great film music is for me Last Year in Marienbad by Resnais: the synthesis of the slowly panning camera, the voice of the narrator and the organ music has a mesmerizing effect."
Listening to Fellner's recordings between our email exchange and our short conversation, I had been particularly struck by the Sarabande in his recording of Bach's Fifth French Suite. As our conversation was coming to an end, I felt compelled to ask if he had ever played it as an encore.
"Oh yes. Many times," he answered.
"It's just so beautiful," I added.
"I love this piece," he said.
Paul Ennis is the managing editor of The WholeNote.