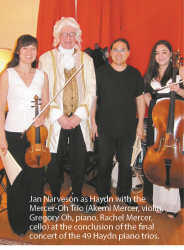 Haydn was a composer known for surprises but it's likely that even he would have been amazed to find a complete cycle of his 68 string quartets being undertaken in Waterloo over the next three and a half years. Anyone familiar with the breadth and enterprising programming of the Kitchener-Waterloo Chamber Music Society (KWCMS), however, won't be so surprised.
If someone were to quiz you on the three leading concert presenters in the greater Toronto region, the TSO and RCM's Koerner Hall, would come to mind immediately. Yet the KWCMS, with more than 70 concerts this season is barely behind The Royal Conservatory's 80+ and the TSO's 109. It's incredible really, that one dedicated couple's love affair with music would rival the accomplishments of two such prestigious institutions. At The WholeNote we've been well aware of the bountifulness of the KWCMS programming since their concerts have been filling our listings pages (and the 85-seat Music Room in Jan and Jean Narveson's home) for as long as we've been in existence.
Over the years the cumulative volume of talented performers who made their way to the Narvesons is astonishing enough, but it is the KWCMS' penchant for programming complete cycle concerts that really made one sit up and take notice. Over the years, they've presented all the Bartók, Beethoven, Shostakovitch and even the second Viennese School quartets, three cycles of the Beethoven piano sonatas, four of the Beethoven sonatas for violin and piano, three of the Beethoven cello and piano sonatas, the complete Ravel piano works and all 49 of the Haydn piano trios.
The Attacca Quartet began performing "The 68" in Holy Trinity Lutheran Church on 65th Street and Central Park West near Lincoln Center in New York City three years ago. Their decision to choose Waterloo to begin their second foray through the quartets, beginning with four concerts on November 16 and 17 prompted the following Q & A with Jean Narveson (who is editor of The Music Times) and Jan Narveson (president and founder of the KWCMS, professor of philosophy emeritus at University of Waterloo).
Now in their 11th year, the Attacca Quartet — comprised of violinists Amy Schroeder and Keiko Tokunaga, violist Luke Fleming and cellist Andrew Yee — met at Juilliard where they spent 2011–13 as the school's graduate resident string quartet. Click Here to Read an interview with Fleming.
When did your love of music begin?
Jean: Jan's love of music began when he was a child (the youngest of five children, he heard at least some of his older siblings practising piano) — and when he was 13, he was too advanced in math to benefit from staying in class during math lessons, so his teacher sent him off to the school's library, and there he entertained himself by listening to LPs of classical music. (That's how I remember the story.)
I also connected to music as a child — first by hearing it at home, then by taking piano lessons, singing in choirs, going to concerts with my mom, learning to play other instruments ...
You've certainly fostered a marvellous musical culture over the last four decades; what is the animus behind the KWCMS?
Jean: The spirit behind the KWCMS is to bring high quality chamber music to whoever wants to hear it. Jan has always programmed a mixture of international and Canadian musicians of great accomplishment, as well as emerging artists and local professional musicians (and music students and accomplished amateurs from the community). The KWCMS has always had the "vibe" of a grassroots organization: 85 per cent of the budget goes directly to musicians, and nobody who has anything to do with the running of the KWCMS gets a salary.
It's an extraordinary thing to have people come into your home and perform. What prompted you to start having concerts in your home?
Jean: You could probably sum up the answer in three words: money, piano, atmosphere (in no particular order). Our first few years were full of concerts in various venues — schools, libraries, churches — and there was usually a rental fee to pay; in the case of anything like a theatre, we also had to pay for ushers and stagehands (whether we needed them or not!). Then there's the fact that very few places had a decent piano.
Finally we bought a piano — a lovely old Heintzman six-foot grand — and once it was installed in the room now known as the Music Room, it was pretty obvious what would be installed there next: the entire series! Pianos since then: a Wagner, a Young Chang, and finally our gorgeous seven-foot Steinway.
(Jan has a fairly massive collection of LPs, and when he decided to add a room to the back of the house, he had in mind a room suitable for listening to music. The room has been called "the Music Room" since it was finished in early 1970, but it acquired its public personality later.)
Jan: As Jean notes, the Music Room was actually built before we started doing concerts, but early in our venture we realized that it was a very good place for chamber music — big enough to have some acoustic and to hold enough people to fund many professional musicians. (Very few are priced out of our market, we have found. Mind you, many of them play for less because they like what we do and we like them!)
Jean: One day — way back in the early 70s — someone in town phoned to say that the Orford Quartet was in town and their rehearsal space wasn't available: could they rehearse at our house? They did. We listened. The seed was sown.
The next bit of live music had a larger private audience, viz., the Toronto Consort. In those days, a tenor in the group was also a geography prof at UW (Prof. Walker), and he asked Jan if they could have a run-through of concert material for us and however many friends we'd want to invite. (This was before the TC became famous!) As I recall, we had two of those mini-concerts, and everybody loved them.
It was clear by then that if Jan could ever get live chamber music into the room, he would.
How big is the room (since it seats 85 people)? What is the unique charm of the space?
Jean:The house is a 1917 brick house with two floors plus an attic and basement. It became a lot bigger after the addition (which included a large garage under the Music Room).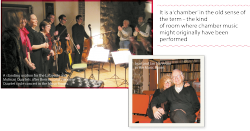 Jan: The Music Room has interior dimensions of 22.5 feet wide; 32 feet long (average; the end is split); and 13 feet to the peak of the "cathedral" ceiling. It has a dark wood cathedral ceiling, wooden flooring, mostly brick walls, a fireplace (that we don't use during concerts, but it looks nice) and a lot of comfortable red chairs — and other chairs that are also comfortable, including one couch. It is a "chamber" in the old sense of the term — it's easy to imagine it as the kind of room where chamber music might originally have been performed. The atmosphere is casual (students come in their jeans etc.) and the regular audience members are friendly to newcomers. In such an intimate venue, everybody can hear perfectly and people enjoy sitting close enough to musicians to be able to see them. People often stay behind for a little while after a concert to have a chat with the musicians.
Jean: Performers keep coming back, and keep telling their friends about the Music Room. On the 30th anniversary of the KWCMS, violinist Moshe Hammer wrote of his "fond memories of all the wonderful evenings at your house ... And always scores of great music lovers to share masterpieces with." Andrew Wedman, tonmeister for DGG, writing from Germany: "... I know of nowhere else that the same continued unpaid dedication continues. I have frequently met musicians who have spoken warmly of having played in concerts for you..."
You've presented some remarkable complete cycle concerts in the past but nothing as extensive as "The 68."
Jan:The most nearly comparable thing was our nine-concert series of all of Haydn's trios; we've also done three complete Beethoven Sonata cycles (at seven or eight concerts each). But, yes: Haydn 68 dwarfs everything else!
My interest in Haydn began when I started really listening to him, way back in about 1960 while I was in graduate school. Since then, my record collection has grown to include two complete sets of Haydn symphonies (plus many spares) and four sets of the quartets.
The idea of doing all the quartets had kicked around way in the back of my mind for years. In 2012 we had a concert by the Attacca Quartet. I had previously discovered that they were doing the whole set in New York and raised the topic with them at their concert here. They said they'd just love to do it! So, here we are. They are doing it on a shoestring for us, which makes it possible at all. Now the question is whether there'll be enough local support to sustain it. We'll see! (All we need is for 0.1 per cent of the population of this region to attend at least one of the roughly 22 concerts.)
Yet presenting 70+ concerts in the current season strikes me as even more remarkable. How do you manage?
Jean:I'm not sure whether you mean how do we manage living in a house with that many concerts, or how does Jan manage to put on so many year after year. Starting with the second interpretation: Tons of work on Jan's part. There's hearing from musicians and managers, listening to CDs they send, booking concerts, arranging billeting, doing the web site, making posters, putting up the posters in about a billion places (with very much appreciated help during most of the year by a couple of subscribers), on and on.
Jan: We manage financially by attracting enough interested people to pay the bills. Half the money comes from donations; the other half from tickets and subscriptions. We are a registered charity and give tax receipts, but we do not get or apply for any government grants. We benefit from being below the HST line (happily — any more paperwork and we'd be sunk!) We have enough really interested people to keep the donations flowing. Whether they'll keep it up is the question — we just hope! So far it's worked. (We even had a slight surplus last year after 80 concerts!)
Apart from that, we manage by being able to put on concerts right here, eliminating a whole lot of work; only needing to fill a few dozen seats rather than hundreds, which would require far more work than we can do; and being (so far) equipped with enough energy to do the huge amount of work it still takes, along with a lot of help (from Jean especially, but several others); oh, yes and computers! Without email and the web, this would be impossible. (We started in 1974, which was pre-web, but we didn't start growing appreciably until 1983–4 when I got my first MacIntosh.)
Jean: I think Jan has a few things booked into 2015 already ...
Jan: Our 2014/15 season, alas, is over half booked already!
Jean: As to how we manage to live here in the midst of that many concerts? Maybe I'd better let that question hang in the air for now. Sometimes it's a bit hectic around here. At many moments, though, it's wonderful. Our son is a composer, and our daughter is also a musician: music is just in the house, and was all during the years they were growing up here. In fact, our son Jascha's bio on his website begins: "Jascha Narveson was raised in a concert hall and put to sleep as a child with an old vinyl copy of the Bell Laboratories mainframe computer singing "Bicycle Built for Two."
The Haydn 68 begins November 16 and 17 with concerts each day at 2pm and 8pm. Each concert includes three quartets from the full range of Haydn's composing life. Each concert is $35 (sr $30; st $20) or all four concerts are $90/$70/$50. Any two concerts of the four are $50/$40/$30.
Other Events: Giving the top two presenters their due, the TSO has a number of intriguing concerts over the next several weeks. Emanuel Ax is the soloist in Brahms' second piano concerto November 6 and 7, with its gorgeous second movement. Peter Oundjian also conducts "The Miracle" symphony by Haydn and TSO composer advisor Gary Kulesha's Third Symphony. Then three guest conductors step in: TSO conductor laureate Andrew Davis will bring his impish charm to Till Eulenspiegel's Merry Pranks on November 20 and 23; youthful Edward Gardner, music director of English National Opera, leads the TSO in Mahler's first symphony November 27 and 28 in a concert that also spotlights the formidable Alison Balsom in Hummel's Trumpet Concerto; Brazilian-born Marcelo Lehninger, who's making his name with the Boston Symphony, will undoubtedly bring a fresh look at Tchaikovsky's Fifth, while 24-year-old cello wunderkind Narek Hakhnazaryan is the soloist in Variations on a Rococo Theme December 6 and 7. The TSO is also presenting the NAC Orchestra November 30, with the redoubtable Pinchas Zukerman as soloist/conductor in Mozart's marvellous Violin Concerto No. 3, K. 216 and conductor of Shostakovich's Symphony No. 10, that most disconsolate depiction of the wages of Stalinism.
Staying in the same space, Roy Thomson Hall presents cellist Yo-Yo Ma and pianist Kathryn Stott in a recital that ranges from Brahms Violin Sonata No.3 (arranged for cello) through Stravinsky's popular and delightful Suite Italienne to de Falla, Villa-Lobos, Piazzolla and others. Stott and Ma met cute in the late 70s when Ma and his wife rented a London flat they didn't realize was shared. Their professional partnership is now in its 30th year.
The RCM's season carries on apace with a return visit November 8 to Koerner Hall by Midori (whose concert two years ago was a highlight of the season); four emerging artists join alumnus Scott St. John for an appealing program of chamber music in "Musicians from Marlboro" November 18 in Mazzoleni Hall; the legendary pianist Menahem Pressler celebrates his upcoming 90th birthday with a performance of Brahms' Piano Quintet in F Minor, Op. 34 with the New Orford String Quartet November 24.
There is an intriguing free concert at U of T Faculty of Music November 28. "Hologram: Percussion and violin music" features faculty member Beverley Johnston and guest violinist Marc Djokic performing pieces by Piazzolla, Pärt, Colgrass and others including the Canadian premiere of a new work by Richard Mascall.
Finally, bringing it all back to Waterloo, 33-year-old Delos recording artist, pianist Andrew Van Oeyen brings his technical skills to a recital December 2 at the Perimeter Institute. 
Paul Ennis is the WholeNote's managing editor.