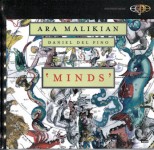 Minds
Ara Malikian; Daniel Del Pino
Non Profit Music NPM0911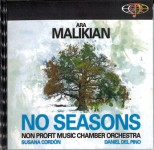 No Seasons
Ara Malikian; Non Profit Music Chamber Orchestra
Non Profit Music NPM093 (www.nonprofitmjsic.org)

The Lebanese-born Armenian violinist Ara Malikian is one of the younger generation of soloists who, while classically trained, are not afraid to let other musical styles influence their playing.

Malikian, currently concert-master of the Madrid Symphony Orchestra, has recorded the solo works of Bach, Ysaÿe and Paganini, but is clearly very much at home in these two CDs of mostly contemporary – and mostly Spanish and Argentinian – works, where his love of gipsy and tango music in particular makes him an ideal interpreter.

The "Minds" CD is a selection of shorter works for violin and piano. Only Gerald Finzi's lovely Elegy and an early Kodaly work, the Brahmsian Adagio, are not recent compositions. Astor Piazzolla's Tanti Anni Prima is a beautiful opening track; Lera Auerbach's Postlude is short but sweet.

Marjan Mozetich's Desire at Twilight is recorded here for the first time, as is Agua y Vino by Fernando Egozcue, formerly one of Piazzolla's arrangers.

Jorge Grundman's sonata What Inspires Poetry, also a premiere recording, is the biggest work on the disc, but also unfortunately the least appealing for me, with too much formulaic writing and little character. Elena Kats-Chermin's Russian Rag, in the same vein as William Bolcom's Graceful Ghost, is a charming closer.

There are three larger works on the oddly-titled "No Seasons" CD. (An RTVE concert of the same works by the same artists was called – more logically - 12 Seasons)

Piazzolla's Four Seasons of Buenos Aires were originally written as separate pieces for his quintet with bandoneon between 1964 and 1970. This arrangement is by Leonid Desyatnikov, who added direct quotes from Vivaldi's Four Seasons. Malikian is again clearly in his element with Piazzolla's idiosyncratic music.

Joan Valent's Four Seasons in Mallorca fits Malikian's style perfectly, but Grundman's Four Sad Seasons Over Madrid, for soprano, violin, piano and string orchestra, is a disappointment. Susana Cordon has a big voice, but really struggles with her English pronunciation. Not that it matters – despite her singing at full belt, the unsympathetic setting and heavy orchestration make her words almost inaudible.

Each CD comes in a beautifully-produced hard-cover booklet in English and Spanish, although the English translation is awkward at times. Sound quality is excellent throughout.