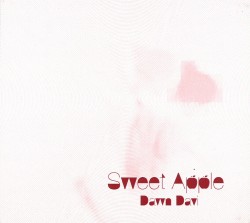 Sweet Apple
Dawn Davi
Independent (dawndavi.com)
These subtly musical performances are a telling document of pianist Dawn Davi's compelling, life-affirming compositional gift. The nine pieces on her second album Sweet Apple are also sufficiently exceptional to stand out in what is becoming a rather crowded field of young musicians who feel compelled to express themselves. Certainly the expressive way in which Davi's music suggests quiet humanity also gives us a fine example of the self-effacing poetry that appears to be the hallmark of her style.
Her use of synthesizer and sustaining pedal give this music a degree of harmonic blurring which in turn – when listened to in consonance with the brass and strings that are added to these songs – also conveys the ethereal effect that she intends us to hear in her music. Davi takes a decidedly elegiac view of life in the expressive music of this disc. In doing so she offers a performance of mellowness and beauty. On Eyes of a Tree (for instance) she coaxes the strings into gentle harmonic enjoinders to her stoic melody which she essentially plays pianissimo, but with exquisite dynamics throughout.
This is typical of Davi's eloquence and her ability to create a hauntingly beautiful soundscape evocative of a bard contemplating the natural world and the glories that lie within it. With Sweet Apple, clearly Davi has succeeded in celebrating the mysteries of life with music of exceptional stoicism and beauty.