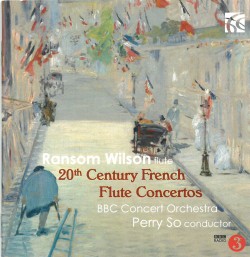 20th Century French Flute Concertos
Ransom Wilson; BBC Concert Orchestra; Perry So
Nimbus Alliance NI 6375 (naxosdirect.com)
No nation's composers have contributed more to the flute repertoire than those of France. From the Baroque era to the present, French composers have excelled as weavers of iridescent, gossamer musical tapestries, employing as a favourite filament the diaphanous sound of the flute. On this CD, American flutist Ransom Wilson, conductor Perry So and the BBC Concert Orchestra present three rarely recorded, captivating works by Jean Françaix (1912-1997), Jean Rivier (1896-1987) and Jean-Michel Damase (1928-2013), plus a repertoire staple by Jacques Ibert (1890-1962).
In the opening Moderato of Françaix's Impromptu for Flute and Strings (1983), the flute dances sprightly filigrees over the strings' waltz beat. Two sweetly dreamy movements, Largo and Andante poetica, containing echoes of Poulenc (I've always thought of Françaix as "Poulenc-lite"), frame a playful Scherzando. It's an irresistibly charming piece!
The Allegro moderato of Rivier's Concerto for Flute and Strings (1956) alternates wistful and animated passages for the flute, followed by the central Lento sensibile, in which the flute seems to wander in a subterranean labyrinth, before emerging into the light and sprinting to the finish line in the Molto vivace.
The three connected movements of Damase's Sérénade for Flute and Strings, Op.36 (1956), all marked Très large, encompass mystery, joy, angst-filled disquiet and a pair of hauntingly beautiful melodies. Even with its gentle, non-virtuosic ending, it should have become "standard rep" by now.
A warm-hearted performance of Ibert's familiar, audience-pleasing Flute Concerto (1933) ends this extremely enjoyable, extremely recommendable CD.