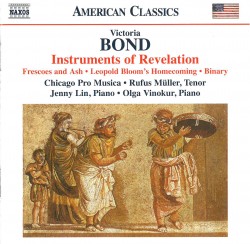 Victoria Bond – Instruments of Revelation
Chicago Pro Musica
Naxos 8.559864 (naxos.com)
Four works dating from 2005 to 2011 display some of the wide expressive range of American Victoria Bond (b.1945). Three figures from tarot cards are portrayed in Instruments of Revelation: The Magician (in Bond's words "mysterious…dexterous"), The High Priestess ("wisdom…passion") and The Fool ("comedy…chaos"). Cleverly scored for flute, clarinet, violin, cello and piano, the first two movements are very engaging and attractively descriptive, while The Fool, in wild confusion, lurches and falls across many slippery glissandi.
In Frescoes and Ash for clarinet/bass clarinet, string quintet, piano and percussion, six artworks from Pompeii are depicted, most strikingly in the raucous Street Musicians (the CD's cover image) and the languid rippling of Marine Mosaic. The seventh movement, Ash: Awareness of Mortality, is a haunting dirge for the doomed city.
"I've been drawn to Ulysses… since high school… because the writing resembles the way I think… in fleeting images and allusions, in a stream of consciousness." Bond previously set Molly Bloom's soliloquy and here, in her 20-minute Leopold Bloom's Homecoming (from Episode 17), tenor Rufus Müller, accompanied by pianist Jenny Lin, speaks the questions and sings Bloom's answers. However, Joyce's convoluted text, included in the booklet, renders moot whether the music, lyrical or dramatic, fits the words.
Finally, pianist Olga Vinokur performs Binary, a heavily percussive seven-minute piece whose first movement reminded me of Thelonious Monk, followed by a set of variations on a Brazilian samba, ending a disc of very mixed imagery, pleasures and perplexity.