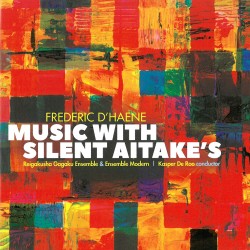 Frédéric D'Haene – Music with Silent Aitake's
Reigakusha Gagaku Ensemble; Ensemble Modern; Kasper De Roo
Ravello Records rr8008 (ravellorecords.com)
Frédéric D'Haene is a Belgian avant-garde composer who studied with several renowned European and American composers. But it was his 1986 discovery of gagaku (court music of Japan) which dramatically changed the direction of his musical worldview. D'Haene's study of gagaku – a musical genre a world apart from his own – and its incorporation in his scores, ultimately resulted in what the composer calls "paradoxophony" or "paradoxical coexistence." This transcultural approach has informed his compositions ever since.
Music with Silent Aitake's – performed by the esteemed Reigakusha ensemble joined by the premier group Ensemble Modern, both conducted by Kasper De Roo – is a banner example of that approach. Scored for gagaku and chamber orchestra, the five-part work exemplifies D'Haene's ideal of the coexistence of Western and Japanese instrumental worlds. The liner notes underscore the composer's key aim: pluralism. It's an aesthetic and social vision of coexistence which does not favour one musical world over another.
D'Haene's principle of paradoxophony penetrates his combinations of perceived dual opposites in Music with Silent Aitake's. We hear modality, atonality and spectral music techniques, stasis and dynamism, sound mass and silence, as well as simplicity and complexity coexisting within both random and organized forms.
Deliberately avoiding Eurocentricity, exoticism or easy melody-with-accompaniment tropes D'Haene has indeed fostered a kind of musical common ground between his chosen two groups in this work. That he's done so maintaining the integrity of their identities and performing traditions, while expressing his own forceful vision, is indeed an impressive achievement.