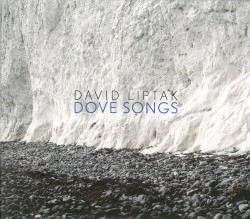 David Liptak – Dove Songs
Tony Arnold; Alison d'Amato; Renée Jolles; Margaret Kampmeier; Dieter Hennings Yeomans; Steven Doane; Barry Snyder
New Focus Recordings FCR224 (naxosdirect.com)
American composer David Liptak composes texturally rich, colourful and contrasting musical sounds in four compositions here. The title track, Dove Songs, is a six-part song cycle composed for soprano Tony Arnold, who performs it with superb pianist Alison d'Amato. Arnold's enchanting voice grasps all the contrasting storytelling/musical elements of the work, based on poetry by 1987 Pulitzer Prize-winner Rita Dove. Great moments include the dramatic vocal high pitches and piano tinkling like snow and frost in The Snow King, short phrases with subtle humourous undertones emulating domestic life's ups and downs in Beauty and the Beast, and faster lighter lines with a final high-pitched vocal note and piano flourish in Flirtation.
More intense lyricism and held notes feature in Impromptus, composed for and played by violinist Renée Jolles with pianist Margaret Kampmeier. The duo shines in the contrasting conversational solo lines which shorten until they overlap simultaneously in the second movement, Lyrical. The seven-movement guitar solo suite, The Sighs, explores the melancholy of seven artists. Guitarist Dieter Hennings Yeomans brings out the clever compositional use of Rameau's Baroque counterpoint in the fluctuating guitar line in the Les Soupirs and Petite Reprise movements. The extremely moving musical sentiment of Beautiful Dreamer, based on the Stephen Foster song of the same name, is unforgettable. Sonata for Cello and Piano has cellist Steven Doane and pianist Barry Synder perform a zippy second-movement race to the finish!
David Liptak's memorable, lyrical, original compositions are timeless!