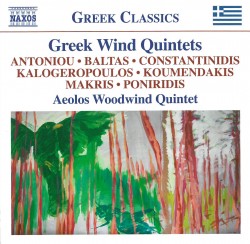 Greek Wind Quintets
Aeolos Woodwind Quintet
Naxos 8.579037 (naxos.com)
Pop quiz: name three contemporary Greek composers whose names don't begin with an "X." I am not the only one who would fail this test. The aptly named Aeolos Woodwind Quintet has undertaken a project to improve their compatriots' international profile, and so released a CD of nothing but works for that ensemble: small forces to accomplish a large mission; but the effort is to be applauded.
Aeolos has included just over one hour of material by seven composers, some deceased, some fairly advanced in years. No one born after the 1960s is included, leaving one to wonder if younger composers are ignoring the form or if the group chose to focus only on more established names.
The players acquit themselves well, but much of the earlier material sounds a good deal as though the composers all admired Carl Nielsen; the music is folkloric, charming, tuneful and tonally fresh, but not very exploratory. The more recent works, towards the end of the disc, are the most interesting. Giorgos Koumendakis' A Blackbird in the Cricket's Gorge (2013) is a lot of title for a brief, tonally fluid bit of sound painting (including bird calls) originally written for three pianos. Theodore Antoniou's Woodwind Quintet No.2 (2014), dedicated to Aeolos, is in turns mysteriously searching about and madly dancing in place, a challenging piece rhythmically and tonally, played with confident flair. Woodwind Quintet (1995) by Andreas Makris, closes out the disc with the players passing a rhythmic motif back and forth against a lyric counter argument, ideas which play around for an interesting ten minutes (the longest cut on the disc).