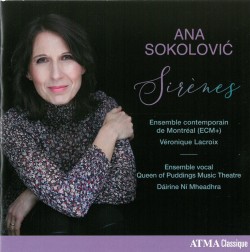 Ana Sokolović – Sirènes
Ensemble contemporain de Montréal; Véronique Lacroix; Ensemble vocal Queen of Puddings Music Theatre; Dáirine Ní Mheadhra
ATMA ACD2 2762 (atmaclassique.com)
2019 JUNO Classical Composer of the Year Ana Sokolović composes with her highly identifiable tonal/atonal soundscapes in four works here. Sirènes/Sirens (2000) is performed perfectly by six female voices of Queen of Puddings Music Theatre Vocal Ensemble. Inspired by ancient Balkan voices of the Sirens legend, high-pitched female voices, quasi-wobbly, humorous yet haunting vocal effects, shrieks, quieter moments, and driving vocal rhythms are intense. The five-movement Tanzer Lieder (2005) is set to five German, French and English poems by Austrian poet Francisco Tanzer. A slightly more operatic work, soprano Florie Valiquette embraces Sokolović's trademark loud high pitches and dramatic held notes above such instrumental accompaniment as reflective flute/piccolo, piano and cello plucks. Mezzo-soprano Krisztina Szabó shines especially in her colourful lower pitches in the five-movement/language Pesma (1996-2007) above the ECM+ instrumentalists under the direction of Véronique Lacroix.
The title of the violin concerto Evta (2017) means "seven" in Serbian Roma. Seven joined movements are inspired by chakra colours and associated with each note of the scale as Sokolović now explores her characteristic sounds with only instruments. The ECM+ ensemble, with soloist Andréa Tyniec, performs with technical and musical greatness, executing more rapid ascending lines, held notes, pizzicatos and plucks, touches of Gypsy-flavoured sounds and the occasional more tonal sections in this less intense composition.
One can only imagine how gratifying it must be to successfully perform and compose such complex contemporary works. Yes it is intense, but worth the time to listen to and understand Sokolović!