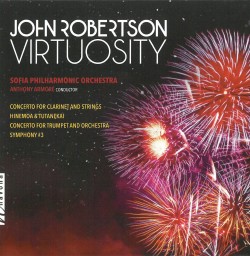 John Robertson – Virtuosity
Sofia Philharmonic Orchestra; Anthony Armoré
Navona Records NV6223 (navonarecords.com)
In my review of a CD of orchestral works by John Robertson (Navona NV6167) that appeared in the September 2018 issue of The WholeNote, I called his neo-Romantic music "unfairly neglected" and praised his "lyrical gift… colourful and inventive scoring, unpretentious and essentially cheerful."
Not all of Robertson's music is "essentially cheerful," however, as shown by this latest CD. In three concerted works featuring as soloists three principal players of the Sofia Philharmonic Orchestra, the Kingston-based Robertson (b.1943) reveals his more inward-looking side, at times tinged with melancholy. His "lyrical gift," though, remains evident and continues to please in his Concerto for Clarinet and Strings Op.27 (1989), Concerto for Trumpet and Orchestra Op. 58 (2013) and the tone poem Hinemoa and Tutanekai Op.22 (1987), based on a legend of two Maori lovers from rival warring tribes. In it, Hinemoa hears and responds to the plaintive sound of Tutanekai's flute as it wafts across the lake that keeps them apart.
Robertson's even darker side is displayed in the opening Andante of his 27-minute Symphony No.3, Op.71 (2017), filled with dramatic foreboding, sinister repeated arpeggios and pounding rhythms. The mood lightens with the syncopated, Latino-like accents of the Vivace, while the concluding Allegro is lighter still, even "cheerful."
In my previous review, I wrote that Robertson's music "should be welcomed by Canadian orchestras and audiences." The increasing exposure of his music on CD might just be what it takes to make that happen.