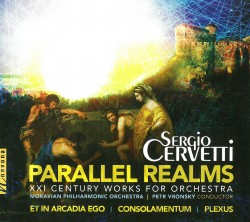 Sergio Cervetti – Parallel Realms: XXI Century Works for Orchestra
Moravian Philhjarmonic Orchestra; Petr Vronsky
Navona Records nv6217 (navonarecords.com)
The Uruguayan-American composer Sergio Cervetti has long enjoyed a celebrated career as composer and educator (a former professor at the Tisch School of the Arts at New York University), and has clearly cultivated an impressive work ethic in his life, creating and releasing challenging and provocative new music at an impressive rate. Realized here by the Moravian Philharmonic Orchestra under the skillful direction of conductor Petr Vronský and captured beautifully in the sonically satisfying Reduta Hall in the Czech Republic, Parallel Realms is comprised of three single-movement symphonic works, Et in Arcadia ego, Consolamentum and Plexus, in which Cervetti uses religious and scientific themes to musically confront childhood memories that have remained with him throughout his life.
The selections contained on this 2019 recording combine new music with a reimaging of a 1970 semi-graphic score (Plexus) that thread together the composer's desire to bridge the deeply religious and spiritual with the metaphysical. Vacillating between the tumultuous swirl of the orchestra and quiet minimalism, Cervetti uses the ensemble to its fullest, finding beauty in opposite extremes of the group's dynamic range. Clearly this is modern music, but anchored as it is to the strong narrative of biography and religious themes (as captured in the accompanying liner notes), the recording presents here as timeless, capable of tapping into universal human emotions and feelings.
The eighth Cervetti recording to be released on the Navona Records label, Parallel Realms comes recommended for fans of symphonic music who hope to be challenged in their listening and satisfied in their quest for exciting and beautiful new music.