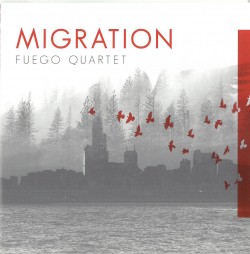 Migration
Fuego Quartet
Ravello Records RR8010 (ravellorecords.com)
The Fuego Quartet (Nicki Roman, soprano; Eric Elmgren, alto; Harrison Clarke, tenor, and Gabriel Piqué, baritone) was founded in 2015 at the Eastman School of Music. Their album Migration's sophistication shows how far the saxophone quartet's repertoire has moved from predominantly French composers and Scott Joplin rags. For example, David Maslanka's five-part Recitation Book recomposes Bach chorales. Many of the pieces are quite meditative and the Fuego Quartet blends together seamlessly with little vibrato to create a gentle wall of harmony. The final track, Fanfare/Variations on "Durch Adams Fall," is a lengthy piece combining the boisterous with the liturgical.
William Albright's Fantasy Etudes is a six-part work opening with a Prelude which combines elements of the other sections and then moves into A Real Nice Number, an ironic homage to Debussy's Claire de Lune. Pypes is a lilting piece evoking bagpipes; The Fives for Steve is dedicated to the memory of a composer friend; and the Phantom Galop was inspired by the Lone Ranger. Harmonium, based on childhood memories of the instrument, possesses an incredible and quiet intensity and could be my favourite on the album. The final section, They Only Come Out at Night, is a tribute to 50s and 60s cop shows on TV.
David Clay Mettens' Ornithology S is a ten-minute tour de force based on Juan Fontanive's animated sculptures of birds that are a remarkable re-imagining of flip books. It involves complex rhythmic sections, intricate pad clicking, subtle multiphonics and delicate slap tonguing, and demonstrates how impeccably the quartet plays together as they interpret difficult pieces.