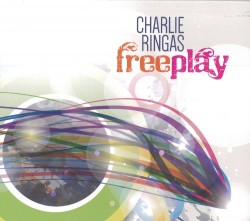 Freeplay
Charlie Ringas
Supermono Records XOR0003 (charlieringas.com)
Charlie Ringas is an inventive musician/composer in the Toronto creative music community. Freeplay is a ten-track disc which combines the feel of free improvisation with a solid compositional sense. How so? As the liner notes explain, Ringas was working on a text when he rediscovered two past live concert improvisations and decided to add new improvisations to them. After dividing these into ten pieces, he brought in violinist Ivana Popovic and double bassist Bret Higgins to improvise over this past material. Only these string parts were then extensively and successfully edited to create bed tracks to which Mike Skinner (saxophones, flutes), Garnet Willis (terpstra keyboard and producer) and Ringas (percussion) improvised. Trombonist Eugene Watts' improvisation from an earlier unrelated session was then edited into these pieces. Finally vocalist Peggy Jane Hope added the text both improvised in spoken and sung forms.
Sounds like too much work but the effect is best described in the final line of text in the last track: "Liberation from holding forms." All the improvisers are highly skilled musicians obviously chosen for their inventiveness and superb listening skills and their artistic openness to trust Ringas to rework their material. Their performances are brilliant and their musical personalities continue to shine even after Ringas has respectfully edited each part to meet his personal compositional sense.
Freeplay is tough music to grasp in its free tonalities and at times jagged sections but worth the effort in its memorable walk through the musical mind of Charlie Ringas.