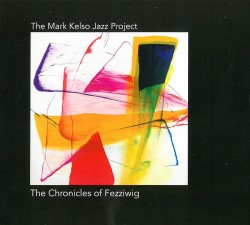 The Chronicles of Fezziwig
Mark Kelso Jazz Project
Maisamark Music MKJE003 (groovydrums.com)
Could this musical yarn of Fezziwig, whose chronicles the Mark Kelso Jazz Project so expertly spin, hark back to a character from the novel A Christmas Carol created by Charles Dickens? If the time and circumstance of Dickens' story and our time were to inhabit similar capsules, then the jovial, foppish man with a large Welsh wig might just as well be evoked by this breathtakingly effervescent music for our rather dark times, to sweep away the turmoil of our century into a Green Revolution, just as the character in Dickens' story did at the cusp of the Industrial Revolution.
Opening the fold-over package to get to The Chronicles of Fezziwig we read the words: "Inspire creativity." This is the kind of spark that Kelso's drumming inevitably provides whenever he becomes the rhythmic and catalytic pivot in any ensemble. Here too, the electrifying drummer plays that role in this sextet. In Fezziwig's character, Kelso's songs can be quirky (Elliptical), elegiac (A Message from Idris), mesmerizing (Pinwheel) and more. Each song evolves into a gripping narrative evoked by a riveting melody laced with glorious harmony. The rippling jazz grooves that ensue gently build into boppish saxophone and piano runs, launched, of course, by Kelso's broodingly percussive funky and tumbling rhythms.
The ensemble includes heavyweight musicians: saxophonist Pat LaBarbera, guitarist Ted Quinlan, pianists Gordon Sheard and Brian Dickinson, and bassist Mike Downes, all of whom interpret Kelso's vivid works idiomatically.