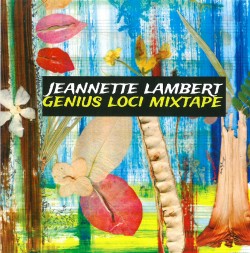 Genius Loci Mixtape
Jeannette Lambert
Jazz from Rant rant 1953 (jazzfromrant.com)
A distinctive and creative singer, Jeannette Lambert presents an imaginative and intimate travelogue in music here, interacting spontaneously with numerous musicians in different locales. Sometimes she sings other writers' lyrics, sometimes her own; whether playfully or wistfully, she sings with a poet's diction, making every song a model of clarity.
The most frequent collaborators are her musical family: her husband, Montreal drummer Michel Lambert, plays on all 11 tracks; her brother, Toronto guitarist Reg Schwager, on four. His appearances include two recordings from a Barcelona apartment: the opening Keys explores a stark text about trust among lovers by Catalan poet Clementina Arderiu; the final vision is Gaudi, a celebration of the architect's crowning achievement, the city's Sagrada Familia, now a century in the making. Lambert artfully conveys the complex emotion of her lyric about "something that was created for the sake of creating."
In between are other evocations of the spirit of place. Two tracks from Puget-Ville, France, have Lambert improvising melody with a rambunctious quintet that includes the great veteran bassist Barre Phillips. Sometimes poem and site create compound spaces: the welling emotion of Anne Brontë's A Windy Day was realized with pianist Greg Burk in Ostia, Italy, while Spanish poet Federico García Lorca's Gypsy Nun was recorded in Montreal with harpsichordist Alexandre Grogg. The most joyous music here comes from furthest afield, the virtuosic Coyote, recorded at a festival in Sulawesi, Indonesia with Schwager and bassist Fendy Rizk.