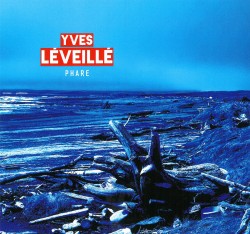 Phare
Yves Léveillé
Effendi Records FND155 (effendirecords.com)
Befitting a rhythmically flashing beacon evocative of the meaning of this album title (Lighthouse), or perhaps arising out of it, the repertoire of Phare flashes in gentle pulses beamed into the mind's senses and led by the refined pianism of its creator, Yves Léveillé. This is music that is by turns grand and spacious; spare and angular. The short, sharp phrases and interjections between the trumpet of Jacques Kuba Séguin and the saxophones of Yannick Rieu come stammering over Léviellé's expansive piano while all three musicians bounce ideas off an edifice of rhythm erected by contrabassist Guy Boisvert and drummer Kevin Warren.
The result is a dreamy set of songs where melody, harmony and rhythm are intricately woven together in a diaphanous fabric of sound. The gentle pulsations of the title track kick things off with its spacious phrases and liquid runs by the pianist and his accompanying musicians, who parley with the familiarity of old friends. Their playing always retains that sense of grace and nobility associated with a chamber orchestra. Yet nothing is forced, exaggerated or overly mannered; tempos, ensemble, solos and balance – all seem effortlessly and intuitively right.
The horn sound is lucid – especially on Sang-Froid – and the piano and bass add warmth to the rhythmic architecture, chiselled into shape by delicate percussion. The result is poised, faultless music written and arranged by Léveillé which sheds fresh light on the relationship between composition and improvisation.