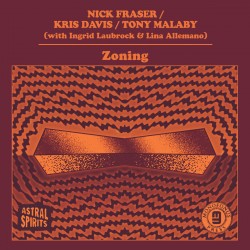 Zoning
Nick Fraser; Kris Davis; Tony Malaby; Ingrid Laubrock; Lina Allemano
Astral Spirits (astralspiritsrecords.com)
At times, Nick Fraser has been Toronto's busiest jazz drummer, but he's increasingly involved in developing his own music and some key international partnerships. Among his projects is this trio with New York-based saxophonist Tony Malaby and pianist Kris Davis. For the trio's second outing (Too Many Continents appeared in 2015), they've enlisted guests: New York saxophonist Ingrid Laubrock and Toronto trumpeter Lina Allemano appear on the three Fraser compositions included here.
It's a hard-edged band with a disciplined intensity that shows in each taut track, with or without guests, a give and take between form and freedom that often moves toward form. The incendiary opening dialogue between Malaby and Laubrock (he has the warmer jazz tone; she's responsible for the weirder hollow harmonics and deliberate bleats) is eventually drawn into form. Throughout the program, tight-knit figures are frequently employed to develop structural tensions that will ultimately explode before reassembling themselves.
Fraser's Sketch 46, a dance between restraint and expression, begins with the most incidental wisps of sound: the lightest piano flurries, a muffled cymbal, air through a trumpet, saxophone plosives. These events, increasingly pointillistic, gradually increase in length and intensity, volume remaining low, relations among parts sketchy. Eventually the band activity expands to an increasingly dense collective. Drawn into Fraser's fierce knitting drum figures, the horns emerge for brief solo episodes, until a long-toned melody, almost choral, emerges.
It's just one crucial piece in this demanding set of brilliantly realized works.