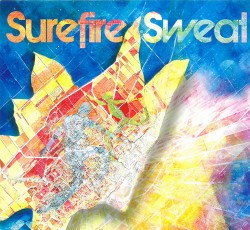 Surefire Sweat
Surefire Sweat
Independent (surefiresweat.com)
This debut album is a breath of funky, fresh air by JUNO-nominated musician Larry Graves' project, Surefire Sweat. All eight tracks on the record are originals written by Graves and are "an emotive journey, offering real-time reflections… on the human condition." The mostly instrumental nature of the album truly allows the rhythmic complexity of each piece to be brought to the forefront, which the first-time bandleader himself has mentioned is an incredibly important factor throughout. Featured is a lineup of talented musicians such as Elena Kapeleris on tenor sax and vocals, Paul Metcalfe on baritone sax and Paul MacDougall on guitar and vocals.
Threshold is a fiery, rhythmically hot start to the record and manages to pull the listener right into the catchy groove. Throughout the album, it is easy to hear the fusion of funk, jazz and world music not only through the instrumental riffs, but even through the rhythms themselves. The distinct flavour of percussion and drums tells an extremely expressive story all on its own. Sunshine Interference has an especially addicting bass groove that just gets your head bopping along and Number Nine takes the listener on a journey through completely dance-worthy rhythms inspired by Nigerian drummer Tony Allen. Ending the record is Scoffle Strut, a sultry, positively scintillating tune. For those looking for a pick-me-up for the longer fall and winter days ahead, this album is a perfect candidate to get you out of your daily rut.