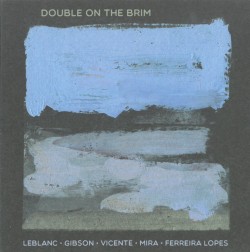 Double on the Brim
Leblanc; Gibson; Vicente; Mira; Ferreira Lopes
Atrito-Afeito 011 (atrito-afeito.com)
Pianist Karoline Leblanc and drummer Paulo J Ferreira Lopes have a developing relationship with Lisbon, a warmer complement to their Montreal base. Lisbon is a burgeoning centre for free jazz and improvised music, with numerous performance spaces, these genres' most active record labels (Clean Feed and Creative Source have produced over 600 CDs each since 2001) and a growing list of well-known improvisers taking up residence. Leblanc and Ferreira Lopes recorded A Square Meal there in 2016, and Leblanc recently recorded Autoschediasm in Montreal with Lisboan violist Ernesto Rodrigues. Double on the Brim, recorded in Lisbon this year, develops the connection further.
The quintet here includes Brazilian-born saxophonist Yedo Gibson, trumpeter Luís Vicente (returning from A Square Meal) and cellist Miguel Mira. There are six episodes, ranging in length from four to 16 minutes. The longest of them, Anthropic Jungle and the title track, are intense collective improvisations that pulse with vitality, moving tapestries in which instruments tumble over one another. The relatively brief Singra Alegria, almost dirge-like, foregoes the usual density, with Leblanc's looming bass clusters creating an ominous mood in which Vicente's subdued lyricism comes to the fore. Jaggy Glide is the most tightly focused, with Gibson's alto spiralling through the dense rhythmic field created by Leblanc, Ferreira Lopes, and the versatile Mira, who can also provide convincing bass lines when required.
Sometimes instrumental identities will blur, but Leblanc's brilliant articulation and Ferreira Lopes' multidirectional drumming shine.