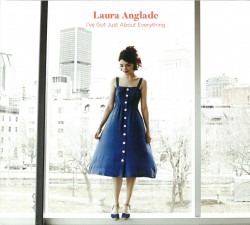 I've Got Just About Everything
Laura Anglade
Justin Time JTR 8619-2 (justin-time.com)
With her sparkling debut release, talented, Montreal-based jazz vocalist and composer, Laura Anglade, fearlessly plunges headlong into a wide range of top-notch material, drawn from both the Broadway stage as well as the Great American Songbook, stretching from a Depression-era hit by Tin Pan Alley's Harry Ruby to the late 50s/early 60s witticism-noir of the brilliant Fran Landesman. Anglade (who also contributes a solid original tune) and her ensemble, featuring Jonathan Chapman on bass, Sam Kirmayer on guitar and Valérie Lacombe on drums, also act as producers here; stirring tenorist Masashi Usui completes this exceptional musical and creative unit.
First up is an up-tempo, clever arrangement of Gus Kahn and Julie Styne's A Beautiful Friendship. This lovely classic features an irresistible bass/vocal intro, in perfect symbiosis with Anglade's natural, jazz-oriented vocal style. Her deadly perfect intonation and immaculate control of her vibrato result in long, impactful tones, reminiscent of the late Keely Smith; and Kirmayer's fluid guitar solo and Usui's warm, mellifluous sax sound are the perfect complements to Anglade's assured vocal scat section.
Incomparable American tunesmith, Bob Dorough, is the author of the title track, and Anglade deftly swings it, with this witty, snappy offering. Other superb tracks include 1959's Spring Can Really Hang You Up the Most, with lyrics by Fran Landesman and music by Tommy Wolf. Arranged in a slightly perky tempo, Anglade wrings out the maximum irony from Landesman's inspired poetry. I'm Glad There is You (Jimmy Dorsey's uber-romantic ballad) is another gem. The sumptuous, legato, arco-bass-infused intro by Chapman sits at the perfect tempo for maximum effect, and the superbly intimate work from the instrumental ensemble, complements the nuanced vocals of Anglade.