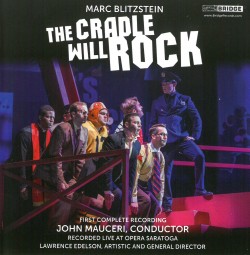 Marc Blitzstein – The Cradle Will Rock
Opera Saratoga; John Mauceri
Bridge Records (bridgerecords.com)
On June 16, 1937, the evening of the scheduled premiere of Marc Blitzstein's The Cradle Will Rock, Blitzstein, the producers, director Orson Welles, singers, musicians and ticketholders found the theatre padlocked, a reaction to Blitzstein's anti-capitalist opera. Welles was undeterred: an unoccupied theatre and piano were rented and the opera, minus orchestra, sets and costumes, was performed with Blitzstein at the piano, the cast singing from the audience.
This, the first complete recording of Blitzstein's original score, is from 2017 performances by Opera Saratoga in Saratoga Springs, New York. Blitzstein's music for his self-written libretto, a bitter satire on America's corruption by capitalism, was clearly influenced by Kurt Weill's acerbic scores for The Threepenny Opera and The Rise and Fall of the city of Mahagonny.
Set in "Steeltown, USA," the arrest and court appearance of anti-union protestors, mistaken by police for pro-union activists, provides the frame for flashbacks revealing how Mr. Mister, the steel factory's owner, controls all the city's institutions, while ordering the fatal bombing of union headquarters. Union leader Larry Foreman, arrested for making a speech, sings that when organized labour's "wind blows…the lords and their lackeys…in the nice big cradle" will find that "the cradle will rock."
Conductor John Mauceri elicits exuberant, 1930s-style performances from the large cast and orchestra. The 2-CD set also includes an archival recording of Blitzstein (who died in 1964) recounting the events of that now-legendary opening night, adding significantly to the documentation of this iconic 20th-century opera.