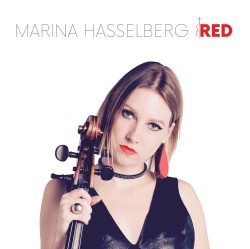 Red
Marina Hasselberg
Redshift Records (redshiftrecords.org)
Marina Hasselberg is a Portuguese-born, Vancouver-resident cellist comfortable in Baroque music, contemporary composed music and free improvisation, working in a range that includes Vancouver New Music, Early Music Vancouver, collaborations with other contemporary improvisers like Peggy Lee and Okkyung Lee and gig work with Mariah Carey. Red is her full-length debut, presenting some essential facets of her musical personality, both as soloist and in improvisatory groups.
Red opens with an immediate declaration of independence, Hasselberg spanning centuries as she performs Gabrielli's Ricercar Primo accompanied by improvising electronic musician Giorgio Magnanensi; they then follow that with S6, a free improvisation. Where the Sand Is Hot will suggest a similarly broad time span. Guitarist Aram Bajakian and drummer Kenton Loewen join in a modal improvisation with Hasselberg plucking intense, shifting, rhythmic patterns that suggest the guembri, a bass lute played for centuries by the Gnawa people of Morocco.
That sometimes playful ability to span genre and time is no deterrent to Hasselberg's focus. That's evident in the disc's most concentrated moment: composer Linda Catlin Smith's Ricercar, which develops the tone and intensity evident in the earlier Gabrielli in a sustained work. There's further evidence of the emotional depth of Hasselberg's playing in the concluding Things Fall Apart, Craig Aalders' composition for cello and tape. Along the way, Hasselberg finds further opportunities to improvise with Magnanensi, Bajakian, Loewen and violinist Jesse Zubot, in this vivid introduction to a musician as skilful as she is adventurous.