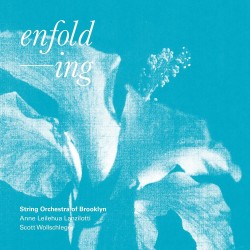 enfolding
String Orchestra of Brooklyn
New Focus Recordings FCR331 (thesob.org)
True to its title, the music on this album creates an encompassing sonic space for the listener, encouraging inwardness and introspection. SOB's innovative new release features two composers that dive into the exploration of sound in its pure form and experiment with extended string techniques and grainy, undiluted textures. Both compositions are premiere recordings and both are beaming with originality. The orchestra never gets in the way of the music but rather supports it with subtle interpretative choices.
Outside Only Sound by Scott Wollschleger was commissioned by SOB at the time when concerts in outside spaces were becoming a new normal due to the pandemic restrictions. Recorded live at Fort Greene Park in Brooklyn, this piece cleverly juxtaposes outside spaces and internal experiences. The immediate sounds of everyday life, such as voices, footsteps, traffic and wind are an organic part of the composition; and strings mix, match, colour and interact with them. The changes in volume and spatiality add richness to the listening experience.
with eyes the colour of time, composed by Anne Leilehua Lanzilotti, was a Pulitzer Prize finalist in 2022. Made of movements and interludes, with poetic titles referring to works of art in the Contemporary Museum in Honolulu at the time of its opening in 1980, it presents a flowing, ever-changing sound that is visceral and elemental. The most delightful manipulation of sonic density by Lanzilotti incorporates a peaceful motif in the strings among explorations of raw textures. The last movement on the album, enfolding, leaves the listener in a harmonious state of contemplation.