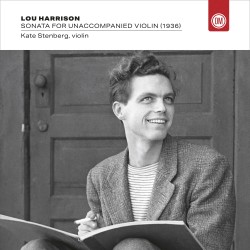 Lou Harrison – Sonata for Unaccompanied Violin
Kate Stenberg
Other Minds Records OM 1036-2 (otherminds.org)
With roots back to Bach's Sonatas and Partitas, Paganini's Caprices and Eugene Ysaÿe's Sonatas, the continuous stream of solo violin composition is among Western classical music's highlights. This premiere recording of American composer Lou Harrison's concise early-career Sonata for Unaccompanied Violin (1936) makes a convincing case for a niche in that rich canon. Composed when Harrison was a precocious teenaged composition student, it's tempting to locate this adventurous modernist work within the genre's lineage. It's interesting to note that Bartók's iconic Sonata for Solo Violin was composed some eight years later.
In three tightly-knit movements Harrison's Sonata employs aspects of the 12-tone compositional technique he was studying at the time with Henry Cowell, which Harrison characteristically modified. Aggressively dissonant fanfare-like chords open the work, which segue to angular melodies. The score also introduces glissandi, alluding to a microtonal musical landscape which Harrison extensively explored in his later work to influential effect.
The second movement maintains the texture of angular chromaticism spiked with glissandi, enlivened however with dance-friendly rhythms. (It's relevant to mention that Harrison was an avid dancer.)
My favourite movement is the soft and mysterious-sounding finale which introduces pizzicati and returns to previously stated motifs. The work eloquently evaporates into silence with an interval of a falling major third.
New music violin-specialist Kate Stenberg's committed and assured performance sets the bar high for this work. Is Harrison's seven-minute Sonata too short to merit the jewel-box CD treatment it gets here? I'd say it's just the right, satisfying length.