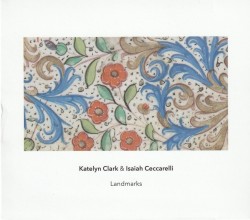 Landmarks
Katelyn Clark; Isaiah Ceccarelli
Another Timbre at192 (anothertimbre.com)
After reflecting on some recorded improvisations, Katelyn Clark and Isaiah Ceccarelli release an album of jointly composed works for organ and percussion. The eight tracks on the recording unfold as dreamy sonic apparitions that hypnotize and enrapture. This immersive listening experience begins with the opening track Bells – an ominous ten-minute journey of undulating sonora and distant rumbles, providing a haunting and beautiful sonic mass below relentless mid-range organ fields.
In tracks such as Landmarks, Landforms and Chaparral, the wonderful patience and restraint in the music urges the listener to remove themselves from the immediate and to allow the sounds to untangle in the mind that hasn't been examined or confronted. One finds sombre reprieve in Improvisation on Kyrie Eleison and Improvisation on a quarter where blurry polyphonic relics live among the hazy ashes of drone debris. The towering 20-minute Five Distances is arresting in its glacial insistence to live in a space where observable sensation lives more in imagination than in reality.
With their sensitive and delicate playing, Clark and Ceccarelli carefully unravel a path of feral resonances where listening begins when listening ends. All in all, this release is a deeply meaningful ambient odyssey capturing slowly falling auditory masses strewn in veins of afferent emissions that circle and deliberate in the basin of the most transcendent of listening experiences.