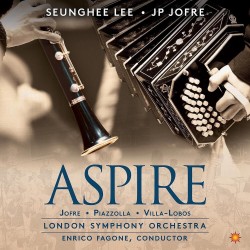 Aspire – Jofre; Piazzolla; Villa-Lobos
Seunghee Lee; JP Jofre; London Symphony Orchestra; Enrico Fagone
Musica Solis MS202208 (musicasolis.com)
Clarinetist Seunghee Lee and Argentian bandeonist/composer/arranger JP Jofre met in New York City where Lee first heard Jofre's compositions. She was very "intrigued" by the bandoneon which totally makes sense as both their instruments share similar reed sound production. Lee requested something for clarinet and bandoneon. Their resulting collaboration is heard here in eight compositions and arrangements on Lee's independent label.
Jofre has a perfect, respectful vision of Argentinian music including that for the tango. His Lee commissioned clarinet/orchestra arrangement of Piazzolla's Tango Étude No.3 is spectacular, remaining true to the Piazzolla sound with lush florid virtuosic clarinet lines and contrasting rhythmic orchestral sounds, performed by the London Symphony Orchestra under Enrico Fagone. Lee's clarinet (instead of voice) and eight cello arrangement of Villa-Lobos' Bachianas Brasileiras No.5 Aria (Cantilena) is slower, with colourful low/high pitch contrasts and tight doubled instrumental lines.
Six Jofre originals are featured. The upbeat Primavera has clear virtuosic interchanges between clarinet, bandoneon and orchestra. The three-movement Lee-commission Double Concerto for Clarinet, Bandoneon and Orchestra draws from tango, popular and classical music. I. Vals Irreal has short gloomy to energetic clarinet and bandoneon solo/duet ideas above the orchestra. Dramatic exciting III. Aboriginal combines rhythmic instrumental fun to its closing percussive blast. Perfect blending of moving lines and held notes in two clarinet/bandoneon duets, Como el Agua and Sweet Dreams. More tango neoclassical sounds in Tangodromo, and the mood-changing Taranguino, each for clarinet, bandoneon and piano (Steven Beck).
A must-be-heard exploration of styles passionately composed and performed.