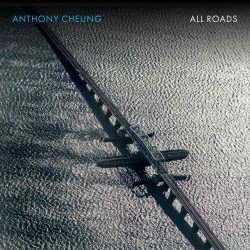 All Roads
Anthony Cheung
New Focus Recordings FCR263 (newfocusrecordings.com)
To read, or not to read (the booklet notes to a recording) before listening to its music; that is usually the first question that pops into a critic's head. Apologies need be made, I suppose, to Shakespeare whose beauteous iambic pentameter has been unabashedly appropriated by composer Anthony Cheung for All Roads, an album of rather extraordinary program music.
There are numerous rewards in store for anyone who delights in following lines of pure musical thought as evinced by the wondrous repertoire proffered by Cheung. Nothing is gratuitous or extraneous, nor can the musical character ever be taken for granted. This is true when you plunge deeply into the song All Roads. Cheung creates the apogee of the album right out of the gates as he inhabits (sort of) Billy Strayhorn's melancholy and the thinly disguised autobiographical character from Lush Life. Cheung's anti-hero also staggers elegantly along a similar road which Strayhorn's protagonist once took as he moped his way home. Pianist Gilles Vonsattel traces the wobbly route home with elliptical, arpeggiated Ellingtonian runs as a sky-dome darkens with the strings of the Escher Quartet.
Elective Memory and Character Studies are exquisite essays with Cheung's pianism and Miranda Cuckson's sinuous violin lines with subtle variations and nuanced inflection. Meanwhile on the enlightened finale, All thorn, but cousin to your rose, lofty theatrics by Paulina Swierczek (soprano) and Jacob Greenberg (piano) bring Vladimir Nabokov and Alexander Pushkin to life again.