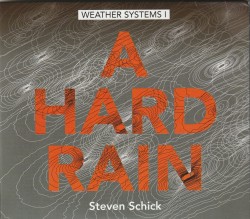 Weather Systems I – A Hard Rain
Steven Schick
Islandia Music Records IMR011 (islandiamusicshop.com)
The 2CD Weather Systems I: A Hard Rain features outstanding solo performances by Steven Schick (b.1954), a Percussion Hall of Famer who has long championed contemporary percussion music. The genesis of the album arose during the COVID-19 pandemic. During the lockdown Schick revisited "the foundational works for solo percussion, many of which I have played for nearly 50 years." This became the starting point for A Hard Rain.
It opens with a vivid recording of John Cage's 27'10.554" for a percussionist, a work Schick describes as "a rainforest of sounds: of water, earth, and air; of rip-sawn wood and ancient metal."
Karlheinz Stockhausen's Zyklus' use of the cycle motif appears in the spatial layout of the instruments: in a circle around the solo percussionist. I hear echoes of Cold War tensions in Schick's nervous rendition. Morton Feldman's The King of Denmark on the other hand is a world removed aesthetically from Stockhausen's Euro angst, inviting the musician to approach the work with soft, spare, almost meditative gestures.
For his final track Schick uses only his voice to give a dramatic 32-minute performance of Ursonate (1922-32), Kurt Schwitters' four-movement "sonata in primal sounds." Schick collaborated with electronic musician Shahrokh Yadegari to present this milestone sound poem with the aid of effective interactive loops, layerings and treatments of his voice.
Schick writes that the non-sense of Schwtters' Ursonate "is actually the language of crisis," echoing the destruction of war, as well as serving as a post-Dadaist provocation. Coming after a program of signature solo percussion works, this tour-de-force version of Ursonate challenges listeners to expand their notions of what percussion music is – and can be.