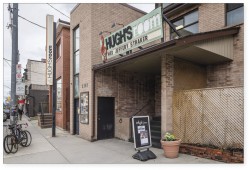 After months of difficult discussions, music venue Hugh's Room is back in business.
Hugh's Room was one of several Toronto music venues slotted to close so far this year, after former owner Richard Carson announced a state of insolvency this January. Now, headed by a new committee of volunteers and rebranded as "Hugh's Room Live," the venue has relaunched as a community-based not-for-profit, and will be opening its doors again later this month on April 22.
In some ways, this new incarnation of Hugh's Room is the story of a successful community rallying cry. Hugh's Room was a much-loved space for Roncesvalles residents and for the music community at large. After Carson's January announcement, a working group quickly came together to discuss the possibility of turning the space into a not-for-profit arts organization, several members of which plan on becoming eventual board members of Hugh's Room Live. And the GoFundMe page for Hugh's Room Live already boasts over $114,000 in contributions from community members who want to see the company back on its feet.
As Lauren Pelley from the CBC notes, making that happen will be an "uphill climb." The organizing committee has their work cut out for them if they want Hugh's Room Live to stay open in a sustainable way; there are several looming problems ahead. For one, while the announcement of upcoming concerts at the space is a refreshing change, the venue is still far from fully booked. There are also issues to sort out involving the shift of ownership from Carson, who will serve only in an advisory role with Hugh's Room Live, to a new council. And the building that Hugh's Room Live belongs to is also now under new ownership—something that the working group wasn't aware of until after the site changed hands. It means that, at the end of Hugh's Room Live's current three-year lease, it's highly possible that the organization might have to find a new home.
In the meantime, though—for the first time since January—there are concerts. The new Hugh's Room Live reopens on April 22 with a show by folk singer-songwriter Connie Kaldor, a show by the Paul Deslauriers Band on April 26, and a gala concert and fundraiser on April 29, plus seven different shows slotted so far for the month of May. It'll be a long and difficult road ahead before Hugh's Room Live can lay claim to a financially stable future—but it's a start.
Hugh's Room Live reopens to the public on April 22, 2017. For details on their upcoming shows or on how to support the organization, visit their website at http://hughsroom.com/.
Sara Constant is a Toronto-based flutist and musicologist, and is digital media editor at The WholeNote. She can be contacted at editorial@thewholenote.com.